The Best Memes & Tweets From The 2023 Golden Globes
"How about we exchange these for the safe return of Shelly Miscavige?"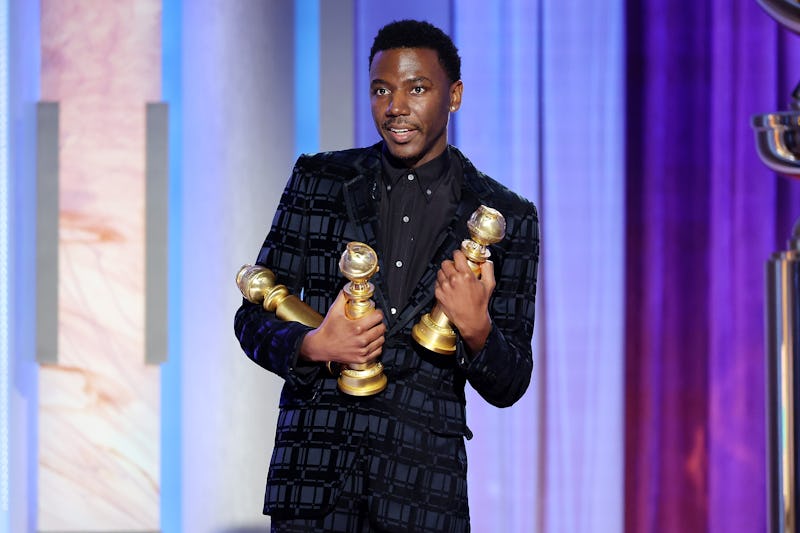 Rich Polk/NBC/NBCUniversal/Getty Images
After one year off the air, the Golden Globe Awards are back this year on NBC and kicking off the 2023 awards season. During the show, host Jerrod Carmichael of The Carmichael Show wasted no time in addressing the elephant in the room: accusations of unethical behavior in the Hollywood Foreign Press Association and reports that the group didn't have a single Black voting member.
"One day you're making mint tea at home, the next, you're invited to be the Black face of an embattled white organization," Carmichael joked in his opening monologue. "Life really comes at you fast, you know?" The resulting awkward laughter was a theme of the night, as Carmichael peppered the show with divisive jokes about everything from Scientology to Will Smith's Oscars slap.
There were lighter moments, too: Michelle Yeoh's curt refusal to be played off the stage read not as rude, but totally badass; Jennifer Coolidge's inability to be anything other than Jennifer Coolidge led to Twitter campaigning for her to host the next show.
Bringing together a ton of celebrities in one place practically ensures viral moments, and the 2023 Golden Globes were no different. Here are the best memes and tweets.
Laverne Cox's Red Carpet Energy Was Chaotic Good
On the red carpet, stars including Golden Globe nominees Quinta Brunson, Jenna Ortega, and Sheryl Lee Ralph chatted with Laverne Cox (Orange Is the New Black), who hosted the E! Live From The Golden Globes pre-show.
Twitter was charmed by Cox's chaotic charisma, from the way she asked nearly every guest the same question (her line, "What story are you telling us tonight with this ensemble?" is now iconic) to her uncontainable thirst for both Top Gun: Maverick star Jay Ellis and a role in the third Avatar movie.
Taylor Swift Was MIA
Despite the deluge of A-list celebrities, Twitter was missing one person specifically: Taylor Swift. Viewers even noticed that E! Live From The Red Carpet played "Bejeweled" as they cut to a commercial. Some users took to the platform to manifest her appearance. One user wrote, "@etnow did you just play Bejeweled bc @taylorswift13 is making an appearance tonight!?" Sadly, that did not end up being the case.
Jennifer Coolidge Charmed Everyone
Jennifer Coolidge, who ended up winning a Golden Globe for her role inThe White Lotus, also presented an award for Best Supporting Actor for a Television Series. Twitter loved her Tanya-esque storytelling, with users demanding all future award shows be hosted by the Legally Blonde alum. "Can every awards show please just be Jennifer Coolidge narrating everything she did over the previous week?" one user petitioned.
The Speeches Left Everyone In Tears
From Best Supporting Actor Ke Huy Quan's emotional recollection of his struggles to land roles after Indiana Jones and the Temple of Doom to Michelle Yeoh recounting how she was told she was told she was a minority, many of the night's winners gave speeches that kept the tears flowing in the audience and online. "This is everything. I'm in tears watching this. A reminder that you ALWAYS have something to give and share with the world. Congrats Ke Huy Quan!" user andrewphung wrote about Quay.
Meanwhile, some noticed how Golden Globe winner Quinta Brunsons' castmates were also in tears while she was up on stage. A user wrote, "Find colleagues who look at you like Sheryl Lee Ralph and Lisa Ann Walter look at #GoldenGlobes winner Quinta Brunson #AbbottElementary."
Jerrod Carmichael's Tom Cruise Joke Solicited Gasps
Carmichael wasn't afraid to make controversial jokes during the night. His opening monologue shaded the Hollywood Foreign Press for its lack of diversity, while his shoutout to the Beverly Hills Hilton included a reference to Whitney Houston's death. But the joke that got Twitter in stitches was about Tom Cruise, who is famously a Scientologist, and the reported disappearance of Shelly Miscavige, the wife of the Church of Scientology leader David Miscavige.
Cruise famously returned his three Golden Globes after the controversy surrounding the HFPA and didn't attend the show. After one commercial break, Carmichael walked out with three Golden Globes and said, "I found the 3 Golden Globes that Tom Cruise returned. I think we take these 3 things and trade them for the safe return of Shelly Miscavige."
Loving the bold joke, a Twitter user wrote, "Jerrod Carmichael brought out 3 #GoldenGlobes Tom Cruise returned & offered to exchange them for the safe return of Shelly Miscavige. [Protect him at all costs.]."