How UK Viewers Can Watch The 2021 Oscars Live
And details on the London venue that's hosting British nominees this year.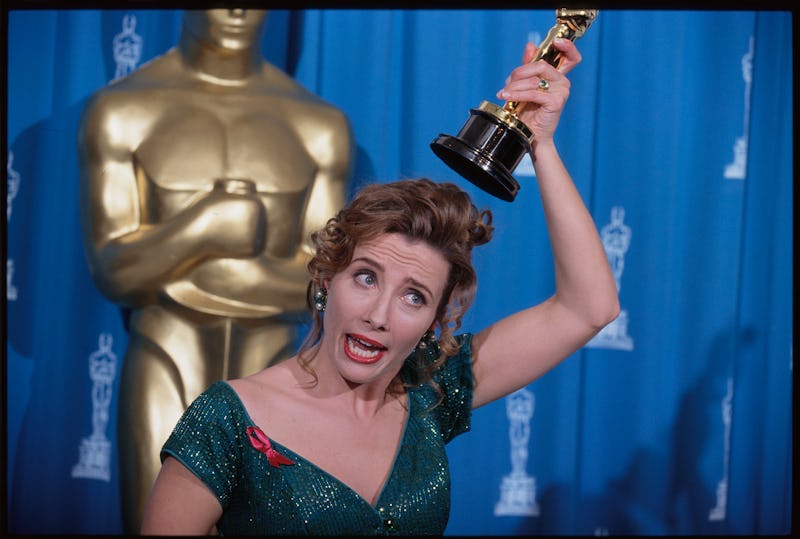 Steve Starr/CORBIS/Corbis via Getty Images
If you thought the 2021 Oscars would follow a virtual theme due to the pandemic, you'll be pleasantly mistaken. Not only will there be a physical audience in the venue, but it has also been described by the director of the ceremony as "a completely different take". Make of that what you will. So how to tune in? Here's how to watch the 93rd Academy Awards in the UK – live.
When Are The Oscars Taking Place?
Instead of taking place in mid-February, the 2021 Oscars are being held on April 25. The pandemic is the reason for this postponement, and as such the eligibility of films nominated was extended from Dec. 31, 2020, to Feb. 28, 2021.
How Can I watch The Oscars LIVE In The UK?
For those blessed with a Sky box or NOW subscription, the entire event will be broadcast live on Sky Cinema Oscars (channel 302) from 10 p.m., which will begin with E!'s live red carpet show and then continue with the 93rd Academy Awards ceremony.
Per Cosmopolitan, the actual ceremony will begin at 1 a.m. and end at 4 a.m. GMT, so be prepared for a late-night if you're planning on watching the whole thing live.
Where Is The London Venue For The Oscars?
Per Variety, BFI Southbank will be the official UK hub for the Oscars which will host "this year's local nominees as part of the main ceremony" following the news that Zoom calls will not be allowed. However, due to ongoing restrictions, it's believed that organisers of the event "will need special permission" from the UK government if the event is held fully indoors.
Whether it's held fully or partially inside, only nominees will be allowed into the venue with the addition of one guest. Attendees will have to take at least two COVID-19 tests before and after the ceremony, "and guests attending from outside the UK will need to quarantine for 10 days." As pointed out by the Telegraph, there are a number of nominees from the UK this year, including actors Carey Mulligan, Daniel Kaluuya, Anthony Hopkins, and director Emerald Fennell.