Everything We Know About iCarly Season 2
One of Cosgrove's former Nickelodeon co-stars is set to appear.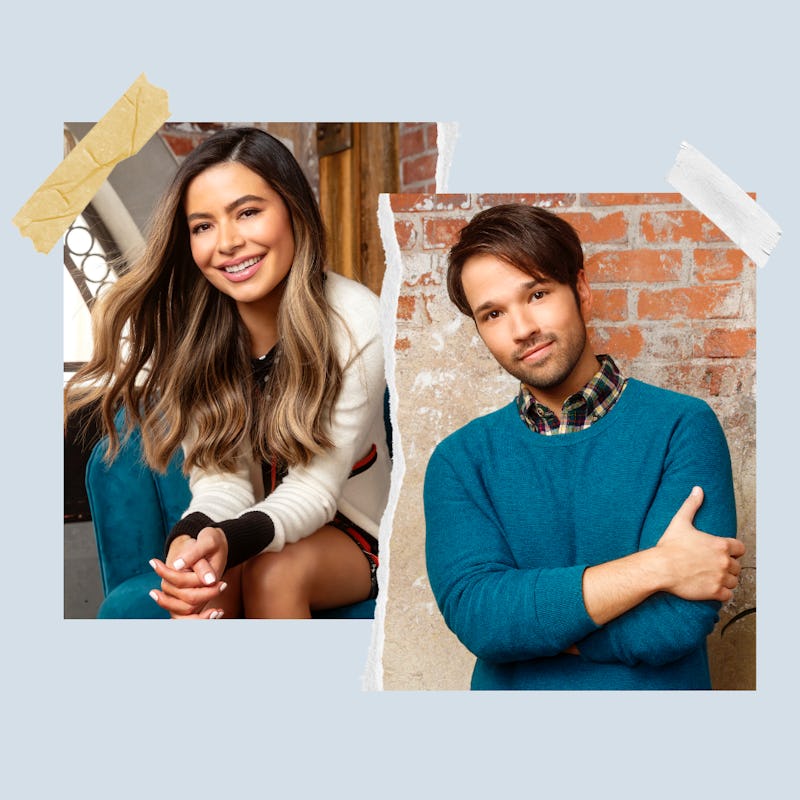 Giselle Hernandez/Paramount+
Nearly a decade after iCarly ended its run on Nickelodeon, fans got to catch up with Carly, Spencer, and Freddie in the new Paramount+ revival of the show. Now in her mid-20s, Miranda Cosgrove's titular character is giving her web show another go with the help of her older brother and trusty tech producer friend. She's swapped spaghetti tacos for adult beverages, but the tone of the series remains the same. "We really tried to make this show, along with [showrunner Ali Schouten], as much for the fans of the original as possible, because it's not really a kid show anymore," Cosgrove told Entertainment Weekly. "It's mainly made for the people who watched when they were little, they're now more in their 20s."
That approach has been successful. Following the show's June 2021 premiere, the series received a lot of love on Twitter, and after just seven episodes, Paramount+ renewed iCarly for a second season. Featuring guest stars from the original series, other Nickelodeon projects, and RuPaul's Drag Race, here's everything we know about Season 2 so far.
The iCarly Season 2 Premiere Date
Paramount+ and Nickelodeon renewed the iCarly revival for Season 2 in July 2021, and announced in a press release that production would begin that fall. In October 2021, the series' official social media accounts posted a photo of the set with a director's clapboard revealing production began Oct. 6 on Episode 1 of Season 2, which is directed by Phill Lewis of The Suite Life of Zack and Cody fame.
The revival series' follow-up season premiered less than a year after its first, which arrived on April 8, 2022 with two episodes. The remaining eight episodes are being released on Paramount+ week-by-week on Fridays, with the season finale airing on June 3, 2022.
The iCarly Season 2 Cast
In addition to Cosgrove, Jerry Trainor (Spencer Shay), Nathan Kress (Freddie Benson), and Mary Scheer (Mrs. Benson) all reprised their roles from the original series in Season 1. The revival also saw the addition of Laci Mosley (as Carly's roommate Harper) and Jaidyn Triplett (as Freddie's snarky stepdaughter Millicent) and guest-star appearances from Carly's nemesis Nevel Papperman (Reed Alexander) and over-the-top iCarly stan Nora Dershlit (Danielle Morrow).
The entire core group will return for Season 2 with even more familiar faces joining as well. In August 2021, showrunner Schouten revealed to Entertainment Weekly that characters like Lewbert (Jeremy Rowley) and T-Bo (Boogie) are at the top of their list for future comebacks. She added that she'd "love to have Josie [Totah] back" and that Trainor wants an appearance from his best friend Socko, who viewers never met. "I would love to have Victoria Justice back on in any incarnation that she wants to be in. That'd be really cool," Schouten said. "And then of course, if Michelle Obama wants to drop by again, I guess we could try and find a part for her."
Speaking to E! News about her wishes for Season 2, Cosgrove also expressed hope for T-Bo's return and said the cast recently had Rowley back on the iCarly set as eccentric doorman Lewbert. "We just shot an episode with him," she revealed. "I'm really open to anybody from the original coming back. Anytime somebody comes and makes a cameo, I think it's really fun."
Elsewhere in the interview, the actor said her former Drake & Josh co-star Josh Peck would likely appear in a forthcoming episode. "I think there's a really good chance that he's gonna be in the second season that we're filming right now," she dished. "I don't know exactly what the character is gonna be, but you know, Josh and I are friends, and he was nice enough to say he'd do an episode."
Peck appears in the first official Season 2 trailer as the iCarly team's new manager, who's seeking to increase the web show's viewership. The clip also features another familiar face: Ryan Ochoa as Chuck Chambers, a neighbor of Spencer's who tormented him as a child in the original series. While T-Bo isn't in the trailer, the gang is seen returning to the Groovy Smoothie, aka their former go-to hangout spot where he worked, seemingly signaling toward an appearance from the eccentric fan-favorite character.
In addition to the actors and characters fans know and love, a slew of RuPaul's Drag Race queens including Kandy Muse, Scarlet Envy, Mo Heart, and Rosé show up in the trailer as Harper's styling clients. Paramount+, which also streams Drag Race and its All Stars spin-off, teased the performers' iCarly involvement in August 2021 on Twitter.
Noticeably absent from Season 1 was Jennette McCurdy, who co-starred in the original series as Carly and Freddie's best friend Sam Puckett. The first episode of the revival explained that Sam is "off following her bliss" with a biker gang known as the Obliterators, while McCurdy revealed off-screen that she quit acting several years ago because she was "ashamed" of her career and felt "unfulfilled" by her past roles.
"Carly very much still loves Sam and always will," Cosgrove recently told Entertainment Tonight. "We all really wanted Jennette to be a part of the show in real life. But she's just doing other things and we're really happy for her."
However, McCurdy hasn't ruled out acting forever, and should she decide to appear in Season 2, her former iCarly costars would welcome her with open arms. Trainor told ET that the "elevator door is always open" to Sam, while Kress noted that it "never closed" but they "want to be respectful of [McCurdy] and the decisions that she's made," so "no pressure."
The iCarly Season 2 Plot
Schouten promised EW that the juicy Season 1 cliffhanger "will definitely be resolved at the top of Season 2" in an unexpected but "very iCarly way that has to do with the web show." On top of that, Carly's love life will amp up when the series returns, with Kress teasing a "Creddie" relationship. Freddie harbored an unrequited crush on Carly for most of the series' run, and while the couple kissed in the original series finale, they're not officially dating in the reboot.
"From the beginning, I've been rooting for whatever their relationship is — whether it's a friendship or a romantic thing," Kress told Insider. "Their relationship has developed a lot in the last 10 years and the jury's still out on whether they're an ideal romantic relationship. I think that the dynamic would have to change substantially because, since the beginning of the original show, it's always been, 'Freddie loves Carly.'"
Freddie is in a serious relationship in the new season, which will in turn push Carly to realize that he's always been by her side through thick and thin. "If it's gonna move forward, it's gotta be from a perspective of her sort of opening her eyes to that," Kress said.
While Kress has some skepticism about the relationship's future, Cosgrove is rooting for them for that exact reason. "I think that they're meant to be together ... They're best friends. They still live in the same building together and it seems like Freddie's always there for Carly and Carly is always there Freddie. They're always there for each other, no matter what," she told Insider.
Schouten also said they're hoping to explore what it's like for Carly to run a web show in the current digital landscape. "One thing that I feel like we didn't get to do as much of as we hoped was, what does it mean to be a woman on the internet? And that goes for famous and non-famous women alike," Schouten told EW. "It might change because we're right at the beginning of the writers' room, but that's the thing that we're hoping to tackle even in Episode 1, coming back."
As for Cosgrove's ideas for Season 2, she recently told E! News: "I feel like in the second season she's kind of really figuring out what she wants her web show to be. She doesn't want it to be exactly like it was before. So that's just been fun finding what kind of crazy sketches and things you would do as an adult, versus what we did when we were little."
Alongside the Season 2 trailer's release on March 2, Paramount+ unveiled an official plot synopsis for the forthcoming iCarly episodes:
"The second season picks up right after the first season ended, with Carly refocusing her attention on her friends and family following her romantic complications, all while working to boost her revived web channel. Spencer and Harper must also navigate new personal and career developments, while Freddie balances raising Millicent with a new app and a new girlfriend."
The iCarly Season 2 Trailer
The first official trailer for Season 2 of iCarly was released by Paramount+ on March 2, and the clip features Carly and Freddie attempting to take their web series to the next level with the help of a new manager. Diehard fans will also be pleased to know Season 2 will explore their romantic relationship, dubbed "Creddie" during the series' original run, and see the main characters return to the iconic Groovy Smoothie cafe.
This article was originally published on