Princess Diana Had The Best Response To Why Jamie Lee Curtis Failed To Meet Her
"I admire you, and I totally understand when nature calls," Diana wrote to Curtis in 1995.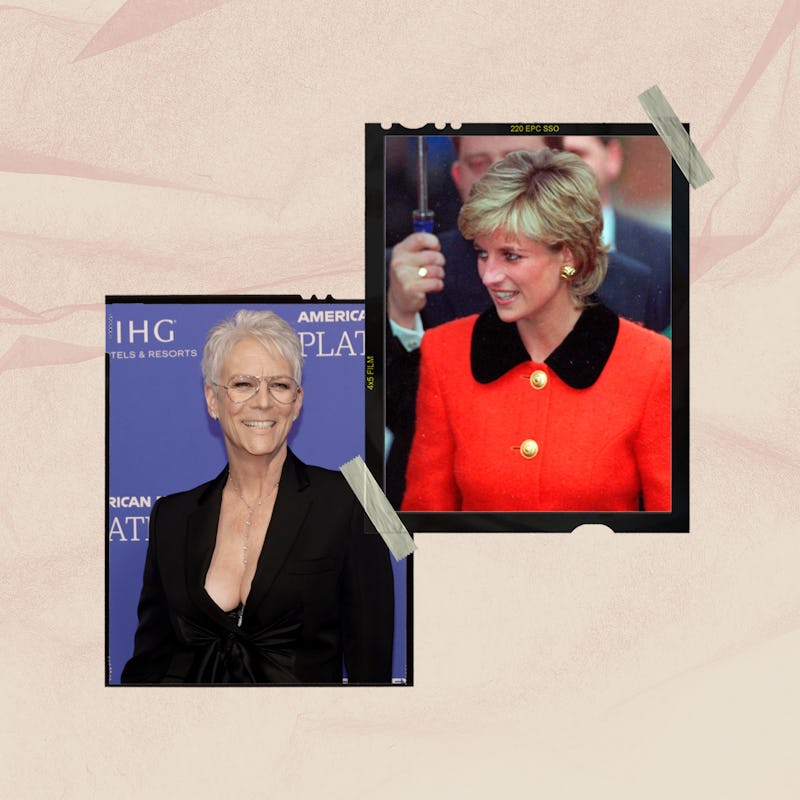 Kevin Winter/Tim Graham Photo Library/Getty Images
Many celebrities have a Princess Diana story — John Travolta's "magical" dance and Elton John's musical tribute at her funeral. Everything Everywhere All at Once star Jamie Lee Curtis is no different. The Golden Globe nominee recalled her interaction with the late Princess of Wales — which almost happened if it wasn't for a "pee break." Curtis was at Pinewood Studios in London while filming Fierce Creatures, the sequel to A Fish Called Wanda, in 1995, and Diana was stopping by the shoot.
"We had been told that day that Princess Diana and her children were going to come visit," the Freaky Friday star said during an episode of Apple Fitness+'s Time To Walk feature, adding that she "admired" the royal so much. "We shot all morning, and when we took a tea break, for me, it was a pee break, I jumped in a golf cart and drove the two miles back to the dressing room. I'm in my dressing room peeing when there was a pounding on the door, 'Princess Diana is here!'" By the time Curtis was back on set, she found out that Princess Diana, William, and Harry had already left. The actor took it upon herself to send the royal a note to Kensington Palace, apologizing for missing her appearance.
Curtis recalled the note she wrote: "I'm so sorry we didn't get to meet. I was very much looking forward to it as I admire you greatly. Unfortunately, nature called, and they don't give me many breaks, so I chose nature over you, not knowing that you were going to arrive right at that moment. I'm so sorry and just think you're great." She signed off the note with best wishes to Diana.
The following day, Curtis got a response from Kensington Palace. "I'm so sorry I didn't get to meet you, also," Diana's letter read. "I admire you, and I totally understand when nature calls. Of course you should choose that. I hope that we will have an opportunity in our lives to meet. Best wishes always." The actor says she still has Diana's note.
Unfortunately, the two never got to meet after their correspondence. Princess Diana died in 1997. In 2019 on the anniversary of her death, Curtis paid tribute to the late Princess in an Instagram post, featuring a picture of her reuniting with her sons. She recalled their 1995 interaction and praised Diana's endless love. At the time of her death, Curtis said she turned off the television and consulted a book on meditation by Joseph Goldstein and Jack Kornfield, which asks in the preface: "When people have tried to live mindfully, at the time of their death, they ask themselves two questions: Did I learn to live wisely? And did I love well?"
"I thought about her and her life and the choices she made," Curtis remembered, "and how brave she was, how she reached out to that young man with AIDS before anyone did, the mine fields, mental health and so much more and how much she loved her children, the image of them running into her outstretched arms after a long trip. It gave me comfort that although her life was short, it was complete. She was a great role model for me. An example to live by. I honor her today."