Margaret Qualley & Jack Antonoff Confirmed Their Engagement In The Cutest Way
She captioned an engagement ring selfie on Instagram with, "Oh I love him!"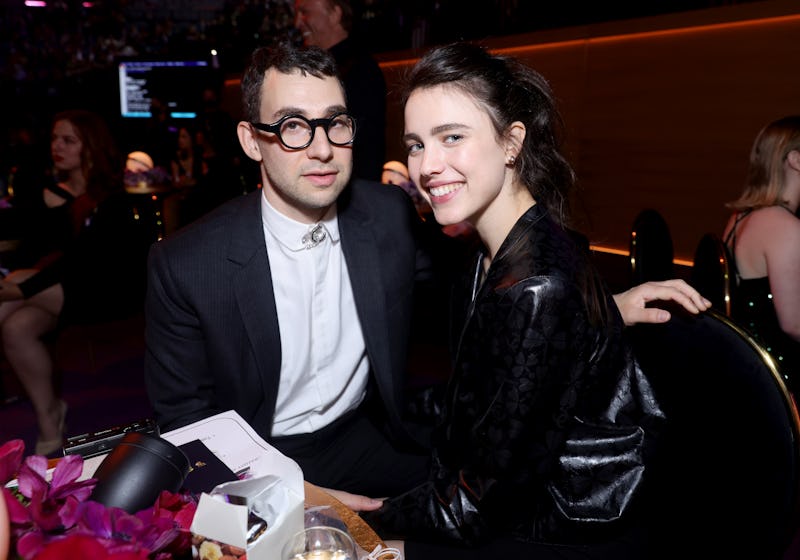 Emma McIntyre/Getty Images Entertainment/Getty Images
After first being spotted together in 2021 and then supporting each other at several award ceremonies, Margaret Qualley and Jack Antonoff are now engaged. Speculation about the couple's relationship milestone first started in May 2022 after Qualley was seen wearing an apparent engagement ring at Cannes Film Festival, where she was promoting Stars at Noon. People confirmed the engagement with a source on May 30 — and one day later, Qualley seemed to confirm the news via Instagram. "Oh I love him," the Maid star captioned her post, a gallery of successive selfies in which she's embracing Antonoff with her ring finger on full display.
Qualley's mom, Andie MacDowell, recently wrote on Instagram that her Cannes outing was "particularly special" because she got to support her daughter there, but now, it looks like there was one more reason the festival was extra meaningful this time around.
Beyond the ring selfie apparently making their engagement Instagram-official, neither Qualley nor Antonoff have officially commented on the news. That might change soon, though, because the couple haven't kept their relationship too quiet so far. As Jezebel pointed out, they were all about the PDA at the 2022 Grammys, where Antonoff won Producer Of The Year, Non-Classical for his work on multiple songs, including Taylor Swift's "Gold Rush" and Lorde's "Solar Power."
Both entertainers have appeared on each other's social media before, including a sweet elevator selfie posted on Antonoff's Instagram. As of the April 4 snap — a post-Grammys moment — Qualley was not wearing a ring. So if we're going by jewelry, it looks like the pair probably got engaged in April or May.
That makes it less than a year since Qualley and Antonoff were first spotted kissing in New York City in August 2021. Before getting together, each half of the couple had been involved in some high-profile relationships — Antonoff with Lena Dunham (and, once upon a time, Scarlett Johansson), and Qualley with Pete Davidson and Shia LaBeouf.