Everything To Know About The Witcher Season 3
Toss a coin in celebration, because more of The Witcher is coming to Netflix.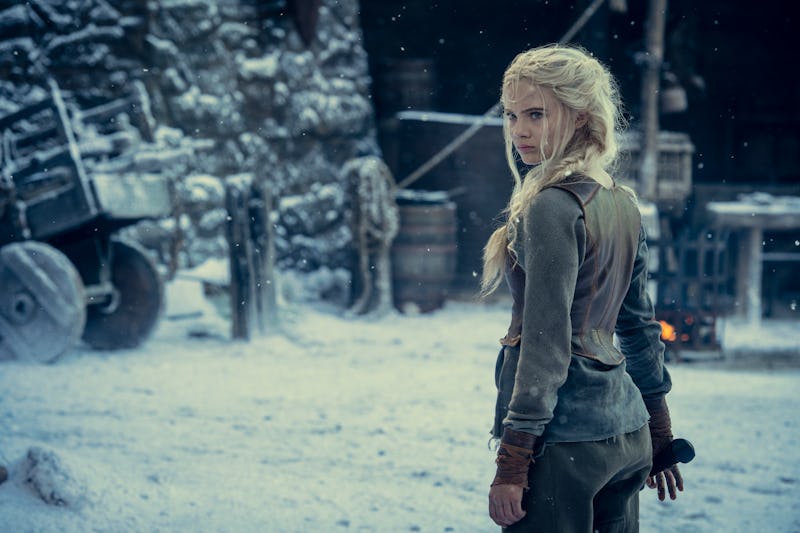 Jay Maidment/Netflix
Season 2 of The Witcher, Netflix's fantasy drama based on the book series of the same name by Polish writer Andrzej Sapkowski, debuted Dec. 17 on the platform. But considering Season 1 of the series was reportedly viewed by over 76 million people within its first month of release, it shouldn't surprise fans to learn that The Witcher has already been renewed for Season 3 by Netflix. The streaming service announced the news and other forthcoming The Witcher content at its virtual fan event TUDUM on Sept. 25.
Henry Cavill (Man of Steel) leads the series as Geralt of Rivia, a magical monster-hunter known as a Witcher, and Season 1 largely focused on his quest to find Ciri (Freya Allan), the crown princess of Cintra, as the two were linked by destiny prior to her birth. The Witcher lays out the backstories of Geralt, Ciri, and quarter-elf sorceress Yennefer of Vengerberg (Anya Chalotra) on different timelines before merging into a linear storyline that follows the trio to the battle of Sodden Hill against their enemies from Nilfgaard. The immense popularity of Season 1 led Netflix not only to renew the series for Season 2 but produce an animated spinoff film titled The Witcher: Nightmare of the Wolf, which premiered on Aug. 23, 2021, and told the origin story of Vesemir (voiced by Theo James), aka Geralt's mentor and fellow Witcher.
Alongside Season 2's release, the streamer premiered the trailer for a live-action prequel limited series titled The Witcher: Blood Origin, set to tell the Witchers' origin story 1,200 years before Geralt's time. Furthermore, Netflix revealed at TUDUM that a second animated feature film and a new kid-friendly series are in the works for the Witcher franchise. Here's everything we know about The Witcher Season 3, including its plot, cast, release date, and trailer.
The Witcher Season 3 Plot
Geralt and Ciri finally united at the end of The Witcher Season 1, and the storyline for Season 2 begins following the bloody Battle of Sodden. Convinced Yennefer died in the battle, Geralt took Ciri to safety at his childhood home of Kaer Morhen to protect her from outsiders and coach her on her magical abilities — while teaching her to control them. Then, Yennefer is confirmed to still be alive, but she lost her Power of Chaos after casting a tricky fire spell in the battle. Vying to regain her powers, she travels back to Aretuza before fleeing for her own safety.
Season 1 was based on The Last Wish and Sword of Destiny, the first two novels in Sapkowski's series. Season 2 covered the events of third installment Blood of Elves, while showrunner Lauren Schmidt Hissrich told TechRadar: "I'm really thrilled with how [Season 3] is shaping up because it's based on my favorite book in the saga, which is The Time of Contempt," aka the series' fourth book.
Looking to further master her magical craft, The Time of Contempt finds Ciri traveling to Aretuza along with Yennefer and Geralt. But after a coup ensues in Aretuza, they end up separating once again, which viewers can expect to see unfold in Season 3. Additionally, a group of flying specters called The Wild Hunt were introduced in Season 2, and their quest for Ciri's Elder Blood be a major focus of Season 3.
The Witcher Season 3 Cast
It's quite likely Cavill, Allan, and Chalotra will reprise their leading roles for Season 3 along with Eamon Farren (Twin Peaks) as Cahir Mawr Dyffryn aep Ceallach, Joey Batey as Jaskier Dandelion, MyAnna Buring (The Twilight Saga) as Tissaia de Vries, Royce Pierreson (The Irregulars) as Istredd, Mimi Ndiweni (2015's Cinderella) as Fringilla Vigo, Wilson Radjou-Pujalte as Dara, Anna Shaffer (Harry Potter) as Triss Merigold, Mecia Simson as Francesca Findabair, Bart Edwards as Duny/Emhyr, and Mahesh Jadu (Neighbours) as Vilgefortz of Roggeveen.
Season 2 also introduced new characters, including Philippa Eilhart (Cassie Clare), Nivellin (Kristofer Hivju), a cursed man whose image was used to scare kids; Nenneke (Adjoa Andoh), a priestess and mother goddess; and the live-action version of Vesemir (Killing Eve's Kim Bodnia), Geralt's father figure and the oldest living Witcher.
The Witcher Season 3 Trailer
Given that The Witcher received such an early renewal, there's currently no trailer for the series' Season 3. But following the release of Season 2, Cavill, Chalotra, Allan, Batey, Bodnia, Billion, Atour, and Hissrich appeared on Netflix Geeked for an hour-long special titled The Witcher: Unlocked. Hosted by Felicia Day on YouTube, the special promises to "reveal behind-the-scenes secrets, explore the adaptation process, and answer all your burning questions about The Witcher," per Netflix.
The Witcher Season 3 Release Date
There's currently no release date set for Season 3 of The Witcher. Season 1 premiered on Dec. 20, 2019, and Netflix productions generally take about a year to write, film, and edit each season. But due to the coronavirus pandemic and Cavill's on-set leg injury, Season 2 didn't air until Dec. 17, 2021 — nearly two years later.
It's unclear how long fans could have to wait for Season 3, but there's reason to hope. "We're almost done with the scripting phase, and it's amazing," Hissrich recently told TechRadar, noting the series' writers were scheduled to finish penning Season 3 the week of Dec. 3. "But the creative process is now really just starting. We have the scripts, and now we'll bring the directors on, the actors back in, and really start delving in deeper and reflecting back and making sure it's the perfect season."
This article was originally published on