Everything To Know About Squid Game Season 2
"Join us once more for a whole new round."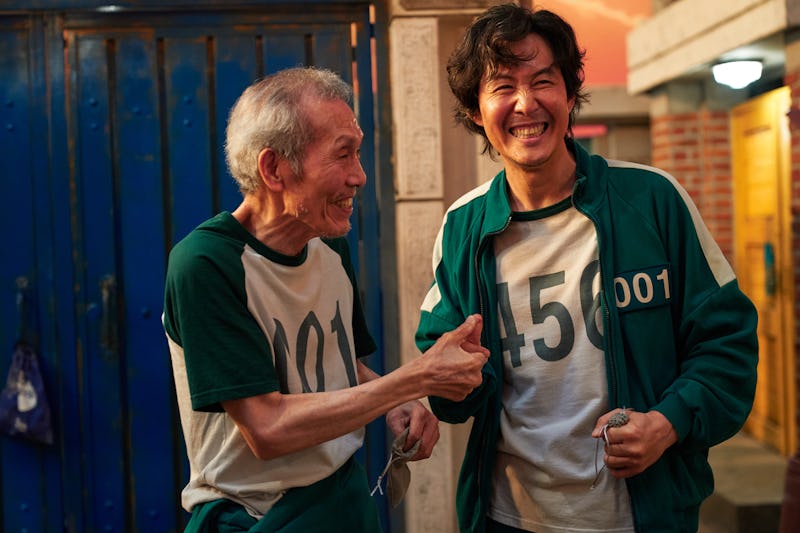 Spoilers ahead for Squid Game Season 1. Netflix's massively popular drama series Squid Game begins with 456 debt-ridden citizens recruited to compete in a grim tournament of children's playground games that, to viewers' knowledge, should end with only one contestant alive to win a life-changing 45.6 billion won (roughly $38 million). Throughout the first eight episodes and the front half of the finale, that's how things seem to have played out — with Player 456 aka Seong Gi-hun (played by Lee Jung-jae) becoming that sole survivor of the unspeakable horrors he thought had left a bloody trail of 455 murdered players inside the secret bunker they were trapped in.
However, in a shocking plot twist during the back half of the finale, viewers learned that Player 456 wasn't the only person to survive the tournament. After returning home, Gi-hun finds his elderly mother dead on the floor due to complications from diabetes, and in his subsequent depression, he doesn't spend much of the prize money he had fought for to help her live an easier life. Confused by the untouched winnings, the tournament's unknown mastermind summons Gi-hun. When he arrives at an empty office, Gi-hun sees an ill Player 001 aka Oh Il-nam (Oh Yeong-su), the old man he had befriended who was presumed to have been fatally shot offscreen after losing a game of marbles to Gi-hun. During this meeting, the old man dies due to his brain tumor, but as Gi-hun and viewers learn before Season 1 concludes, the annual deadly games survived.
Now, fans and celebrities are desperate to know what Squid Game's future holds.
Will There Be A Squid Game Season 2?
In a video posted by The Associated Press in November 2021, Squid Game writer/director Hwang Dong-hyuk confirmed Season 2 is coming: "There's been so much pressure, so much demand, and so much love for a second season. So I almost feel like you leave us no choice." Still, it took several months for the next chapter to officially get the greenlight from Netflix. The streamer didn't make the renewal official until June 12, when Hwang shared the update, along with new teases for the "whole new round." One hinted, "The man in the suit with ddakji might be back," and another stated, "You'll also be introduced to Young-hee's boyfriend, Cheol-su."
News of a forthcoming second run should come as no surprise to Squid Game fans, as Season 1's ending left the door open for a Season 2. The finale ended with Player 001 revealing to Player 456 that he had created the tournament to feel something again in his old age — to feel the joy he felt as a kid playing playground games — but also to entertain fellow bored rich people and to help poor people pay their debts. "Do you know what someone who doesn't have any money has in common with someone who has too much money to know what to do with?" Il-nam says. "Living is no fun for either of them ... everything, well, it all gets boring."
With Il-nam's death certain this time, Gi-hun likely figured that the tournament would cease to exist without its creator. Armed with some closure, Gi-hun completes several good deeds that he had promised other players he would do if they died. He also books a flight to the United States to fix his relationship with his young daughter, who had recently moved away with his ex-wife and her new husband. But on the way to the airport, he notices the recruiter, who had drafted him, recruiting another cash-strapped resident. Seconds away from hopping his flight, Gi-hun stops and calls the number on the business card the recruiter had handed to the potential player.
"I want to know who you people are and how you can do these horrible things to people," Gi-hun says on the call. "I can't forgive you for everything you're doing." The person on the receiving end of the call replies, "Just get on that plane; it's for your own good." Gi-hun does the opposite.
What Is Squid Game Season 2's Plot?
Fans want to watch more of Gi-hun's journey and to find out what happens to him, Player 001's right-hand man The Front Man, and the wealthy VIPs who are still planning to watch hundreds of people die each year for pure entertainment. It also seemed possible the Squid Game creator and Netflix could go an entirely different direction with a new season, instead making a prequel that would tell the origin story of Player 001, who is speculated by some to be Player 456's father or estranged relative. However, as Hwang revealed on June 12, "Gi-hun returns."
Hwang originally hadn't planned for a second season while writing the first, though he told Indiewire at the end of May 2022 that he planted a few Easter eggs: "Just in case there is another season, these things could be loose knots. I only currently have a broad storyline. I'm in the process of structuring the story and the new games, and wanting to crystallize them into more detailed ideas." Although exact plot details remain tightly under wraps, Hwang previously revealed to Deadline that "there will be more great games" in Season 2, and teased that fan-favorite characters such as Kang Sae-byeok might return. "I'll try something to bring them back to Season 2 ... Let's say maybe she has a twin sister, you'll see," the series creator said.
In a 2021 story in RadioTimes, Hwang hinted that any follow-up to Squid Game could fill in the gaps in Player 001's relatively unknown backstory: "Oh Il-nam is a man of huge success from nothing. As we see from the phrase 'the money man,' he is a veiled big shot in the financial industry. It seems, however, the way he yearns for the happy moments of his past shows that he has lost many things, including his family and his humanity at the cost of success. If there will be a Season 2, we might reveal a little more about his past story."
In a separate interview with The Hollywood Reporter, he said he'd also want to dive deeper into the storylines of The Front Man, the police officer, and the recruiter. "For example, the story of the police officer and the story of his brother, The Front Man. So if I end up creating Season 2, I'd like to explore that storyline — what is going on between those two brothers? And then I could also go into the story of that recruiter in the suit who plays the game of ddakji with Gi-hun and gives him the card in the first episode. And, of course, we could go with Gi-hun's story as he turns back, and explore more about how he's going to navigate through his reckoning with the people who are designing the games. So, I don't know yet, but I'll just say there are a lot of possibilities out there for Season 2 storylines."
One method the creator might have used to avoid disappointing fans is incorporating fan theories into any future storylines. "If I ever make Season 2, I will try to look up those many ideas, and of course, if there are any good ones, I can bring them into the story," he told RadioTimes. "Since I prefer writing alone, maybe all these ideas on YouTube can function as my writer's room."
However, as he explained to The Hollywood Reporter in August 2022, he doesn't "want to make season two as a response to those reactions." Instead, Hwang wants to ride the natural "flow of events that will lead all the way to the end of the season." While he can't share details (yet), he confirms that "season two is going to be about what that new Gi-hun is going to do" and "how things will unfold with this new kind of character."
The Squid Game Season 2 Cast
Most of Squid Game's maskless characters died in Season 1, with the exception of a few, including Seong Gi-hun, whose Player 456 storyline would likely propel Season 2's plot. Gi-hun not only wants to learn more about the deadly games he survived, but he also seems determined to stop them from ever happening again. To accomplish putting an end to the terrifying tournament, he'll have to go up against Player 001's sidekick The Front Man (Lee Byung-hun), who will likely take over as the leader of the complicated operation.
Another face we'll see is Hwang Jun-ho (Wi Ha-joon), the police officer who sneaked into the bunker and successfully pretended to be a pink-suited security worker. His mission comes to an end when The Front Man, who turns out to be his long-lost brother In-ho, shoots him. Jun-ho then falls off a cliff into the ocean, though his body is never shown, leaving viewers to believe he could have survived the gunshot and tumble.
On June 17, during Netflix's TUDUM event, Squid Game confirmed that Lee Jung-jae, Lee Byung-Hun, Wi Ha-jun, and Gong Yoo will be returning for Season 2, alongside the following four new actors, Yim Si-Wan, Kang Ha-Neul, Park Sung-Hoon, and Yang Dong-Geun.
Even more cast members were announced for Season 2 on June 28. Rounding out the cast, they include: Park Gyu-young, Jo Yu-ri, Kang Ae-sim, Lee David, Lee Jin-uk, Choi Seung-hyun, Roh Jae-won, and Won Ji-an.
The Squid Game Season 2 Release Date And Trailer
There isn't an exact release date or a trailer for Season 2 yet. But speaking to Variety in April, the Squid Game creator shared an update on Squid Game Season 2, revealing that he was returning to South Korea to begin writing the next chapter, which he said he hoped would be on Netflix by the end of 2024. Speaking to The Hollywood Reporter, Hwang said his deadline to finish writing the second season is "by the end of this year or early next year."
Despite obviously feeling the pressure, he is able to "really immerse" himself in his writing. "Once I sit in front of my laptop, I become part of the world that I created and I totally forget about the real world that I'm in," Hwang explained.
While you wait for more Season 2 updates, you can rewatch the Squid Game Season 1 trailer or these 12 other gory TV shows and films like Squid Game to hold you over.
This post will be updated with the trailer, release date, and additional plot details as more information on a potential Squid Game Season 2 becomes available.
This article was originally published on