Here's How Andy Cohen Should Seat The Succession Characters For A Reunion Special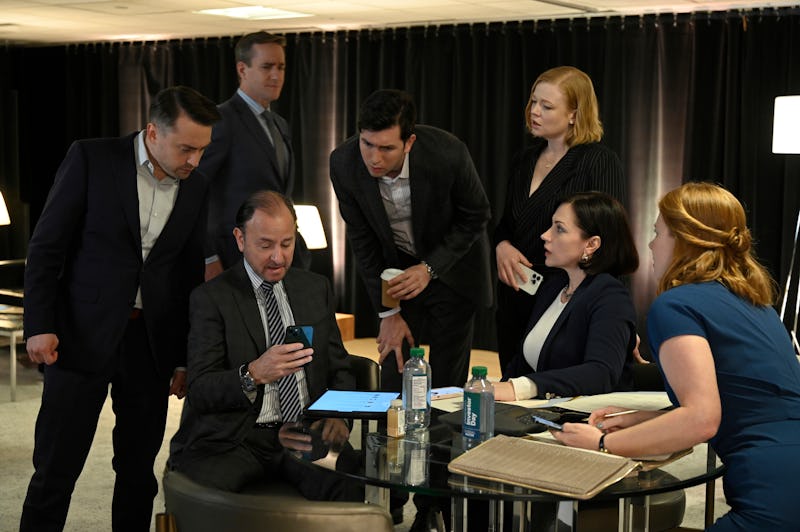 David Russell/HBO
Spoilers ahead for the Succession series finale. Not long after Succession reached its series finale on May 28, fans were already wistfully thinking about how the characters can reunite — you know, despite all the chaos that went down in those final 90 minutes. Enter a now-viral tweet from user Megan which imagines the seating chart for the Roy family and their constituents at a hypothetical reunion hosted by Andy Cohen. It makes sense for the most part, but one key Succession character totally got snubbed (more on that later).
ICYMI, in the Succession finale, following Logan Roy's (Brian Cox) death, Shiv (Sarah Snook), whose seat allowed her to have the deciding vote, chose to go forward with the Waystar-GoJo merger, despite promising Kendall (Jeremy Strong) and Roman (Kieran Culkin) that she would back them. As a result, the merger with Lukas Matsson's (Alexander Skarsgård) company moved forward, and Shiv's husband, Tom Wamsgans (Matthew Macfadyen), was tapped as the new CEO.
The proposed Succession reunion seating chart — which is an integral thing to consider for reunion specials, just ask any Real Housewives or Vanderpump Rules fan — is assigned as such. On one side of mediator Andy Cohen, you have Waystar's General Counsel Gerri (J. Smith-Cameron) and Vice-Chairman Frank (Peter Friedman), the old guard who are onboard for the merger, sitting by Matsson — who would probably skip out on the whole thing or show up barefoot if he even bothers to roll through. Joining them are Tom and Shiv. On the other side, Kendall gets the first chair, followed by Roman and their half-brother, Connor (Alan Ruck). Fan-favorite Cousin Greg (Nicholas Braun) sits on Con's other side, and Waystar's CFO Karl (David Rasche) completes the arc.
As for the seat dead center? Logan Roy.
Fans had thoughts about this seating arrangement. "No way in hell Andy [Cohen] puts Roman and Gerri that far away from each other," one user pointed out, referring to their brief affair. "Gotta swap Frank and Greg so the right is everyone who's out and the left is everyone who's in, another user pointed out, sorting alliances. "Why isn't Kerry the host tho?" a third ask, calling out Logan's former sidepiece.
Some fans wanted more drama to come from this seating arrangement, comparing the potential level of drama to the Vanderpump Rules cheating scandal, #Scandoval. "I need Karl and Frank together on the end like Lala and James. Can you imagine the side commentary," one fan said, comparing the old guard to the Bravo reality stars. "shiv / tom / matsson all next to each other is very tomtom/raquel but for chaos, wambsgans needs to be on the other side" another chimed in. From what we know about the #Scandoval timeline, this comparison makes sense.
Others pointed out the significance of Shiv getting "first chair," which is the most desired spot in the reunion. "Of course Kendall and Shiv get first chair," one fan wrote. "Shiv having first chair would be really accurate actually," another agreed.
One character that fans felt wasn't treated fairly in the seating chart was Con's wife, Willa (Justine Lupe). "This Willa Erasure," a fan pointed out. "Willa comes on for a segment too," one user suggested, giving her a chance to speak about her relationship with the Roy family.
Perhaps the best part of the seating chart was the late Logan, who, according to the graphic, would be making an appearance despite his lack of a pulse. "Lmfao not Logan in his coffin," one fan wrote. "The open casket is art," another chimed in.
Overall, there's one thing fans could agree on — if anyone could host this fever dream of a reunion, it's Andy Cohen. "I need this. Andy would be able to get the tea," one fan wrote. Retweet.