Taylor Swift Surprised Fans With A 1989 Easter Egg In An Awards Show Speech
The singer's hilarious speech featured an interesting wall hanging.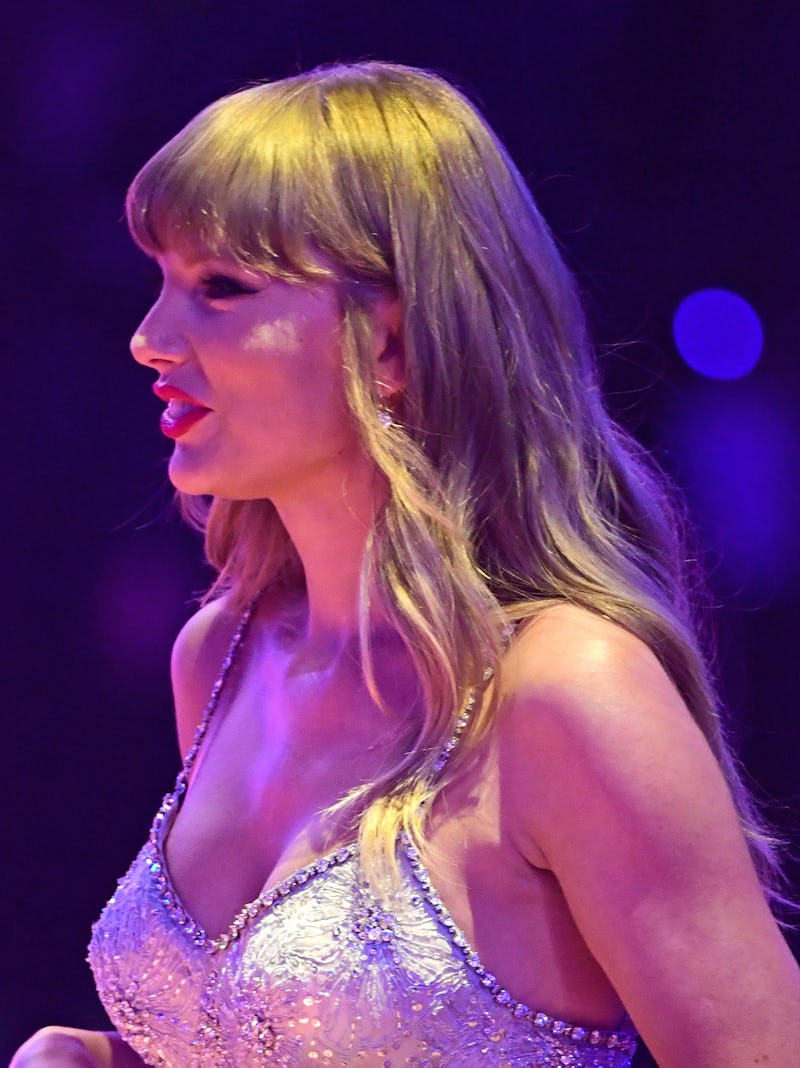 Ian West - PA Images/PA Images/Getty Images
She's a filmmaker, a doctor, and now an award-winning baker? Pretty much! A week after bringing All Too Well: The Short Film to Tribeca Film Festival — and a month after earning her honorary doctorate from New York University — Taylor Swift was honored with two big wins at the Las Culturistas Culture Awards, based on the popular comedy podcast starring Bowen Yang and Matt Rogers. To celebrate, she seemed to have slipped in a big clue about 1989 (Taylor's Version).
The "This Love" singer was nominated in two categories only she could win: Best Taylor Swift and Best Tayla Swiff, the podcast's name for Swift's edgier, "vixen" alter ego. The first award was for The Baking of Cookies, in which Swift was honored for, well, the baking of cookies. As you can observe in several videos captured at the event, fans were shocked when Swift herself sent in a pre-taped message to accept the award. In the clip, she's hard at work preparing another batch of "cookies" — only instead of pulling out delicious, freshly baked confections, there's a glass of wine on her baking sheet. "It took me forever, and I'm going to enjoy it now," she says. "Cheers to you, thank you so much."
Swift, a noted lover of baking, actually made cookies for the Saturday Night Live crew when she hosted in November — which might be how she won Yang's favor for the award. The SNL star even recounted the mouthwatering moment in a podcast episode. "I knock on Lorne [Michaels]' door, and he goes, 'You want one of these cookies that Taylor baked for me?' And then like, walks over to a box, gives me this pumpkin spice, coconut, delicious ginger cookie. So soft and gooey. And I ate it, shared a cookie with Lorne that came out of Taylor Swift's own oven."
The next award, Best Tayla Swiff, went to a very specific moment in Swiftie history: the 1989 tour mashup of "Wildest Dreams" and "Enchanted." As Las Culturistas put it, Swift packed a lot into the game-changer performance: "white girl stomp, head throwing back, outfit change, smile, look back at the audience, it has it all!"
Swift (er, Swiff) sent in a video message for her other award, too. "Also, just really feel very seen, because finally, somebody spelled my name right, which is T-A-Y-L-A, S-W-I-F-F," she jokes in the clip, adding that she "worked really hard on" the tour mashup.
Oh, and did you think that the evening would go by without the investigation of new Swiftie Easter eggs? As Pop Crave pointed out, a framed chalkboard wall hanging that read "1989 Secret Session Nashville" could be seen in the background of Swift's kitchen — leading some fans to wonder if 1989 (Taylor's Version) will, indeed, be the next rerecording. Here's hoping!
If Swift is indeed working on her latest rerecord, we're the true winners, but congrats to her, too!