5 TikTok Theories That Point To Jackson & April's Fate On Grey's Anatomy
All signs point to #Japril.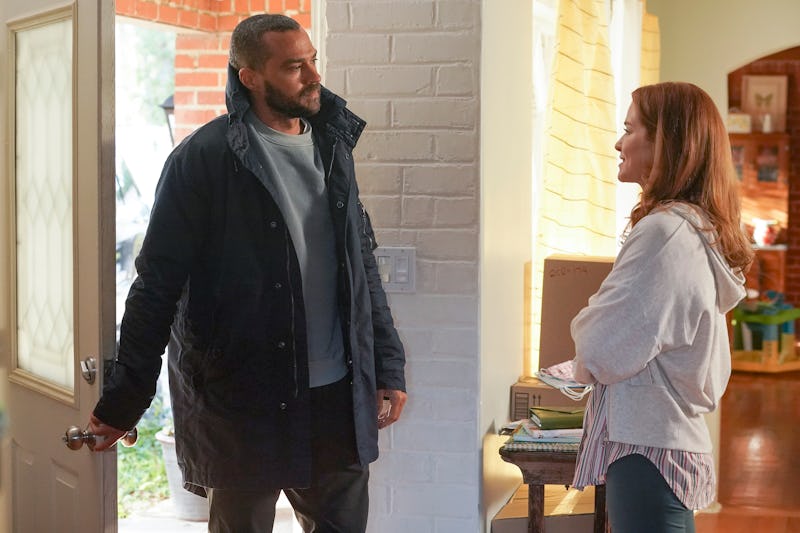 ABC/RICHARD CARTWRIGHT
Spoilers ahead for Grey's Anatomy Season 17. Grey's Anatomy fans — perhaps more specifically, Japril shippers — are a bit restless waiting for Sarah Drew's return as April on May 6. The fact that there's no new Grey's Anatomy episode this week doesn't help the frenzy and leaves even more time to theorize about April and Jackson's upcoming reunion. And since Meredith's fate has been revealed — she's off the beach! — the possibility of a Japril romantic reunion is the next thing to ponder, naturally. And Grey's fans on TikTok have a few theories.
Before jumping into the Japril Tiktoks, a brief refresher: April and Matthew (the guy she once left at the altar) got married in 2018 during her final episode, "All of Me." April left the hospital to provide medical care to Seattle's unhoused population and has been ostensibly living there since to co-parent Harriet with Jackson (Jesse Williams). So even though we haven't seen April recently, Jackson definitely has. Speaking of Jackson, he's had casual hookups with Vic and Jo but has not been in a serious relationship since breaking up with Maggie in Season 16. Now that you're all caught up, it's time to discuss what TikTok users think will happen between Jackson and April this season.
The Meaning Of The Promo
TikTok user randomtingz3 noted the sentimental nature of the upcoming episode's promo, which features clips of Jackson and April's whirlwind romance. In their view, the use of flashbacks could be "hinting towards Japril reuniting ... to show how good they were and that they are endgame."
The user also noted that their romantic reunion has just as good a chance of not happening, considering Drew isn't confirmed for more episodes. As they said, "it would be hard to write a storyline for Japril if April isn't there." But there is a possibility that Williams could leave Grey's himself, which the next TikToker picked up on.
Jesse William's Contract
On another Grey's TikTok, karij2903 commented that Williams' "contract is up at the end of this season," so "he could be leaving to be with April." According to TV Line, Williams "signed a two-year deal to remain" on the show in 2019. This would take him through Season 16 and the current Season 17. If he did want to leave, it seems like no contractual issues are standing in the way of this potential storyline. (Of course, we still don't know if there will be more Grey's next season anyway.)
Fortunately, if Williams does exit the show, his character is at a natural turning point. One of the last updates in his story showed how he is increasingly frustrated by his inability to effectively help people through his family's foundation. That development also hinted that saving lives as a surgeon might not be enough for him anymore. What better way to wrap up a character arc than to have Jackson rekindle a relationship with someone who made a similar pivot and is re-dedicating her career to helping people in need?
April's Missing Wedding Ring
Of course, the Japril reunion comes with one tricky caveat: Matthew. How can Jackson and April get together if she's still happily married? Well, some observant TikTok users theorize that she might not be, based on the apparent lack of a wedding ring in promo shots. User wilsonsarizona joked about "checking the promo pics" to clarify, and indeed, there appears to be no ring in sight.
If April and Matthew did recently separate, it would make sense that Grey's viewers are in the dark — even if Jackson knew, he wouldn't necessarily broadcast that news to all of his friends at the hospital.
The Potential Kiss In The Rain
Jackson and April's romance was never steady-going, but that's partly why it was so fun to watch. TikTok user harleyypowell noted that she isn't quite a Japril shipper, writing in a comment that "trying to make them endgame after all this time would be really out of place," but still enjoys "making over-the-top theories about what they might do." (Same!) One of those out-there theories, she suggested in a TikTok, is that Jackson and April might share a passionate kiss in the rain after he declares his love to April. She points to an April 22 Instagram post from Drew, in which the actor has wet hair and a towel over her shoulder with Williams in the background.
In a later video, harleyypowell followed up with one more idea for the scene: "I'm not saying I want a Japril rain kiss," she wrote, "but if they chose to play 'The Way I Loved You (Taylor's Version)' during it, then I would be all for it (anything to get Taylor on Greys)."
OK, but a song about a girl who realizes her perfect-on-paper boyfriend doesn't compare to the volatile passion she shared with her ex would make an amazing Japril anthem.
Sarah Drew's Instagram Live
Not only is Drew herself a fan of Japril, as she recently told Access Hollywood, but one TikTok user thinks she hinted that the iconic couple would indeed be getting back together. Greys_anatomy_is_my_epi posted a screen recording of leaving a comment on Drew's recent Instagram Live with Jane the Virgin's Justin Baldoni. It said, "Touch your hair if japril gets back together," and sure enough, at some point in the video, Drew did touch her hair. Now, it's not clear if the hair touch directly followed the comment, but even if it did, it could be a pure coincidence. Greys_anatomy_is_my_epi wrote that they "really hope" that wasn't the case, but everyone will have to wait and see how Season 17 ends.
Sure, some of these theories might be long-shots, but this hopeful energy is exactly what Japril fans are harnessing in the week leading up to the couple's on-screen reunion.