Tom Holland's Net Worth: The Spider-Man Star Makes 7 Figures Per Movie
The Crowded Room actor took home only $250,000 for his first appearance as Spider-Man.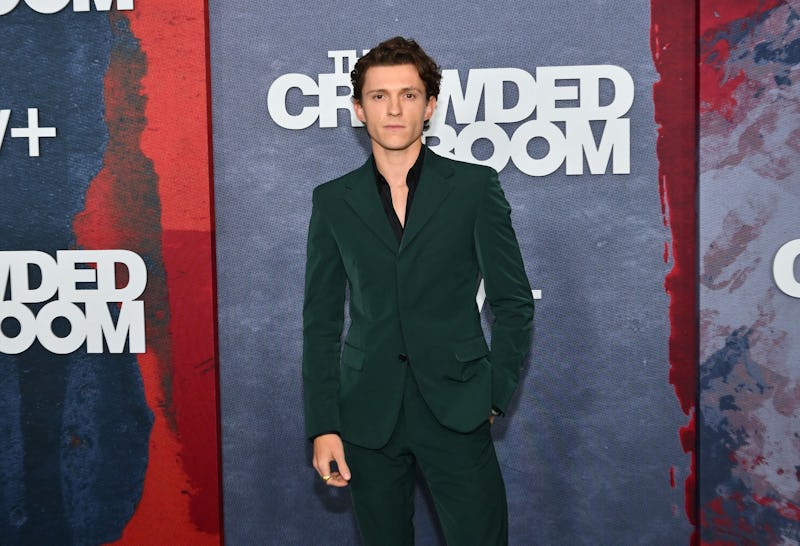 ANGELA WEISS/AFP/Getty Images
After years of appearing on camera, Spider-Man star Tom Holland has recently added another Hollywood position to his resume. The Crowded Room star also served as an executive producer for the Apple TV+ series. He also previously produced Uncharted, which could expand his already-growing resume in Hollywood.
Holland, though widely known as an actor, has a background in dance and gymnastics. The British actor was discovered by the Royal Ballet School when he was 10 years old during an Easter performance and was encouraged to audition for Billy Elliot the Musical. He spent two years training, learning tap dance, ballet, and acrobatics. Holland first portrayed Michael in the show and eventually took over as the eponymous Billy before transitioning to film.
Holland's first film credit was The Impossible in 2012, but his breakout role was as Spider-Man in Captain America: Civil War four years later. He reportedly earned $250,000 for his first project as the superhero, but his earning power grew rapidly over time. It's estimated that the actor currently makes seven figures per project, but Variety claims that he could pull in up to $20 million per movie, among the likes of Hollywood box office heavyweights Dwayne Johnson and Gal Gadot.
As for what's next for Holland? Though he is taking some time off acting, the 27-year-old already has another impressive project in the works. The actor is reportedly starring in a Fred Astaire biopic directed by Paddington director Paul King. No exact production timeline has been revealed, but given his musical theater background and his viral Lip Sync Battle appearance, this role is a great fit — and bound to bring in a solid paycheck.
Read on to learn more about how Holland earns his cash.
3 Ways Tom Holland Makes His Millions
1. Spider-Man Movies
At this point in his career, Holland is perhaps best known for being the most recent Spider-Man, following in the footsteps of Tobey Maguire and Andrew Garfield. Donning the skintight suit has earned him many new fans and at least several hundred thousand dollars if not millions.
According to Celebrity Net Worth, Holland may have earned just $250,000 in 2016 to appear briefly in Captain America: Civil War, which marked his first time on screen as the superhero. The following year, he reportedly took home at least twice as much for his first Marvel film as a headliner, Spider-Man: Homecoming. Including bonuses, he may have snagged at least $1.5 million in total.
He appeared in both Avengers: Infinity War and Avengers: Endgame, reportedly earning $3 million for each film, reports Celebrity Net Worth. For the 2021 release Spider-Man: No Way Home, his co-star Zendaya was paid $2 million, so there's a good chance he made at least as much. There are also reports that due to the blockbuster's success at the box office, she may have reaped up to $10 million in bonuses, and he very well could have collected the same.
In 2024, he's expected to appear once more as Spider-Man in an untitled project, according to IMDB. "We have big ideas for that, and our writers are just putting pen to paper now," Marvel Studios president Kevin Feige revealed in February. It's likely that he'll take home a pretty decent paycheck.
2. Other Acting Roles
In addition to playing Spider-Man, Holland has appeared in movies like Uncharted, The Devil All the Time, Cherry, In the Heart of the Sea, The Impossible, Locke, and others. It's reported that before the Marvel cinematic universe took him to new levels of fame he likely earned less than $1 million for his film roles. Following the success of those pictures, he might now be offered between $2 million and $5 million for independent films, between $5 million and $10 million for projects backed by larger studios, and as much as $20 million for titles by streamers, according to Variety.
In addition to appearing on the big screen, Holland has also appeared in TV programs like Wolf Hall and The Crowded Room — the latter of which he executive produced as well. When he was just getting started as an actor, he appeared on stage in Billy Elliot the Musical in London in 2008.
3. Endorsements
Throughout his years as a familiar figure, Holland has appeared in a number of commercials and ads, with many of them tying back to films he's appeared in, such as Uncharted and the various Spider-Man flicks he's been a part of. Holland has starred in spots for companies like Audi, Dell, Final Fantasy, Hyundai, Marks & Spencer, and Prada. What exactly he's been paid for these efforts isn't clear, especially considering some of them may be built into his Marvel contract.
What Is Tom Holland's Net Worth?
Holland is worth $25 million, according to Celebrity Net Worth. With executive producer credits to his name, along with another Spider-Man appearance and a biopic in the works, Holland's wealth is bound to increase.