Lily Collins' Husband Is Basically Hollywood Royalty
You already know and love his mom.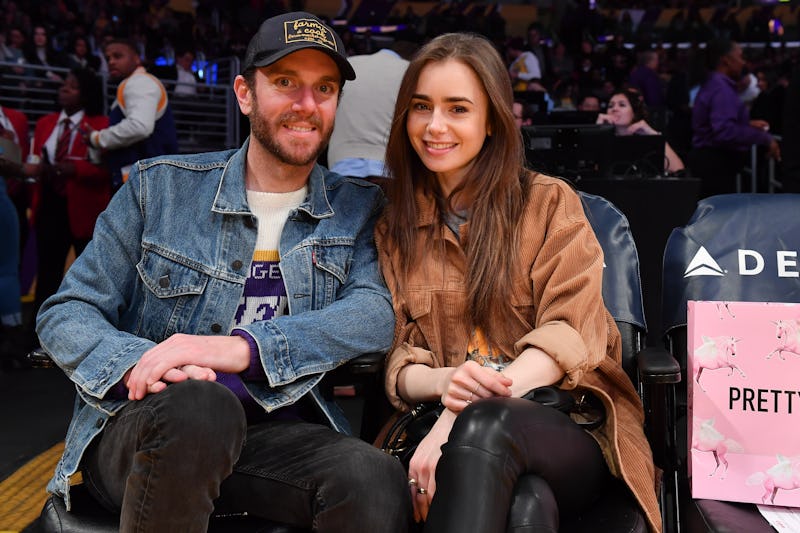 Allen Berezovsky/Getty Images Entertainment/Getty Images
Season 1 of Emily in Paris left fans with many unanswered questions: Will Gabriel and Camille work things out? Will Emily and Gabriel finally get together? Will the young marketing executive date someone else entirely? When Season 2 hits Netflix, viewers will instantly be sucked back into Emily's very complicated love life. But actor Lily Collins' real-life romance isn't nearly as complicated. Not even close.
In September 2021, a year after announcing her engagement to Charlie McDowell with a sweet ring pic on Instagram, the Mank star revealed that they officially tied the knot. "I've never wanted to be someone's someone more than I do yours, and now I get to be your wife," she wrote alongside a photo of her and McDowell sharing a kiss on their wedding day. "On September 4th, 2021 we officially became each other's forever. I love you beyond @charliemcdowell."
So, who is Collins' new husband? McDowell may not be an actor himself, but he is certainly no stranger to Hollywood. As a filmmaker, he's best known for directing and executive-producing the dreamy, surreal romantic drama The One I Love starring Elizabeth Moss and Mark Duplass. McDowell has also previously been linked to other actors, including Emilia Clarke and Rooney Mara.
His connection to the industry goes beyond that 2014 film debut, though. His mom is Mary Steenburgen, who viewers know and love from Elf, Happiest Season, and Zoey's Extraordinary Playlist. His father, Malcolm McDowell, is an actor with a robust resumé. And of course, Steenburgen's husband (and McDowell's stepfather) is none other than Ted Danson, aka Michael from The Good Place, Sam from Cheers, and, most recently, Mayor Neil Bremer in Mr. Mayor. It's a pretty famous family, but Collins is no stranger to having well-known relatives. Her dad is musician Phil Collins of Tarzan fame and classic songs like In the Air Tonight.
In November 2020, Collins spoke with Extra about getting engaged during the COVID-19 pandemic. "I think we're just, you know, totally soaking in being engaged and still celebrating with people that we can, in a way that is safe," she said. "Eight months of being together in quarantine has definitely felt like the most incredible way of getting to know someone."
That same month, the Shadowhunters star told Byrdie what she was most looking forward to about marriage. "Honestly, I'm so excited to be a wife," she said. "I don't think of it in any way, shape, or form to do with whether or not I'm a feminist. To me, it's more like, I can't wait to be with this person, and now we get to plan something that we'll have for the rest of our lives."
Collins may have found the love of her life, but will Emily be able to sort out her messy love life when Emily in Paris returns? Fortunately, fans don't have to wait long to find out. Season 2 is set to premiere on Netflix on Wednesday, Dec. 22.
Additional reporting by Jordyn Tilchen
This article was originally published on