Lily Collins' Husband Is Basically Hollywood Royalty
Charlie McDowell's mom is Mary Steenburgen and his stepdad is Ted Danson.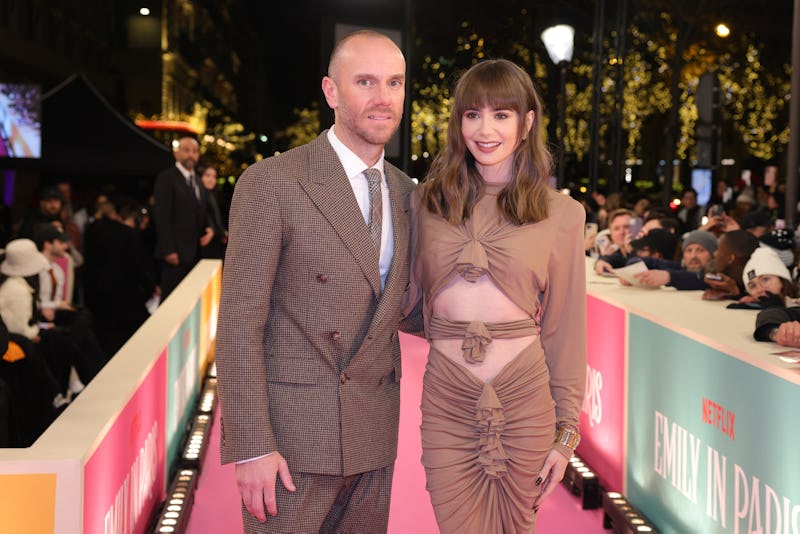 Pierre Suu/WireImage/Getty Images
Season 2 of Emily in Paris left fans with many unanswered questions: What happens to Emily and Gabriel now that Camille is back in his life? Will Emily pursue a long-distance relationship with Alfie, who's moving back to London? Will Emily take that promotion in Chicago or stay in Paris and work at Sylvie's new firm? When Season 3 hits Netflix, viewers will instantly be sucked back into Emily's very complicated love life. But actor Lily Collins' real-life romance isn't nearly as complicated. Not even close.
The Mirror Mirror star has been happily married to director Charlie McDowell. The pair even celebrated their one-year anniversary in September 2022. "A year ago today, I chose my forever tomorrow. Having you by my side to have and to hold is the greatest gift I could have ever hoped for. I'd walk with you anywhere, talk to you about anything and travel the world with you anytime," Collins wrote, adding, "I love you with the deepest parts of my soul."
So, who is Collins' husband? McDowell may not be an actor himself, but he is certainly no stranger to Hollywood. As a filmmaker, he's best known for directing and executive-producing the dreamy, surreal romantic drama The One I Love starring Elizabeth Moss and Mark Duplass. McDowell has also previously been linked to other actors, including Emilia Clarke and Rooney Mara.
His connection to the industry goes beyond that 2014 film debut, though. His mom is Mary Steenburgen, who viewers know and love from Elf, Happiest Season, and Zoey's Extraordinary Playlist. His father, Malcolm McDowell, is an actor with a robust resumé. And of course, Steenburgen's husband (and McDowell's stepfather) is none other than Ted Danson, aka Michael from The Good Place, Sam from Cheers, and, most recently, Mayor Neil Bremer in Mr. Mayor. It's a pretty famous family, but Collins is no stranger to having well-known relatives. Her dad is musician Phil Collins of Tarzan fame and classic songs like In the Air Tonight.
In November 2020, Collins spoke with Extra about getting engaged during the lockdown. "I think we're just, you know, totally soaking in being engaged and still celebrating with people that we can, in a way that is safe," she said. "Eight months of being together in quarantine has definitely felt like the most incredible way of getting to know someone."
That same month, the Shadowhunters star told Byrdie what she was most looking forward to about marriage. "Honestly, I'm so excited to be a wife," she said. "I don't think of it in any way, shape, or form to do with whether or not I'm a feminist. To me, it's more like, I can't wait to be with this person, and now we get to plan something that we'll have for the rest of our lives."
In September 2021, a year after announcing her engagement to Charlie McDowell with a sweet ring pic on Instagram, the Mank star revealed that they officially tied the knot. "I've never wanted to be someone's someone more than I do yours, and now I get to be your wife," she wrote alongside a photo of her and McDowell sharing a kiss on their wedding day. "On September 4th, 2021 we officially became each other's forever. I love you beyond @charliemcdowell."
On their one-year anniversary in September 2022, both Collins and McDowell posted sweet tributes on Instagram. Collins shared snaps from her wedding while McDowell posted photos of Collins. "A year ago I married my hero. You make every place shine brighter and better. I am in awe of your kindness and beauty every single day. I will try to keep up. But it's kinda annoying that you age backwards and I seem to age double time," he wrote.
A month later, Collins shared what married life has been like. "We can kind of conquer anything," she told E! News. "We've been through so many changes globally, personally, and to be able to have a partner next to you that makes you laugh in times when you need it the most and helps you emotionally get through things, like moving to a foreign country for four months," the actor added.
After a year of marriage, the two are venturing into another partnership together. On Nov. 16, the two announced the launch of Case Study Films. Calling it "a childhood dream come true," Collins shared the news on Instagram, saying, "We'll be working to tell compelling and outside of the box stories alongside both established talent and new, exciting voices of this generation and the next. Our hope is that this company grows into a very unique one-stop shop for creatives from all walks of life, helping them foster an idea from conception to release." The couple launched the production house with producer Alex Orlovsky.
According to Deadline, some projects in the pipeline for the new company include Hulu's Razzlekhan: The Infamous Crocodile of Wall Street and Amazon's adaptation of The Accomplice, based on the novel by Lisa Lutz. Collins is set to star in both while McDowell directs her in Razzlekhan. It's not the first time the two will be working together. McDowell directed Collins in Netflix's Windfall, also under Case Study Films.
Collins may have found the love of her life and her new career path, but will Emily be able to sort out her messy love life when Emily in Paris returns? Fortunately, fans don't have to wait long to find out. Season 3 is set to premiere on Netflix on Wednesday, Dec. 21.
Additional reporting by Jordyn Tilchen
This article was originally published on