Will Rihanna Attend The 2023 Oscars? She's Bringing A Very Special Guest
The first-time Oscar nominee will also perform.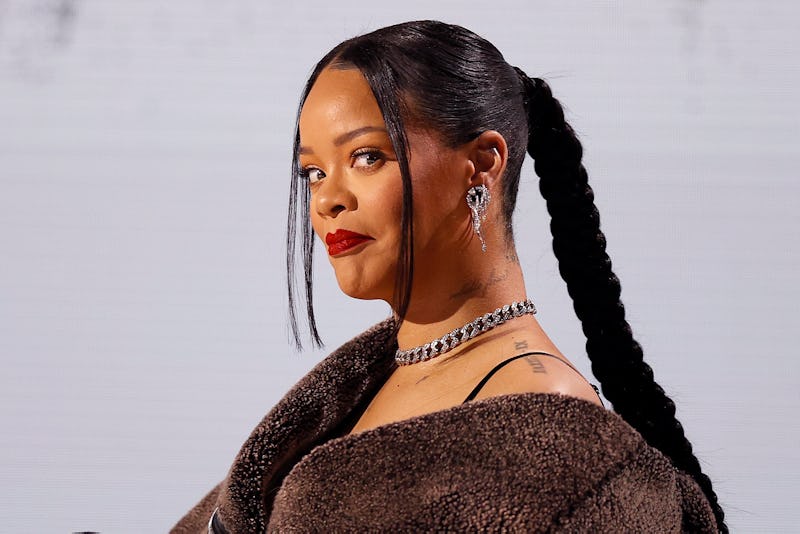 Mike Lawrie/Getty Images Entertainment
Rihanna earned her first Oscar nomination in 2023, with her Chadwick Boseman tribute "Lift Me Up" from Black Panther: Wakanda Forever getting nominated for Best Original Song. Shockingly, the nine-time Grammy winner has never attended the Oscars even as a guest, leading fans to wonder if she'll be making her Oscars debut on March 12 as a first-time nominee.
Rihanna will attend and perform at the 2023 Academy Awards. The Academy announced Rihanna as a performer on Feb. 24. The billionaire mother will perform her nominated song "Lift Me Up" for the first time during the ceremony, and she'll be bringing a very special guest: her unborn child. Rih previously revealed that she was expecting her second child with boyfriend A$AP Rocky by debuting her baby bump while headlining the Super Bowl Halftime Show on Feb. 12. This child will still be in the womb during the Oscars — and someone is very jealous about it.
Rihanna took to Instagram on March 5 to tease her upcoming Oscars performance, sharing a photo of her 9-month-old son (whose name is still not public) standing up and looking upset in his crib. "My son when he found out his sibling is going to the Oscars and not him," the 25-year-old captioned the post, tagging the Academy and adding the hashtags #oscarnominee and #oscarperformancein1week. The Fenty Beauty owner also posted throwback videos of her showing him the music video for "Lift Me Up," jokingly referring to her son as "my fat man."
"Lift Me Up," which premiered in November 2022 alongside the release of Wakanda Forever, marked Rihanna's first new song in nearly six years. She co-wrote the pensive ballad with Afrobeats artist Tems, the film's director Ryan Coogler, and Oscar-winning composer Ludwig Göransson, who are also nominated.
In the Best Original Song category, Rihanna will face off against Lady Gaga's "Hold My Hand" from Top Gun: Maverick, David Byrne and Mitski's "This Is A Life" from Everything Everywhere All At Once, Diane Warren's 14th nomination for "Applause" from Tell It Like A Woman, and "Naatu Naatu" from RRR, which beat RiRi and Gaga at the 2023 Golden Globes. All of the nominated songs will be performed at the Oscars — except for "Hold My Hand," as the Academy has yet to announce whether Gaga will perform at the ceremony.
While she's not the first to do so, Rihanna joins a very small list of artists who performed at the Super Bowl and the Oscars in the same year. Only Phil Collins, who performed as part of the Halftime Show in 2000, and her fellow nominee Lady Gaga, who sang the National Anthem at the 2016 Super Bowl, have achieved the feat — unless you count Rih's upcoming child. Given how their first two events are the Super Bowl and the Oscars, Rihanna's second baby is going to have very high standards for their future parties.