The February 2022 New Moon Will Affect These Zodiac Signs The Most
And that's on the last days of Mercury retrograde.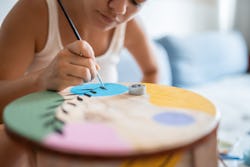 MesquitaFMS/E+/Getty Images
Things are looking up as the collective enters the final days of Mercury retrograde — and giving us a final push towards the finish line is the February 2022 new moon. Arriving on Feb. 1 (Jan. 31 for folks outside of the eastern time zone, making it a rare black moon, the new moon will ingress into the eccentric sign of Aquarius, heralding in all the fresh and innovative vibes. On one hand, this can signal a time for reinvention. On the other, these swift changes nearing at the end of Mercury retrograde's completion may feel particularly uneasy for the zodiac signs most affected by the February new moon in Aquarius.
Because they mark the beginning of the lunar cycle, new moons represent a fresh start. It's a time to reset, envision new goals, and set intentions, which is par for the course as Aquarius, the zodiac's rebellious change-maker, is center stage in the lunar cycle. Also dubbed a rare "black" moon since it's technically the second new moon in the same month for everyone not on the east coast, the Aquarius new moon is all about challenging conventions, entertaining outlandish ideas, and making changes to traditions and routine.
Although this powerful lunation can be uplifting as it encourages people to be their authentic selves, the disruption to your day-to-day will vary depending on your zodiac sign's proclivity to change. Will you find the radical innovation to your routine challenging? Keep reading to find out if you're one of the zodiac signs most affected by the February 2022 new moon.