3 Most Charming Zodiac Signs, According To Astrologers
Sweep you off your feet much?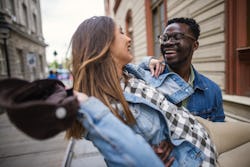 MilosStankovic/E+/Getty Images
The most charming people have the ability to attract others towards them. They seem to know all the right words to say to get you on their side, they tend to make friends easily, and there's just something about them that's so likable. They have that type of personality that you can't stay mad at for too long. Although everyone can learn how to be more charming and charismatic, some people are just naturally that way thanks to their birth chart. Astrologers say the most charming zodiac signs get that trait from their ruling planet.
"For charm, we look to Venus, the planet of coquettishness and beauty," Clarisse Monahan, astrologer, tells Bustle. Signs that are ruled by Venus, like Taurus and Libra, tend to have Venus' grace, charm, and ability to flirt even if they express it in different ways. As an air sign, Libra express their charm in a very elegant and eloquent way, while earthy Taurus expresses it more sensually. "Libra is better skilled at being charming in public and social situations, while Taurus' charm shows through intimate encounters," Monahan says.
Signs ruled by chatty Mercury, "jovial Jupiter," and the bright and radiant Sun are also charming in their own way, says Stina Garbis, professional astrologer and psychic. Jupiter and the Sun are known for being very generous and optimistic, while Mercury is curious, open-minded, and go-with-the-flow. Naturally, the signs they rule over would have those personality traits, giving them an enchanting edge.
With those factors in mind, these are the most charming signs in the zodiac, according to astrologers.
Sources
Clarisse Monahan, astrologer
Inbaal Honigman, celebrity psychic and astrologer
Stina Garbis, professional astrologer and psychic