Priyanka Chopra & Nick Jonas Aren't The Only Couple To Have Had A Speedy Engagement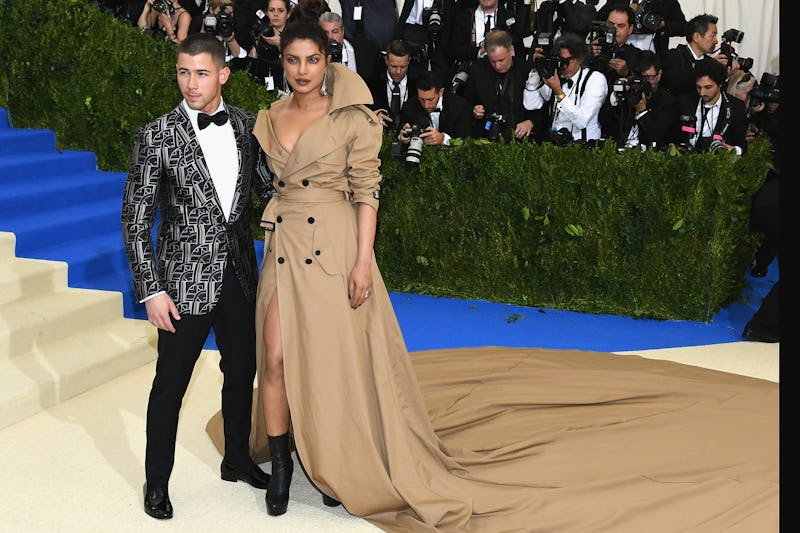 Dia Dipasupil/Getty Images Entertainment/Getty Images
With the news of their reported engagement breaking on Friday, Nick Jonas and Priyanka Chopra have officially become the third Hollywood couple in a matter of weeks to take the next step after a very brief courtship. Justin Bieber and Hailey Baldwin, and Ariana Grande and Pete Davidson are the second and third. Some fans and followers have been quick to judge these celeb couples for their apparent impatience to walk down the aisle, but it's worth remembering that fast engagements in Hollywood are hardly a new thing.
With just weeks or months of dating under these couples' belts, fans haven't been shy about sharing their opinions about their seemingly sped-up relationship timelines, and some very judgmental language has been thrown around. Davidson even deleted every photo on his Instagram recently, citing the platform's "negative energy" and writing, "the internet is an evil place and it doesn't make me feel good." So before anyone rushes to judge Jonas and Chopra on their happy news — because, reminder, it is happy — let's take a look at some other Hollywood couples who jumped in feet first, and all the positive things that came along with that decision. Even if in some cases, things didn't work out.
1. Nick Jonas and Priyanka Chopra
Let's start here, since it's the most recent. After a rumored two months of dating beginning, the singer and the Quantico star's alleged engagement was widely reported on Friday. According to People, the pair had known each other for a while, but Jonas and Chopra's burgeoning relationship blossomed after the couple met each other's families. And no matter how quick it seems from the outside, that's about as solid a foundation as you can hope for when building a life with someone — a friendship and a deep connection to family.
2. Justin Bieber and Hailey Baldwin
Also building on their past friendship are Justin Bieber and Hailey Baldwin, who announced their engagement earlier in July after just a month of dating. The pair had been close friends stretching back years, with periods of on-and-off dating scattered in between, meaning that their relationship, platonic or otherwise, has already weathered a lot of obstacles before they got engaged. And that makes whatever future they choose look a little brighter.
3. Ariana Grande and Pete Davidson
The reveal that Ariana Grande and Pete Davidson were dating was surprising enough, but when they confirmed their engagement just weeks later, it was true shock. The reaction has been enough to drive Davidson off Instagram and cause Grande to shut down the comments on her own account. Yikes.
4. Every Successful Bachelor Nation Couple Ever
Bachelor and Bachelorette couples film for a matter of weeks before getting engaged, and oftentimes, the relationships aren't even monogamous until the day of the proposal. And yet, a surprising number of the winning couples actually work out. The Bachelorette is on quite a successful streak of late, with its last four stars still engaged to their season's winners. Plus, there are multiple successful marriages, ranging from The Bachelorette's Trista Rehn and Ryan Sutter, who have been married since 2003, to Bachelor in Paradise's Carly Waddell and Evan Bass, who married in June 2017 and welcomed their first child in February.
5. Cameron Diaz and Benji Madden
Cameron Diaz felt it was "love at first sight" when she met her future husband Benji Madden in 2014. Seven months after that, the pair were engaged, and they tied the knot in January 2015 after less than a year of dating. But the two have been happily married ever since, so apparently it's true what they say — when you know, you know.
6. Khloe Kardashian and Lamar Odom
The reality star and the basketball player were married a month to the day after they met, and even though the relationship ultimately fell apart, they both got a lot out of it. Their marriage lasted six years, from 2009 to 2015, but even after the split, there was still love there. As Kardashian told Complex in 2015:
"Lamar is genuinely one of the best people I've ever met, and everyone says that when they meet him. I think Lamar's gonna always be that person [for me] but that's what made it so special. Even if I had it for five years or whatever, it was the best ever and I'm grateful I did. Some people don't get that ever and I had that magic for a long time."
It's all about living with no regrets.
7. Carey Mulligan and Marcus Mumford
In a meet-cute so adorable that you couldn't write it, Carey Mulligan and her husband Marcus Mumford originally met as childhood pen-pals. So when they met as adults, they dated for just five months before announcing their engagement in August 2011, and married just a few months after that, in April of 2012. Now, the pair has two children together: a two-year-old daughter named Evelyn and a son named Wilfred who's almost one.
8. Mariah Carey and Nick Cannon
Mariah Carey and Nick Cannon married just six weeks after they started dating in 2008. And although the relationship sadly ended after six years, the pair is still committed to respectfully co-parent their seven-year-old fraternal twins Moroccan and Monroe. So good things can come out of whirlwind romances, even if the relationship itself isn't meant to be.
9. Amy Schumer and Chris Fischer
In February, comedian Amy Schumer unexpectedly married her chef boyfriend Chris Fischer after just three months of dating, apparently alerting friends and family to the event with a simple text message.
10. Amal and George Clooney
Lest we forget, one of Hollywood's biggest power couples was formed on a speedy courtship. According to ELLE, George Clooney and Amal Alamuddin met in September 2013 and were engaged by April 2014, after just seven months. Their wedding was just months after that, in September 2014, right around a year after that first meeting. Now, the two are parents to one-year-old twins Ella and Alexander, and remain Hollywood royalty.
11. Jessica Simpson and Eric Johnson
Jessica Simpson had had her share of ups-and-downs in her relationships, and wasn't looking for anything when she met retired NFL star Eric Johnson. But sparks were apparently flying at their meeting in May 2010, because the pair was engaged in November, just six months later. Two kids later — 6-year old Maxwell Drew and 5-year old Ace Knute — the pair was married in 2014, and they've stayed that way ever since.
12. Zoe Saldana and Marco Perego
Zoe Saldana and Marco Perego are notoriously private about their personal life, so they'd been secretly married for three months before the press got wind of it in September 2014. Since then, more details have come out, suggesting that the pair knew each other for five years as friends, but dated for just a few months before getting engaged. And once they were engaged, they saw no time to wait around; as Saldana told The Hollywood Reporter in 2014, "As soon as we decided we were going to get married, we didn't wait. We did it three weeks later." Like many of the other couples on this list, they've been married ever since, and are also parents to three boys: twins Bowie and Cy, born in 2014, and Zen, born in 2017.
So there you have it! Whirlwind romances can work out. And even if they don't, they've been a thing in Hollywood for years now without causing any problems, so try to keep your opinions to yourself.