15 Romantic Things To Do On Valentine's Day When You're In A Long-Distance Relationship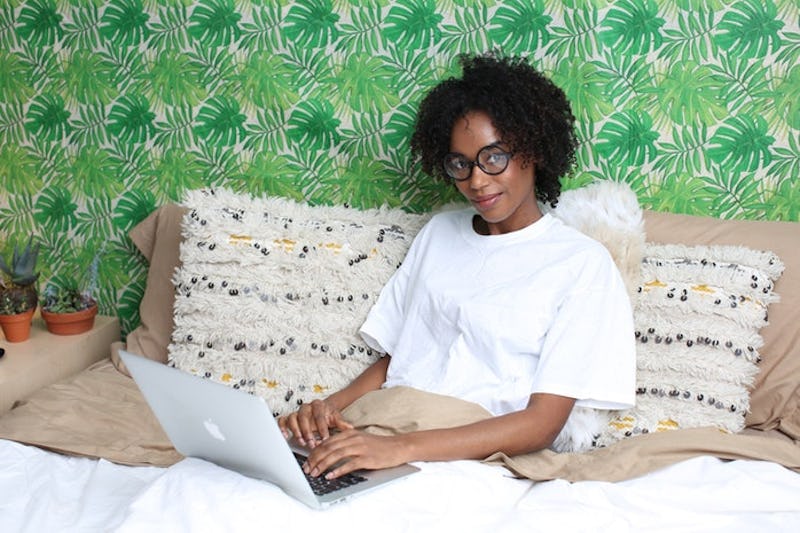 Ashley Batz/Bustle
With Valentine's Day around the corner, you may be thinking about what to do for the heart-centric holiday. Whether you are in a fairly new relationship or a long-term one, you and your significant other may be apart on February 14. This may be the norm — you're in a long-distance relationship anyway — or one of you suddenly has a business or family obligation out of town. However, just because you're physically apart, it does not mean you cannot be emotionally together. After all, there are several Valentine's Day ideas for long-distance relationships, even if the distance is temporary.
"Valentine's Day is all about celebrating and appreciating your love," Tyler Turk, founder of Crated With Love, a monthly date night subscription box, tells Bustle. "When you're physically apart, it may seem like you cannot enjoy the holiday, but there is always an opportunity to celebrate your love. And remember, you can always celebrate before or after the 14th. The great thing about love is that it doesn't only exist for one day!"
OK — Turk is exactly right in that February 14 is technically just February 14, and there are still 364 more days of the year to celebrate your relationship and love with your significant other. But if you're looking for some Valentine's Day ideas, you'll find several below.