Bibiana Shared Her Opinion Of Arie As 'The Bachelor' & It's HARSH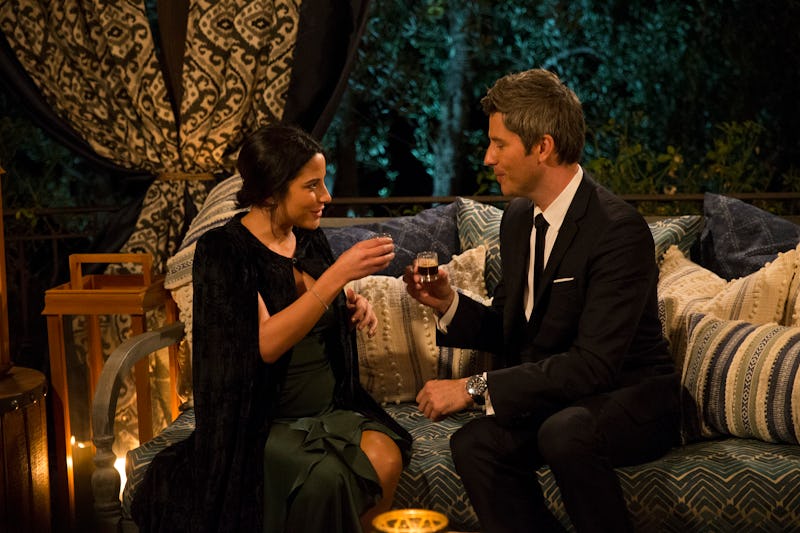 ABC/Paul Hebert
If you've been wondering why the women of The Bachelor haven't been complaining about this season, we may have an answer for you. Bibiana is disappointed by Arie as the Bachelor, a sentiment she never shared on the show. So why is she speaking up now? The executive assistant says she hadn't really watched previous seasons before signing on as a contestant, something she describes as a "mistake" during a conversation with Ben Higgins and Ashley Iaconetti on their podcast Almost Famous. Because now that she's gotten a glimpse of how Ben handled his Bachelor season, Bibiana Julian can't help but feel that Arie Luyendyk Jr. really suffers in comparison.
The 30-year-old spoke to her Winter Games co-stars Ben and Ashley for their Feb. 11 episode, where she revealed the rollercoaster she's been on post-show. After her Week 3 elimination, Bibiana says she didn't have a ton of insight, initially, and her first appearance on the podcast reflected that.
"One of my mistakes was not watching enough of The Bachelor before I actually jumped onto the season. So when you guys asked me my thoughts on Arie as the Bachelor, I really didn't have a lot to say because I didn't really know. So I went back and I watched some of your season, Ben. Just kind of, like, as a refresher. And you were such a good Bachelor!"
As a quick sidenote: this is hardly a universal opinion. Ben helmed the franchise in 2016, and while Season 20 was overall well-received, he did invite controversy in the finale. That's where he told two women he was in love with them: both winner Lauren Bushnell and his runner-up, JoJo Fletcher. And while Lauren and Ben did get engaged during the finale, they announced their breakup in May 2017.
So, there are at least two women who probably don't feel that Ben was a particularly good Bachelor, but Bibiana places the emphasis on the software salesman's ability to connect to the women on his season — an arena where Arie has noticeably struggled.
"I feel like you just knew how to navigate your conversations, and even just saying goodbye to the women, you had much more to say, much more personal. I watched your Women Tell All, and you can tell that the women just wanted you to really be happy, and that shows a lot. It shows that you really took the time to listen; you navigated conversations very well throughout the dates."
Watching Bibiana's own season, which is airing now, fans have seen things like Arie blindsiding single mom Chelsea at a Rose Ceremony; Arie using Bibiana's romantic set-up all night with every woman but her; or Arie taking Lauren on one-on-one dates two weeks in a row before some of the other women have gotten a first one-on-one. Things that, if you watch the show, you know are simply not done.
But if you don't have that history of fandom, your only context of the show comes from your own experiences. And it wasn't until Bibiana saw a past season that she realized how much she'd missed out on. "I personally feel victimized," she tells the podcast hosts, who press her for clarification until she relents, "That I didn't get such a good Bachelor!"
Without a knowledge of previous seasons, contestants would have no idea just how far back into the Bachelor archives producers had to delve for Arie. He's been passed over as the show's star for five seasons since first appearing in 2012, and the race car driver was reportedly chosen this year only after more recent faves like Peter Kraus, Ben Zorn, and even the controversial Dean Unglert didn't work out.
A season with any of those other options might have looked a lot more like the show we're familiar with, where the Bachelor is expected to hand out compassionate goodbyes, provide extensive explanations, and keep things as fair as humanly possible. But, instead, we got a season where as recently as Week 7, Lauren dropped an L-bomb, and Arie immediately bolted away from the table with no explanation.
In the immortal words of Bibiana, "You can't really teach people to know how to connect and be attentive." Fans honestly can't say it better than that.