Theories About Taylor Swift's "Gorgeous" That Will Frustrate Even True Fans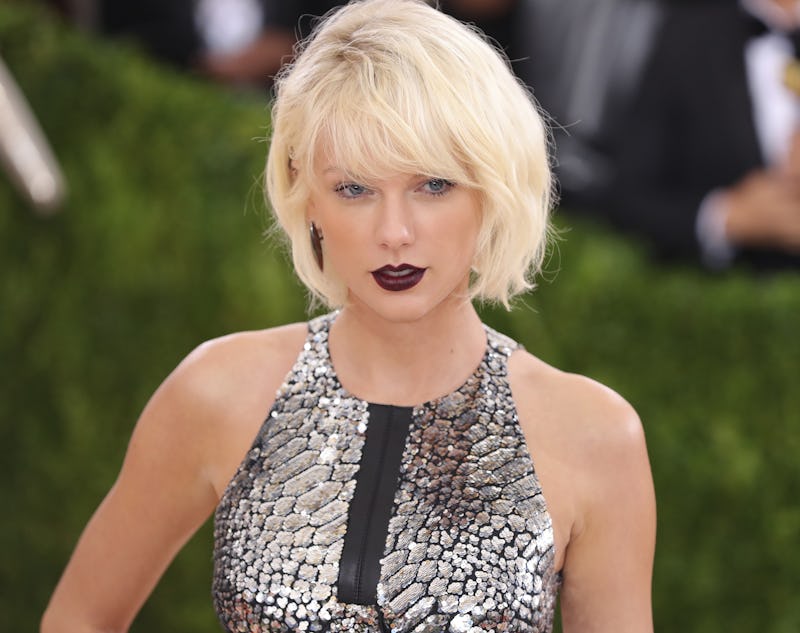 Neilson Barnard/Getty Images Entertainment/Getty Images
On Thursday, the ever-mysterious New Taylor Swift updated her Instagram with an announcement. Swift will release her new song "Gorgeous" at midnight ET, but that doesn't tell us a whole lot about what that means. Neither do Swift's cryptic Instagram posts, which feature a simple audio clip over a background with the word "gorgeous" repeated again and again. The most likely answer is that this is the third Reputation song we'll get to listen to, so let's examine the clues about Swift's "Gorgeous" before the song's official unveiling.
Here's exactly what Swift offered up on Instagram on Thursday: "Gorgeous" will be "available everywhere" at "midnight tonight Eastern." Pretty straightforward, no? While the "...Ready For It?" singer didn't explicitly say a jam is coming our way, this sure smells like a new song announcement: When it was time to drop the first two singles off of Reputation, she did a similar thing on Instagram to ramp up to both of the song releases. Oh, also? Fans who attended the recent secret listening sessions have mentioned a song called "Gorgeous," so that basically seals the deal (more on that in a minute).
Here's one of the posts from Swift's latest triptych:
Are there any clues swirling around in the ether about "Gorgeous"? You better hissin' believe it. The theories, clues, and reactions linked to these Insta posts will make your head spin. Let's dig in.
It Could Be About At Least One Of Her Feuds
It sounds like "Look What You Made Me Do" is just the first of many Reputation tracks that dig into Swift's public falling-outs. A source recently told Us Weekly that the forthcoming album "chronicles her feuds" with Kanye West, Kim Kardashian, Calvin Harris, and Katy Perry. Us Weekly's source added, "It will be across multiple songs, somewhat cryptically, but also obvious."
But which feud might it reference? Get ready for this next detail.
There's A Kanye West Song Titled "Gorgeous"
A year after West and Swift's incident at the 2009 VMAs went down, West released his seminal album My Beautiful Dark Twisted Fantasy. And song number two on that Yeezy record is titled "Gorgeous." Let that marinate. Sure, this could be a coincidence, but come on. This is Taylor "Two Paper Airplanes Flying" Swift we're talking about; she isn't exactly someone who accidentally stumbles into a reference.
What If That Baby Voice Belongs To Swift's Godson?
In one of the Insta posts that went up Thursday, a baby says the word "gorgeous" over and over. Fans like Twitter user @theoldtayisdead are wondering: Could that voice belong to Jaime King's son, Leo Thames? That'd be a cool gig for Swift's godson.
Or Maybe That Baby Voice Belongs To Swift
As Twitter user @AllToooTay pointed out, @hellodaintydoll says there's apparently a video of baby Swift uttering the word "gorgeous" somewhere. (However, trying to find this video hasn't quite worked out.)
It May Be A Nod To Speak Now
Twitter user @taysevolution put the "Gorgeous" Instagram post and the Speak Now album art side-by-side, drawing attention to the similar color schemes. Well, the Old Taylor and the New Taylor have at least one thing in common: They sure like fuchsia.
She Might've Picked This Release Date For A Very Specific Reason
Get out your calculators, because math class is now in session. As @hazalison cleverly figured out, the release date leads to Swift's favorite number.
"Gorgeous" Could Be "Met Gala Taylor"...
Some brilliant Swifties have hypothesized that each of the Taylors at the end of the "Look What You Made Me Do" music video represents a track on the record. So if that theory is true, fans suspect "Gorgeous" might be the "Met Gala Taylor."
*Strokes invisible beard pensively.*
... Or It Could Be "VMAs Taylor"
*Strokes invisible beard even more pensively.*
Those Who've Heard It Already Are Loving It
Swift's been hosting secret listening sessions this month, and those lucky enough to attend are raving about "Gorgeous."
By all accounts, we're in for it.
Swift's posts about "Gorgeous" are only a few hours old, and there's already a pile of theories that's about as big as that mountain from the "LWYMMD" music video. There's no denying that she knows how to get people talking. And when "Gorgeous" hits the internet in a few hours? The theories will certainly keep on slithering. Get... ready for it.