J.K. Rowling Reveals Why She Wrote 'Fantastic Beasts' — But Fans Are Still Divided Over It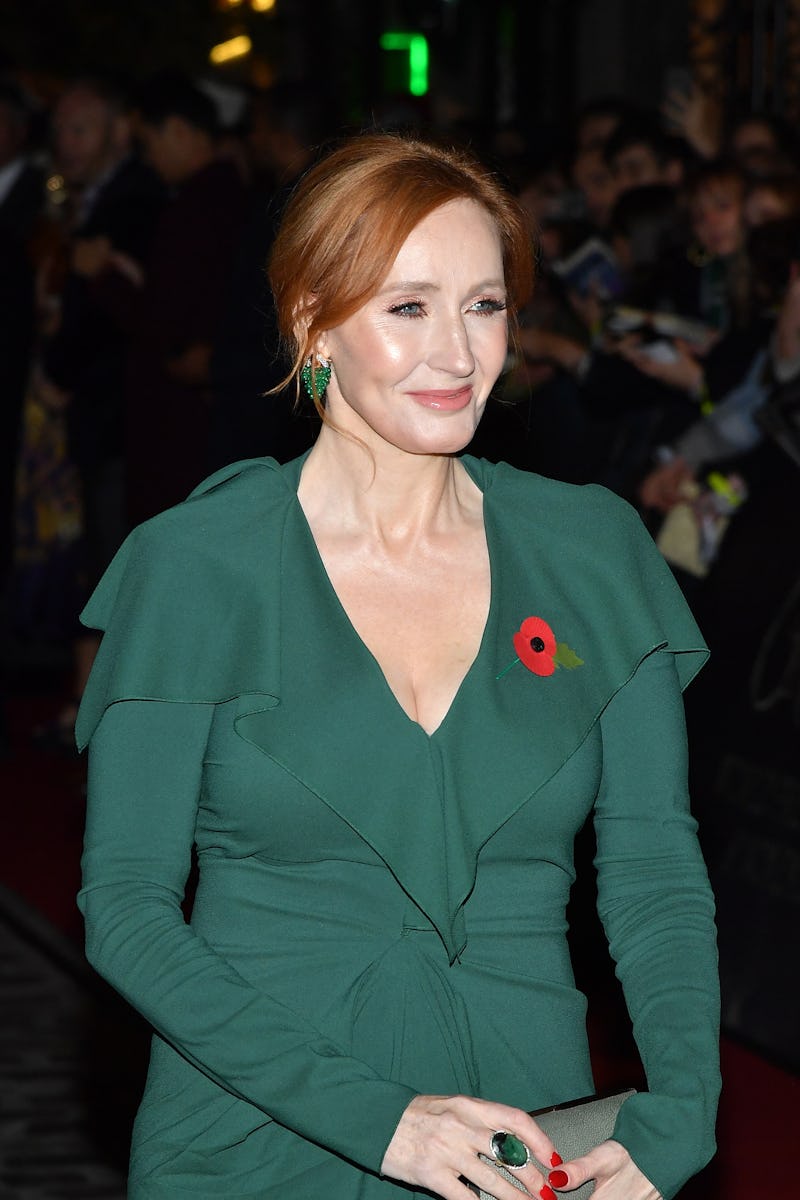 Pascal Le Segretain/Getty Images Entertainment/Getty Images
When Potterheads first got wind of the Fantastic Beasts and Where to Find Them film franchise, many of them were ecstatic. But a few years and several controversies later, and the excitement has at least somewhat dulled. Still, there are plenty of people anxiously awaiting the upcoming release of The Crimes of Grindelwald, and while fans may be divided over its questionable casting choices and the exclusion of LGBTQ characters, J.K. Rowling says she wrote Fantastic Beasts for them.
She has been at the receiving end of a lot of criticism lately, but that hasn't seemed to diminish J.K. Rowling's appreciation for the fans who are responsible for her nearly billion dollar fortune. While in Paris celebrating the premiere of The Crimes of Grindelwald last week, Rowling expressed just how grateful she was to her fans, and revealed why exactly it was she wanted to give them more content in the Harry Potter universe. "This fandom is the most remarkable in the world, for me, obviously," Rowling said on the red carpet. "Their loyalty and their passion for these stories really is the reason that I went back, because, without that, I don't think I would have written these movies."
The Harry Potter creator also took to Twitter to gush about how incredible her fandom real is. "You people are amazing," Rowling tweeted. "To every single one of you who's seen Crimes of Grindelwald and kept the promise to #ProtectTheSecrets, thank you for looking out for your fellow fans. Not that I needed reminding, but this is an incredible fandom."
But the unconditional love Rowling seems to have for her fandom is not always a two-way street. Over the past decade, the Harry Potter author has been criticized for cultural appropriation, straight-washing, and racism by book and movie fans who have taken issue with her mostly straight, mostly white wizarding world. In fact, Rowling's attempts to make her series more inclusive after publication through interviews, tweets, and the Fantastic Beasts franchise has often been at the center of fans' anger.
The controversy surrounding The Crimes of Grindelwald can be traced back to 2007, long before news of the Fantastic Beasts film series was even announced. Following the release of Harry Potter and the Deathly Hallows, the final book in her famous wizarding series, Rowling said that she "always thought Dumbledore was gay." While some Potterheads were elated over the revelation, others were reasonably upset that Rowling did not write the beloved headmaster as gay in the books. Can the Harry Potter series really be considered inclusive if the only gay character doesn't get to claim his sexuality or express it in any way? Fans thought that maybe, the Dumbledore-centric Fantastic Beasts sequel would be an opportunity to do just that, but they were again disappointed when David Yates, The Crimes of Grindelwald director, announced they would not make Dumbledore "explicitly" gay in the film. "I think all the fans are aware of that," he explained. "He had a very intense relationship with Grindelwald when they were young men. They fell in love with each other's ideas, and ideology and each other."
Yates comments only added to the fan frustration that was already bubbling up around the movie after it was revealed Johnny Depp's role as the film's titular character would not be changed, despite abuse allegations levied against the actor by his ex-wife, Amber Heard. While many Potterheads were vocal about their desire to see Grindelwald recast, Rowling explained in a statement that "Based on our understanding of the circumstances, the filmmakers and I are not only comfortable sticking with our original casting, but genuinely happy to have Johnny playing a major character in the movies." Obviously, fans were more than a little disappointed. Some even threatened to boycott the film.
The controversies did not end there though. When the trailer for The Crimes of Grindelwald was released in September and revealed that Nagini, Voldemort's infamous pet snake, was once a woman played by South Korean actress Claudia Kim, fans had a lot of questions. In a tweet, Rowling revealed Nagini was in fact a Maledictus, or a person who is cursed to transform into an animal for longer and longer periods of time until they take the form permanently. Critics were quick to point out just how problematic this backstory of having an Asian woman become a white man's pet with no agency really was. Rowling's explanation that the character was inspired by the Naga, a snake-like creature in Indonesian mythology, only further infuriated fans who criticized her for playing into stereotypes about Asian culture.
So it may be true that Rowling went back to the Harry Potter series for the fans, but I think it is safe to say that the fans expect more, and deserve more, from their favorite author. Luckily, there are still three planned films in the series, and it is never too late to learn from past mistakes.