A Deep-Dive Into How 'The Bachelorette' Handled Race This Season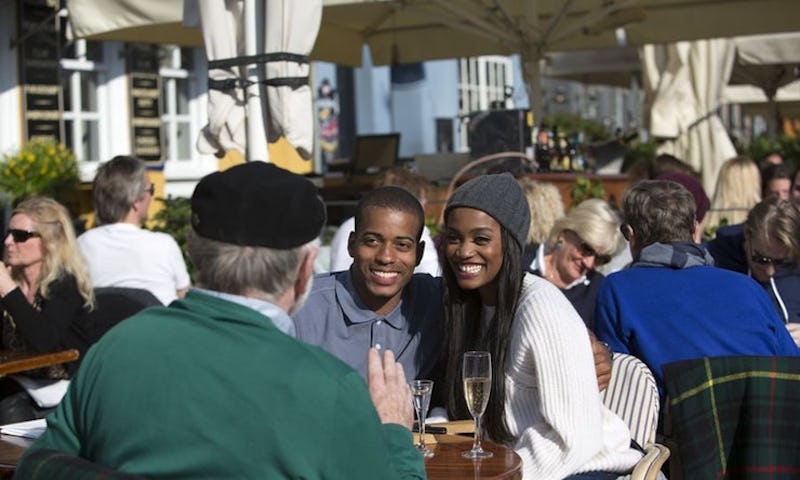 ABC/Thomas Lekdorf
You can't mention Rachel Lindsay's season of The Bachelorette without acknowledging its racial implications. From the fact that Rachel Lindsay is the first black woman to star on the show to the microaggressions presented by certain cast members, most notably Lee Garrett, being black in America has become a hot topic of discussion for viewers of America's longest running dating show. Over the past few weeks, the Bachelor spinoff has been both praised for having the most diverse cast in franchise history, and accused of race-baiting — especially by those who claim that the show used the racially charged Lee and Kenny feud as a way to escalate typical dating series drama. (Bustle reached out to ABC and Warner Bros. regarding these claims, but both declined to comment.)
But considering the fact that Season 13 dove headfirst into the topic of race, it's important that fans of the series look at the entire picture with a critical eye.
Missing The Mark: The Lee & Kenny Trainwreck
Sure, this beef may have kept fans coming back for more, but that doesn't negate the fact that pinning the big black man against the seemingly "defenseless" white man was a play on America's deep-rooted lineage of racial tension.
The decision to cast Lee, who prior to making his Twitter private shared what could be deemed racist tweets, seemed deliberate, and it turned The Bachelorette stage into a dangerous space. It's clear that Kenny came on the show to find love, not to fight racism in the series' apparent attempt to stir up culturally relevant drama. As a fan of the franchise, and a black woman, it was both painful and very disheartening to watch such racially coded drama unfold, especially when we've come to expect more progressive narratives in entertainment.
In real life, however, we've seen scenarios like Lee and Kenny's feud play out far too many times to count, and more often than not, the person of color ends up losing a lot more than a rose.
Many fans picked up on the code, including Season 13 heartthrob Dean, who called Lee out on his trolling ways. Fans made it clear that Lee was overstaying his welcome, but it seemed as though the series' only concern was to drag out the race war as long as possible — even hyping the audience up to thinking physical blows were on the way by teasing a shot of Kenny bleeding above his eye at the end of multiple episodes. Social media consensus at the time seemed to show that many fans found the whole ordeal inappropriate. Including Rachel.
The pseudo-drama didn't stop there, however. Season 13's Men Tell All special, which aired July 31, was also a playing field for Lee and Kenny's feud. Except this time, Lee took on a completely different tone than in his earlier Bachelorette days. Stories of Lee's behind-the-scenes abrasiveness toward the black male contestants in the house and of his highly offensive tweets rocked the production's stage — proving that Lee's treatment of Kenny wasn't just a one-off.
The once sly and cocky castmate was all of sudden remorseful for his double-dealing schemes — forcing Kenny to wear a badge of forgiveness that he didn't seem particularly keen on. Watching his tacky and scandalous behavior played out on national television week-by-week could've very well cured Lee of his seemingly racist conduct. By the end of the episode, Lee apologized to Kenny, but his redemption song smelled more coerced than sincere, if anything.
As Bachelorette and Bachelor In Paradise contestant DeMario Jackson pointed out, Lee's apology was a day late and a dollar short. When thinking of Season 13 of The Bachelorette, Kenny — the fun-loving, single father — will rarely be remembered by fans of the show for having a sweet connection with Rachel, but rather for warding off unwarranted microaggressions and attacks on his character. And he deserved better.
Something To Celebrate: Rachel's Openness About The Pressures To Choose A Black Winner
Because Rachel is the series' first black Bachelorette, conversations about interracial dating have been an inevitable and common thread throughout the season. Will, the 28-year-old black sales manager from Miami, shocked viewers when he confessed his preference for white women to the other Bachelorette contestants while he was still competing for Rachel's heart. And while he experienced some of the backlash that comes with interracial dating, the true bearer of the weight of this huge issue has undoubtedly been Rachel.
Throughout the season, Rachel has hinted at the pressures that she feels have been placed on her for being the first black Bachelorette. When asked by The Hollywood Reporter if she felt forced to choose a black winner, Rachel said,
"That is a very common question that I get from black people. Honestly, I don't want to go into this process with any preconceived notions or any pressures to do something for somebody else. I hate to sound selfish, but it's my process."
However, being surrounded by a largely white cast, the odds that the Dallas attorney will end up giving the final rose to a white cast member are high. And no one seems to be more aware of this than Eric, the black 29-year-old personal trainer from Baltimore, and one of the final three men left competing for Rachel's heart.
Eric and Rachel share a common bond, being the only two black people remaining on the show, and a dynamic like theirs hasn't really been presented in the franchise before. The conversations they've had about the racial elephant in the room onscreen are bound to help open Bachelor Nation fans understand a world that they may not be privy to, otherwise.
Another Win: Candid Discussions About Racial Dynamics
Capturing the very candid and real conversation between Rachel and Eric's Aunt Verna during the hometown visits was just another one of those wins for The Bachelorette. Having two black women talk, openly, about the competition and finding love on camera created a new dynamic for the show — and social media could not stop talking about it.
Rachel was, once again, able to let her guard down and articulate how she was feeling about the process, but this time with someone who could relate on a more personal level. In a blog post chronicling her hometown visits for People, Rachel wrote,
"I've been asked dozens of times by the press, 'What is it like being the first black Bachelorette?' but the conversation I had with Aunt Verna came from someone who already had insight into the struggles that come with a black woman in the spotlight and could relate in ways no one else had with me before."
Aunt Verna may not be looking for love on national television, but she was able to understand that while Rachel's position is groundbreaking, she's also just like every other Bachelorette who came before her.
The Final Verdict: It's Only Up From Here
Fostering a safe space for contestants of color to talk openly and honestly about race, and how it correlates to their experience on the show, is something that the network and franchise should wear as a badge of honor. Season 13 of The Bachelorette is, by far, the most progressive and inclusive season that the franchise has ever had. And although the production team made their share of mistakes, the future still looks bright.