Proof Female Screenwriters Deserve Way More Credit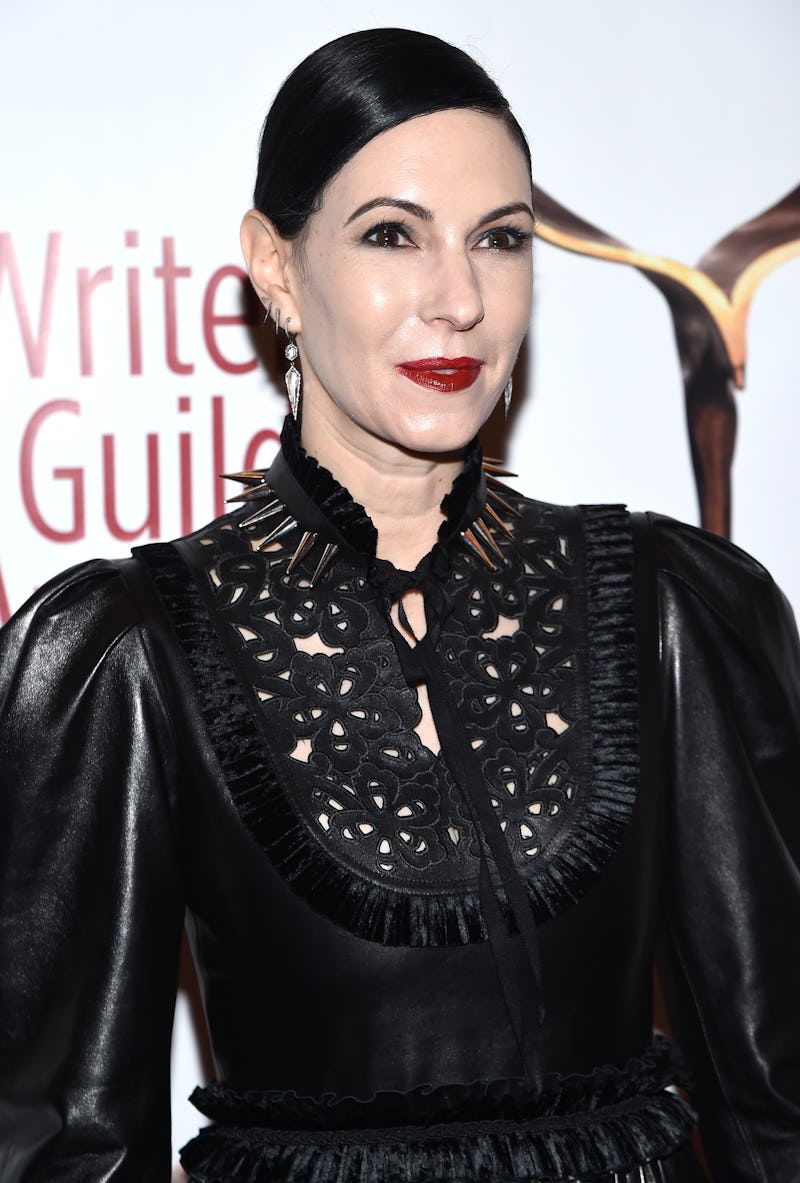 Dimitrios Kambouris/Getty Images Entertainment/Getty Images
Inside the Edison Ballroom, I joined fellow reporters at the 2017 Writers Guild Awards New York red carpet on Sunday, Feb. 19. I decided to pose a seemingly simple question — or so I thought: "Who's your favorite female screenwriter and why?" Considering the event celebrated writing, it seemed like a no-brainer. However, the responses spoke volumes about the recognition women working behind-the-scenes receive — or lack thereof. It's worth noting I only asked nine people, but of that group, one-third struggled to answer. On the flip side, every woman gave a unique response. I'd argue it's a telling sample.
Initial reactions ranged from "oh, Jesus" to "wow" to "ummm." While I was taken aback by Writers Guild Awards' attendees having difficulty naming female writers, I believe it says more about the industry than those individuals. In 2017, 80 percent of nominees in non-acting Oscars categories were men, according the Women's Media Center. Not only that, but zero women were up for Original Screenplay, while only one woman — Hidden Figures writer Allison Schroeder — received a nom for Adapted Screenplay.
Considering John Waters was receiving a lifetime achievement award at the WGA ceremony, he likely had a lot on his mind. This could explain why he appeared stumped. "That's a good question. I'm trying to think of who wrote movies. I don't know which sex they are," said Waters, the mind behind classics like Hairspray, Pink Flamingos, and more. "I feel bad. I should have the perfect answer."
Then, Waters threw in, "Laura Lippman is a great woman writer that's done screenplays." (Lippman's novel Every Secret Thing was turned into a movie, but the script was written by Nicole Holofcener.) Waters emphasized again that he felt bad, but is he the one who should? Probably not. To begin with, writers often don't receive the same acclaim as actors. Plus, when statistics are predominantly male, it's not surprising. According to a 2015 Vocativ article, 160 screenwriters were credited for 100 films nominated for Oscars between 2005-2014; of that list, only 16 were women.
The award show's host, Lewis Black, responded with puzzlement as well. "Wow. Screenwriter is tough, 'cause here's my problem," he said, "I mean, if you asked me who my favorite male screenwriter was — the fact that I vaguely remember titles at this point is beyond belief. So, it's tough. I know that I love Amy [Poehler] and Tina [Fey]. I think that they're astonishing."
"Women are human beings too. And I think for so long we haven't really appreciated the insight of a woman." —Becky Ann Baker
But Black's memory isn't necessarily to blame. With women recognized by the industry less than their male counterparts, it may make them tougher to recall. In the past 10 years, Juno's Diablo Cody is the only woman to win Best Original Screenplay at the Oscars. And despite two women being nominated for Best Adapted Screenplay in 2016, neither Carol's Phyllis Nagy nor Room's Emma Donoghue took home the award.
Black eventually offered: "I saw Winter's Bone, and I think that's written by a woman. I think. And I really liked that." He's correct — Debra Granik and Anne Rosellini wrote the screenplay for the 2010 film, based on Daniel Woodrell's novel of the same name.
Meanwhile, when I asked Stranger Things star, David Harbour, he became a bit flustered. "I'm terrible with names of all writers. I'm that guy who doesn't know any writer's name," he said. "You could ask me a male writer or a female writer, and I would not know."
After that, Harbour gushed over Kathryn Bigelow's directorial work, although she didn't write The Hurt Locker. However, Bigelow is the only woman to ever win an Oscar for Best Director — an undeniably noteworthy accomplishment. "In terms of writers, you literally could not ask me a writer male or female that I would know," Harbour said, before joking, "except for the Duffer Brothers."
Perfectly summing up gender representation in the industry, Amber Ruffin, a writer for Late Night With Seth Meyers, said, "We can dice men up into nine different types of comedy alone, but women, we've only got one. But that doesn't mean the other eight don't exist." And she hit the nail on the head again when asked why varying voices matter: "You just get different stuff. When your friends write for you, it's not as good as when you write for you. Whether your friend is a man or a woman."
As for her favorite, Ruffin said, "My favorite female writer, I guess, would have to be Amy Poehler. Everything she does is still my favorite." And yes, Poehler's name popped up multiple times — along with partner-in-crime Fey.
Steve Young, a writer with credits including shows like Maya & Marty, said, "I always feel like if it's something coming out of the Tina Fey world, I'm going to actually be able to really enjoy it."
Here's the thing, as wonderful as Tina Fey and Amy Poehler are, they're not the only female writers in Hollywood. However, with the lack of visibility, sometimes it feels that way. Chances are you've seen the work of women, but may not know it. It's time to not only feature other writers' talent in the mainstream, but applaud it.
Luckily, a few red carpet responses gave me hope. Jill Kargman, creator and star of Odd Mom Out, seemed visibly excited by the question. "Oooh, I'm obsessed with Samantha Bee," she said. "No one makes me laugh harder. I think she's a f*cking genius... I love Broad City. I think Amy Schumer is a genius screenwriter."
"I'm really into comedy right now," she continued. "I mean, I love my Game Of Thrones, but I really need comedy right now with the political bullsh*t going on. So I look to those three as my big ones."
Likewise, Seth Meyers gave a refreshing answer — choosing a fellow Saturday Night Live alum. "Well, I'm going to say Paula Pell, just 'cause she's my favorite writer overall," Meyers said. "I've never in my life known someone who could make me laugh more with what they put on a page or with the way they perform."
Similarly, Steve O'Donnell — a writer with credits ranging from The Simpsons to Seinfeld — acknowledged past colleagues' talent. He rattled off a thoughtful list, ranging from Jessi Klein to Seinfeld's Carol Leifer. "I'm going to say Merill Markoe right off the bat," O'Donnell said. "She was the first sort of superstar writer I ever worked with, and she so impressed me."
Perhaps that's the catch: When people directly worked with a writer, they stand out in their memory. Case in point? "Well, I love Lena Dunham," Betty Ann Baker said with a laugh, referencing her TV daughter on Girls. "There are about a million reasons why. Six seasons worth of reasons why."
"Women are human beings too," Baker said. "And I think for so long we haven't really appreciated the insight of a woman. I think Lena and many, many other women writers are changing that and it's very exciting."
I'll acknowledge that I, myself, have never been a star on the red carpet. After all those cameras flash in your face, I imagine your brain gets a little foggy. This could explain some struggling to answer. Or, the more likely explanation is that this indicates a larger problem — what happens when women's voices aren't elevated or given the same exposure as men's.
Yes, Fey and Poehler are talented, but they're not the only female writers. If you need a crash course, this list of Heroines of Cinema list from IndieWire could be a great place to start.