'Riverdale' Won Pretty Much Every 2018 Teen Choice Award & Fans Love It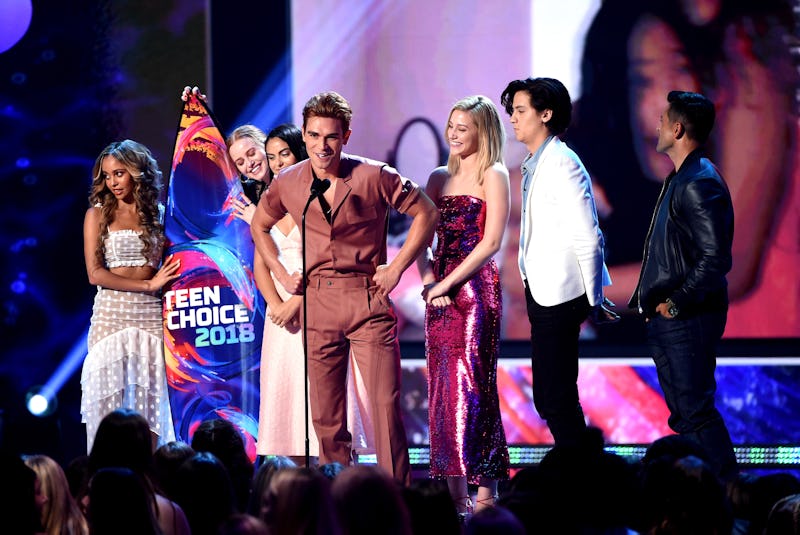 Kevin Winter/Getty Images Entertainment/Getty Images
In case you were wondering what the youths are digging these days, the answer is simple: Riverdale. The cast of Riverdale won basically all the awards at the 2018 Teen Choice Awards on August 12, and fans of the CW show are living for every single win. OK, so they didn't win all the awards — they took home 10 awards total — but it's safe to say that they're definitely dominating.
Even if you were glued to your screen for the entirety of the TCAs, it's safe to assume that you probably weren't aware exactly how much the cast was dominating off-air. The first and only televised Riverdale win was for "Choice Drama TV Show," and if you were surprised by how not surprised the cast looked while accepting their surfboard, well — guess what? They'd already collectively won a ton of awards at that point. Awards that fans didn't even get to see them win!
It's kind of a bummer they didn't show the beginning of Riverdale's winning streak, because it would have been pretty cool to be able to witness their early reactions. You know, like, before all that walking to and from the stage over and over and over again started to get exhausting.
Among those missed wins were: Cole Sprouse (who plays Jughead Jones) for Choice TV Drama Actor and Choice Male Hottie, Lili Reinhart (Betty Cooper) for Choice TV Drama Actress, Madelaine Petsch (Cheryl Blossom) for Choice Hissy Fit, Vanessa Morgan (Toni Topaz) for Choice Scene Stealer and Choice Breakout TV Star, and Mark Consuelos (Hiram Lodge) for Choice TV Villain. Phew. See? Exhausting.
Oh, and there's one win, in particular, that fans would have gone wild to see play out in real life: Choice TV Ship ("Ship" as in "Relationship," for the non-youths out there). Two on-screen cast couples were nominated in that category — KJ Apa (Archie Andrews) and Camila Mendes (Veronica Lodge), and Reinhart and Sprouse (aka Betty and Jughead) — but only one couple could walk away with the title.
That couple was, unsurprisingly, Reinhart and Sprouse, who are reportedly an off-screen couple as well. (They also won Choice Liplock later on in the show.) Even though they made their red carpet debut together at the 2018 Met Gala back in May, and even though Reinhart called Sprouse her "love" in an Instagram post on Aug. 4, the rumored couple still hasn't publicly confirmed that they're dating.
Regardless, Riverdale fans were still super pumped to hear that their favorite show took home some major wins. "CHOICE LIPLOCK & BEST SHIP, THE POWER OF #BUGHEAD," enthusiastic fan @juliett_jn tweeted. "f*ck you guys i love riverdale and they legitimately won every TCA they were nominated for literally like 10 wins for the cast i'm laughing," wrote @spookyscarymel.
The 2018 Teen Choice Awards are all about the power of the fans, and Riverdale's fans clearly love them a lot. They legitimately won almost every single category they were nominated in, which is pretty impressive. Congratulations to all the winners out there, and congratulations to all the fans whose favorite shows got the love they deserved.