The 4 Most Turbulent Zodiac Couples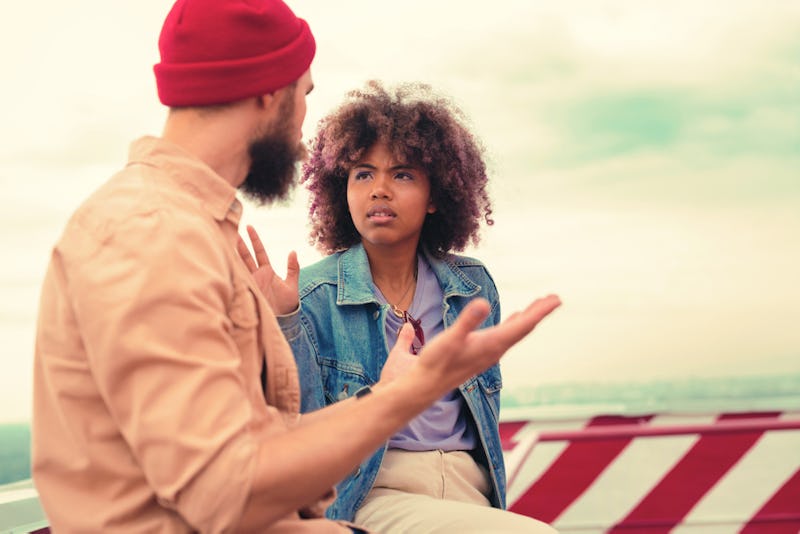 Dmytro Zinkevych/Shutterstock
There are so many factors that can cause a relationship to be turbulent, including whether or not the couple's zodiac signs are compatible. If they are complete opposites, or lack any real chemistry, they may struggle to understand each other, see eye-to-eye, or argue in a healthy way — all thanks to how their personalities clash.
While it's not true for every couple, these problems might stem from where their signs fall in relation to each other on an astrological chart. "Couples who have quincunx signs — signs that are 150 degrees apart — have tremendous difficulties relating," Kristin West, celebrity astrology expert, tells Bustle. "They are neither similar or complementary."
And for some couples, this can lead to misunderstandings. "Quincunx partners simply 'don't get' each other," West says. "It's not even a clash of values. It's like they speak a language that's foreign to one another."
There is good news, though, in that being aware of these astrological differences can help shed light on why an otherwise healthy relationship might occasionally feel dysfunctional. If you and your partner remain aware of your different values and approaches to life — and how it all impacts your partnership — you may even be able to overcome it.
Having incompatible zodiac signs doesn't guarantee your relationship will be difficult, but it may be one small factor to consider if you've been going through tough times with your partner. Read on below for four most dysfunctional zodiac sign pairings, according to astrologers.