Bustle's Editors On Press Conferences + 'AHS'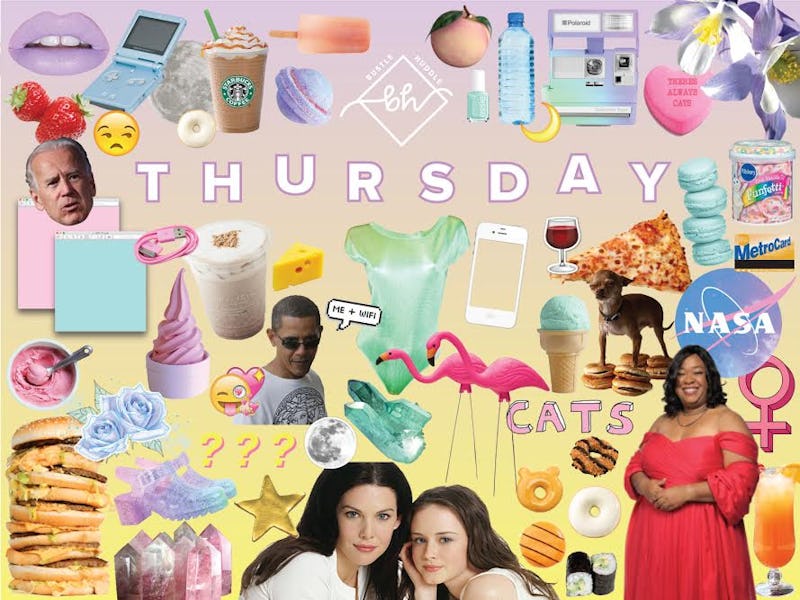 Who else felt like today just had to be Friday? Unfortunately, the start of the Presidents' Day long weekend isn't here just yet (sigh), but at least we only have one day to go. Soon enough, we'll all be taking that extra day off to sleep in and order takeout — uh, I mean wake up early, work out, and change the world, because that's what we're all totally gonna do, right?
Oh, well. Before settling in for a nice long weekend, read on for a recap of the news and events that caught Bustle's editors' attention today, Feb. 16.
Donald Trump + That Press Conference
Oh, man. Where to even start? On Thursday afternoon, Trump held a press conference to discuss his new nominee for Labor Secretary, and — surprise, surprise — things quickly veered off track. From the president's thoughts on fake news to his conversation with reporter April Ryan, these quotes from Trump's press conference sum up the ridiculous hour of "news."
Meme Alert: By now, you've probably seen those "Ivanka Trump is thirsty AF" memes about her meeting with Justin Trudeau. But let's all stop with that, OK? Women's listening faces are assumed to be looks of infatuation all too often, and those memes are actually pretty sexist.
American Horror Story + The 2016 Election
Well, it was only a matter of time. The theme for American Horror Story Season 7 has been announced, and it's... the 2016 presidential election. Yes, Ryan Murphy's horror show will take on Trump vs. Clinton, and while other details are unknown, you know you want to tune in to see this.
#ItAin'tMe: Selena Gomez's new song with Kygo is here, and it's so good, you guys. Could a new Selena album be on the way?! Here's hoping...
A Day Without Immigrants + What It's Like
On Thursday, many businesses across the country closed in protest of Trump's immigration policies, with others staying open but donating portions of their proceeds towards immigration-focused nonprofits. It's an important movement that'll surely send a strong message to those in favor of things like the immigration ban, and these photos of the "Day Without Immigrants" from social media are so powerful.
Shopping Break: We've all aged a lifetime in the past few weeks, so step into adulthood with these 21 life-simplifying items that will help you be your most grown-ass self.
#HurtBae + Moving On
The internet has a new favorite celeb, and her name is Hurt Bae. A video showing a woman named Kourtney fighting with her ex about their relationship has blown up, and Kourtney — aka Hurt Bae — is everywhere now, as these hilarious Hurt Bae memes and tweets show.
#TBT: Years after starring on The Suite Life of Zack & Cody with his brother Dylan, Cole Sprouse has returned to TV with Riverdale, and he tells Bustle all about what happened in those in-between years.
Lisa Frank + The Makeup Collab You Need
Makeup-loving '90s kids, prepare to freak out: a Lisa Frank makeup collab with Glamour Dolls is coming, and if you back the project on Kickstarter, you get to vote on things like product names and colors. What are you waiting for?!
Pro Tip: Hey, shopping addicts: check out the many President's Day fashion and beauty sales happening over the long weekend. May the odds be in your favor.
Today's WTF Moment: A champagne vending machine is coming to Vegas. Get in line, like, now.
What to Watch: It's Thursday, so that means it's all about Shondaland. Tune in to ABC starting at 8 to catch new episodes of Grey's Anatomy, Scandal, and How to Get Away with Murder.
‌ Drop here ‌