These New 'This Is Us' Season 3 Spoilers Have A Major Hint About Randall & Tess' Cliffhanger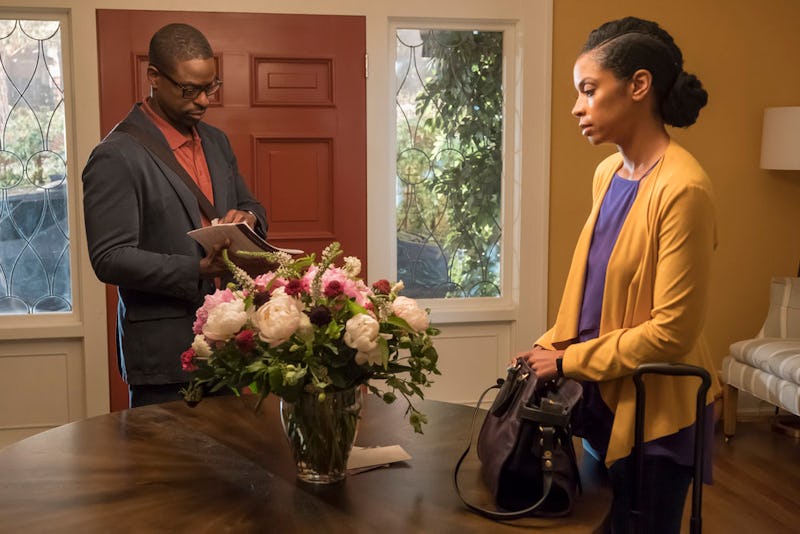 Ron Batzdorff/NBC
Randall and Tess' epic flashforward scene within This Is Us' Season 2 finale left fans with so many questions. Did Randall ever forgive Deja for mangling his Mercedes? And, wait... who's "her," and why do we all have an eerie feeling that their visit isn't going to be much of a pleasant one? Well, thanks to a Sept. 14 interview with Entertainment Weekly, these new This Is Us Season 3 spoilers provide a bit of insight into what's to come of the Pearson family fold, and also gives a big hint as to who future Randall and Tess are concerned about.
Aside from Randall and Tess' future, the This Is Us Season 2 finale covered so much. From Toby and Kate's adorable nuptials, to Kevin hitting it off with Beth's super cool cousin Zoe (as played by Melanie Liburd) and, yes, Deja busting up Randall's ride after someone mistook her the Pearson's actual daughter — and this was only the wedding day. As aforementioned, the finale included a couple of flashforwards, too. Things seem to have taken a major turn south for Toby's mental health, and of course, the major future-look at an adult Tess working as a social worker, and a salt-and-pepper Randall who never looked more proud of his daughter.
What shocked fans the most, however, was Randall's mentioning of "going to see her," and the somber ambience felt with each and every syllable as he spoke. Susan Kelechi Watson not being apart of the foward-jumping scene led many to believe that the woman in question was, in fact, the hard-working mother and glue that helps the Pearson family stick together. And though neither confirming or denying this speculation, Sterling K. Brown did, however, mention that "her" is definitely someone fans are familiar with in the recent EW interview.
"It is someone that we have met over the first two seasons," the actor told EW. "So it won't come out of nowhere."
Brown's bit of insight is certainly helpful to those wanting to narrow down their options, but it didn't quite pinpoint who exactly "her" is. On another note, theories of "her" being the grave of a future-deceased Beth are out of the window, as executive producer and co-showrunner Isaac Aptaker confirmed that Beth's most definitely alive and well — at least within the upcoming season, that is. Aptaker shut down the fan-theory while talking with Glamour, saying,
"I just heard about it this morning. I don't know where that came from. It's nothing we've talked about in our writers room, so unless there's some fan fiction making its way to set and getting filmed, I don't think that's in the works for Beth! You can tell your readers that Beth's OK."
So there you have it — Beth is thriving in Season 3, but as for her marriage with Randall, their relationship may just have hit a rough patch. Fans will remember that Season 2 opened up a new business-partner dynamic between America's favorite couple, as the pair bought and began renovating Randall's late-father's apartment building. Randall and Beth had their share of disagreements throughout, and it looks like some of that bad-blood may roll over into Season 3.
It's nothing that the power-couple can't get through, however, and while chatting with EW, Brown revealed that it's all going to be worked out. He said, "They hit a snag where they want different things out of life. You gotta work that s— out, so you see Beth and Randall working that s— out."
This Is Us Season 3 is set to premiere Tuesday, September 25, and you can bet that it's going to be one not to miss. And while the secret identity of "her" has yet to be revealed, fans can rest assured that the future for Beth and Randall appears to be bright.