Tinder's Super Likeable Feature Uses AI To Suggest Better Matches For You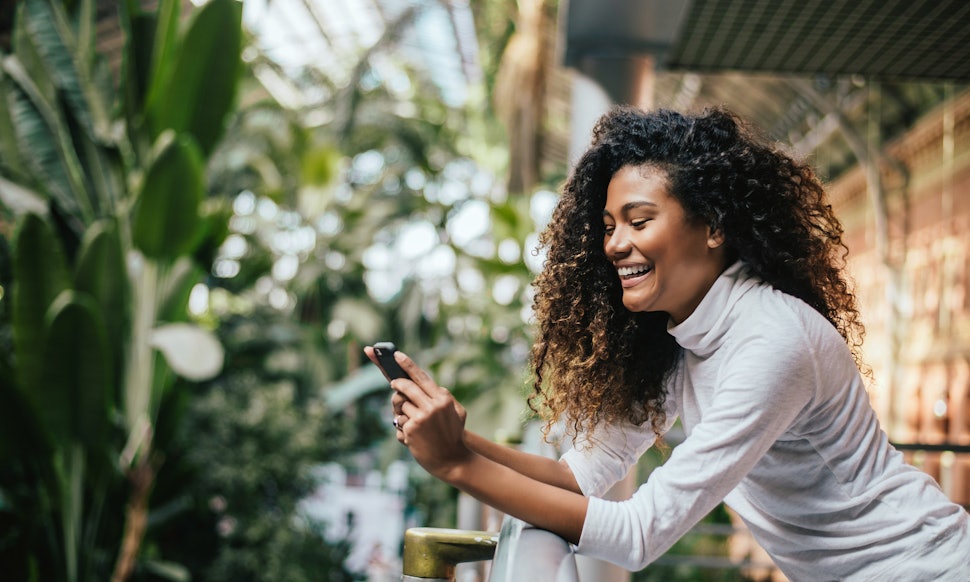 bnenin/Fotolia
With more and more dating apps out there, setting themselves apart from each other — the competition — is key. Now, Tinder is using AI technology to give you more personalized matches. Yep, Tinder is introducing Super Likeable, which you'll super like. Using artificial intelligence, it selects Tinder users that it believes will make good matches for you. So it's like having your own matchmaker, via Tinder. Why not? Sign. Me. Up!
After all, it's easy to swipe endlessly, hoping that you and another user match — and not just based on looks, but based on similar interests and values. Here's the DL: When a user comes across the Super Likeable feature, they'll receive a free Super Like. They can then send it to one of the four people Tinder has presented to them.
"When we launched Super Like to give Tinder users a way to express explicit interest in someone, we learned that it resulted in 3x more success in creating a match," Rosette Pambakian, Tinder's VP and Head of Marketing and Communications, tells Bustle." Now, with our new feature Super Likeable, we've enlisted the help of exciting new AI technology developed by our incredible engineering team to figure out what you're looking for in order to surface people that we think you'll want to Super Like."
But before you go looking for this new feature on Tinder, you can't. Wait —what?! That's right, Super Likeable will come as a surprise as you swipe. If you land on it, then you've earned one free Super Like that you can send to one of the four aforementioned Tinder users. But you'll have to act fast: Once you get your free Super Like, you have to use it... or lose it.
However, it's only being tested in New York City and Los Angeles right now, so if you're not in those two cities, you'll have to wait. In any case, it sounds like a cool new feature that's definitely worth a try, because the more dating app help, the better, right?
Speaking of which, here are five ways you can get more right swipes on Tinder overall, because you may as well work on your right-swipe game in the meantime!
1

Include Pictures With Animals Or Traveling
They say a picture is worth a thousand words, and on dating apps, where people have endless options and perhaps short attention spans, this is more true than ever. But make sure your photos really represent you — i.e., if you're a big traveler, a picture of you in a beautiful foreign location is very telling.
"Photographs that provide insight into an individual's personality are particularly helpful for determining who they are and whether they are compatible with someone else," Tinder Sociologist Dr. Jess Carbino tells Bustle. "Animal and travel shots are strong signals of personality characteristics. For some, photographs with dogs may signal that an individual is kind, compassionate, or capable of potentially caring for children in the future. Travel photos may be used to signal that they are curious about other places and the world generally, but also that they have the resources to travel and that they choose to spend their resources (time/money) in that manner."
2

Wear Bright Colors In Your Photos
Last year, Tinder analyzed 12,000 photographs from users aged 18 to 40 from multiple major U.S. metro cities to see what worked… and what didn't. They found that 72 percent of users wore a neutral color (black, navy, beige, or white) in their primary photograph, but you may have more luck if you wear brighter colors. "People who want to stand out should try to wear bright colors to distinguish themselves from other users," Dr. Jess says.
3

Write A Bio — Don't Leave It Blank
Even if you don't know what to say in your Tinder profile bio, don't leave it blank. Writing something is better than nothing, and it gives your potential matches something to read and to see if they connect with something you said. Of course, this will lead to better messaging (hopefully). "By providing a bio, you are including information that matches can easily draw upon to get a conversation going," Dr. Jess says. "A lot of individuals need to have fodder to make conversation. It's very difficult for people sometimes to put themselves forward and try to make that first move. For some, thin information may feed the lack of confidence because they don't know how or where to begin a conversation."
4

Be Specific And Positive In Your Bio
When it comes to a dating app bio, anyone can say they're "adventurous" or "outgoing," but giving clear examples is better than listing a bunch of adjectives. This will not only get the attention of prospective matches, but also highlight something you two may have in common and act as a conversation-starter.
"Paint snapshots of your life rather than listing adjectives and your likes," Antonia Hall, psychologist, relationship expert, and author of The Ultimate Guide to a Multi-Orgasmic Life, tells Bustle. "Who are you and what is the essence of your life and hobbies that you want to convey? Plenty of people claim to be an adventurous lover of life who loves to travel. Give them a visual of how this is true: 'Packed a bag and met my friend in Japan with 24 hours' notice!'"
Similarly, Hall also says to be positive in your bio. TBH, why would you want to swipe on someone whose bio is negative and makes them seem like an unhappy person? "Keep your wording positive, confident, and succinct," Hall says. "At best, you get about 10 seconds to wow your perspective sweetheart. If you fill that space with negative language — what you're not looking for in a partner, arrogance, or long, run-on sentences — you'll be dateless."
5

Have A Variety Of Photos
I'm sure you and I have seen plenty of car and bathroom selfies in people's profiles, but it's important to show a wide range of photos: close-up ones as well as full-body ones. In Tinder's study above, they found that 81 percent of users included at least four photographs in their profiles. "Through providing at least four photographs, users are able to provide multiple perspectives on who they are and their personality," Dr. Jess says. "I would encourage users to provide multiple shots that feature them in different ways,such as a full-length shot, a shot from the waist up, etc. You should be providing different perspectives of who you are in all facets. I would recommend that the clothing you wear in photographs is something you think shows you at your most confident."
All of the above said — and with the introduction of Super Likeable, too — there's no reason not to get more Tinder matches, and ones that will actually result in real-life dates. Meanwhile, happy right-swiping!