'To All The Boys' Fans Are Pissed Lana Condor Isn't Getting The Same Opps As Noah Centineo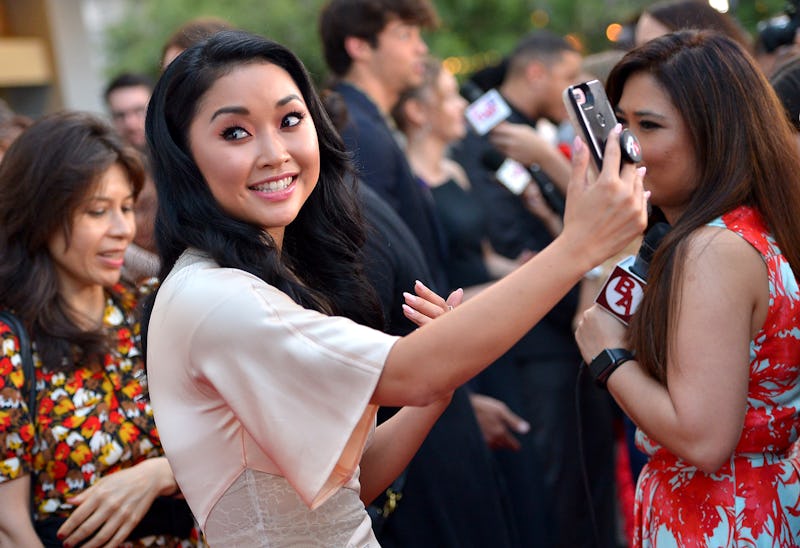 Charley Gallay/Getty Images Entertainment/Getty Images
There's no denying that one of the most popular films of the summer was Netflix's adaptation of Jenny Han's novel, To All the Boys I've Loved Before, which launched star Lana Condor as Hollywood's next big thing and cemented Noah Centineo as the Internet's newest boyfriend. But despite the film's success being reliant on the pair's incredible talent and chemistry, Centineo appears to have been booking bigger roles than his co-star in recent weeks — a fact which many To All the Boys and Condor fans are hoping to change.
On Tuesday, it was announced that Centineo will join the upcoming reboot of Charlie's Angels, which will be directed by Elizabeth Banks. Though Centineo's role was simply described by Variety as a "love interest for one of the angels," his upcoming involvement in a major studio blockbuster is a big deal for someone whose breakout roles were in a pair of teen-centric Netflix romantic comedies.
But with Centineo, scrunchies, and even drinkable yogurt enjoying major boosts in popularity thanks to To All the Boys, it appears that Condor has not been offered some of the same opportunities, despite being the film's star. Much of the conversation in the media and online since the film's release has been all about Centineo and his equally dreamy social-media presence, effectively establishing him as the biggest breakout star of the film. In reaction, many of the Condor's fans have taken to social media to push for her to be recognized in the same way.
"You know what would be cool is if Lana condor gets just as many opportunities as Noah Centineo," writer E. Alex Jung tweeted on Tuesday, reflecting the major fan reaction to hearing the news that Centineo had landed his Charlie's Angels role.
Others echoed that sentiment, pointing out that Condor was "literally the star of the movie," and that while Centineo deserves attention for his work, it would be wonderful if she "got the same hype that Noah's getting."
Another fan pointed out that seeing Centineo land higher-profile roles than Condo was doubly disappointing considering the impact of casting an Asian-American actor as the lead in a hit romantic comedy: "It's annoying how this movie was supposed to be about POC getting more leading roles and in turn the white male love interest became the focal point."
Of course, Condor has landed several projects since the release of To All the Boys, including a very un-Lara Jean role as a teenage assassin in the SyFy series Deadly Class, and a science-fiction thriller, Waiting, opposite Spider-Man's Laura Harrier. And, if a sequel to To All the Boys finally gets greenlit, Condor will obviously reprise her breakout role as Lara Jean.
However, as exciting as Condor's upcoming roles may be, they're not quite as mainstream and potentially star-making as a part in a major studio blockbuster. Even if he is only playing a "love interest" in Charlie's Angels, Centineo's role puts him in a bigger spotlight than anything else he has done so far, and makes it even easier for him to land a leading role in his own blockbuster franchise. Condor, however, has already proved that she can carry a film as the lead, and that she, too, has a rabid fanbase who would pay to see her appear in other projects.
Plus, if the success of Crazy Rich Asians has proved anything this summer, it's that moviegoers are hungry for more representation on the big screen, and that Asian actors are just as capable of bringing in the big bucks as anyone else.
Even Centineo himself has noted that Condor's performance is his favorite part of To All the Boys, saying that he "could watch" her "little facial expressions [and] reactions" over and over again.
With Centineo on board, and the Internet pushing for Condor to finally get the recognition that she deserves as Hollywood's next big leading lady, maybe studios will listen and cast her in something just as big and exciting as the Charlie's Angels reboot. (Superhero films, take note.)