13 Swoon-Worthy New Beauty Products Our Editors Can't Put Down
Including a pimple-quashing face wash.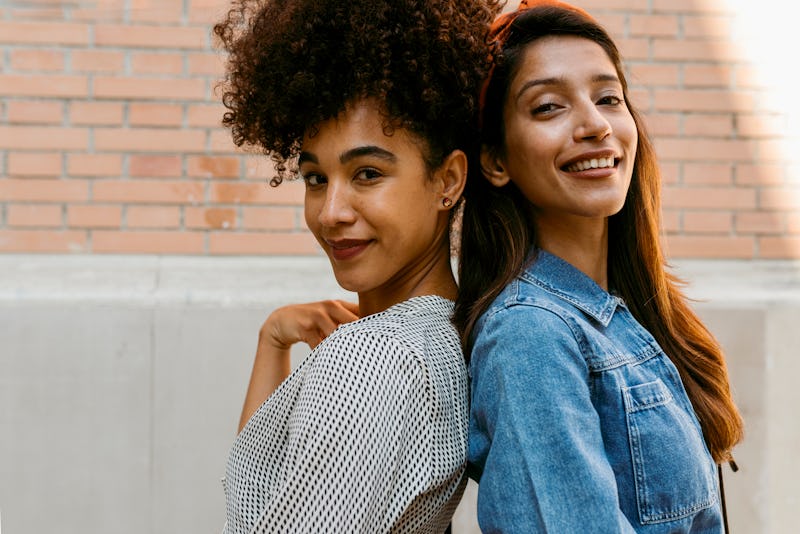 Getty Images/ Westend61
Beauty editors might be the only human beings who wish they had more skin surface area. Every square millimeter of their epidermis is a playground for experimenting with makeup, skin care, body care, scalp care, fragrance — the list goes on. And, in a world where new cosmetics flood the shelves practically every second, editors need space to try it all out. So when something earns a permanent spot in their routine, such as the best May beauty product launches below, it's a pretty big deal.
This past month, some very spring and summer-appropriate personal care essentials entered the market. There were plenty to gush about — from a transformative brightening serum to a perfectly pigmented lip balm, a de-puffing eye product, a fragrance that brings on the nostalgia, and so much more.
After weeks of slathering these skin and hair-boosting concoctions, Bustle's editors have found the 13 that we can't stop raving to our friends about. Need a beauty cabinet refresh? Shop the editors' picks from May's beauty launches below.
We only include products that have been independently selected by Bustle's editorial team. However, we may receive a portion of sales if you purchase a product through a link in this article.
A Chemical Peel In A Bottle
A coworker complimented my skin on Zoom the other day, and I can 100% credit this serum from Ambari. Founder Nisha Grewel created this product to truly mimic the result of an in-office treatment at home, so she packed it with 12% PHA/AHAs to slough off dead skin cells overnight, but also shiitake extract and 350 milligrams of CBD to soothe the skin from any irritation. I'm impatient when it comes to my skin care products and this serum really, truly works while I sleep. I use it two to three times a week and my face looks noticeably clearer and brighter — like, stare-at-your-own-skin-in-the-mirror bright. — Faith Xue, executive beauty director
An Inflammation-Soothing Superhero
Summer is my favorite season (and not just because I'm a Leo), but it's also the season when I'm dealing with most of my skin issues — partly from eczema flareups, and partly from being a mosquito magnet. I get it, itch-relief isn't exactly sexy, but I just have to praise this little $7 tube of Aquaphor, which has been my summer skin savior in soothing itchiness and any general irritation. I love that it isn't goopy or sticky, but light and sinks in instantly. — Faith Xue, executive beauty director
The Perfect Liquid Lip
There are only two options for lip looks: luscious and shiny like a ripe cherry or sweet with a just-finished-eating-a-popsicle stain. This liquid lipstick from MAC does the former. It's a very easy one-swipe product that gives gorgeous pigment and a subtle, non-sticky sheen. I have especially taken to the "Still Winning" rosy pink shade, which makes me think of gardens and cottages in the English countryside. — Tamim Alnuweiri, beauty & wellness writer
A Beachy Fragrance
Vacation by Vacation smells like... vacation. But really — this perfume looks like the '80s and evokes every pleasant sun-drenched memory I have from my childhood. Its fragrance is a mix of sunscreen, the sun, and the ocean, but it's also reminiscent of toile wallpaper in the resort's bathroom and changing into dry clothes for dinner at the beach club. I am a strong believer in having one signature scent, but I've made room in my heart (and on my vanity) for this perfume. — Tamim Alnuweiri, beauty & wellness writer
A Cup Of Coffee For Your Under-Eyes
I try to be diligent with my eye cream and to stay hydrated, but — nonetheless — I still wind up with puffy eyes every so often. I've finally found something that sends those bags packing: These eye masks from new brand Sundree are infused with white tea extract (a strong antioxidant), cucumber, CBD, and copper peptides, the latter of which restores elasticity to that delicate area of skin. In just 15 minutes, they make my eyes look plumper and less corpse-like. I also love that every purchase donates proceeds to The Mental Health Coalition, so you're de-puffing for a good cause. — Rachel Lapidos, senior lifestyle & beauty editor
A Manicure-Boosting Essential
Confession: I have a habit of biting my cuticles whenever I'm stressed. But, ever since I started brushing on this oil before bed every night, the gnawing has been brought to a halt. The star ingredient is green tea, a soothing antioxidant, which helps strengthen and repair my dry nail beds as the base oil moisturizes away any dry pieces of skin — and the polish-style bottle makes it super-easy to do in a matter of seconds. It's become a mainstay on my nightstand. — Rachel Lapidos, senior lifestyle & beauty editor
A Hydrating Lip Sheen
This lipstick-lip balm hybrid is so good, it earned a full article dedicated to how much I love it. But here's the tl;dr: It's made with hyaluronic acid, meadowfoam seed, and watermelon oil that all lock in moisture and instantly soothe my perpetually dry lips. As an added bonus, the velvet-like texture goes on so smoothly and it's buildable, making the softly pigmented tube perfect for both everyday use or a bolder, going-out look. — Audrey Noble, beauty writer
A Breakout-Quashing Face Wash
This exfoliator comes in powder form, making cleansing feel like a chic science experiment — all you have to do is add water to emulsify. With ingredients like vitamin C and niacinamide, it gradually sloughs off my whiteheads and minimizes the look of my pores without leaving my skin feeling stripped bare. Plus, if you're a sucker for packaging — #shelfie, anyone? — you'll also love the tortoise shell-patterned glass bottle. — Hilary Shepherd, beauty writer
The Glow Giver
Huda Kattan's new no-makeup makeup collection is a huge win. The Multidew — which falls somewhere between a skin tint and a foundation — is particularly good, with buildable coverage and a melt-into-your-skin formula that leaves your complexion radiant and not oily. Slather this on before the beach — just don't forget SPF! — for a natural-looking glow. — Hilary Shepherd, beauty writer
A Multitasking Hydrator
If you're on the hunt for a multipurpose product that'll keep you shining from head to toe all summer long, look no further. Verb Hair — beloved and best known for their cult-favorite Ghost Oil — did it again with this standout product that combines moisture powerhouses moringa and jojoba oils. Use it on your skin, nails, and hair for a much-needed dose of hydration and to encourage healing, repairing, and rejuvenation. — Kui Mwai, beauty writer
A Skin-Boosting Tube Of Coverage
There's nothing better than a skin care-makeup crossover moment, and the Basma Foundation Stick has masterfully intertwined the two categories. Not only is this formula packed with ingredients your skin loves — like aloe vera and apricot butter — it also has flexible coverage and a commendable shade range. This buttery foundation heals and nourishes while making sure my base is flawless. — Kui Mwai, beauty writer
A Complexion-Brightening Blush
Like a lot of people, I've been using my cosmetics stash less often over the past year. And just when I was starting to feel "meh" about ever putting on a full beat again, leave it to makeup master Pat McGrath to reignite my excitement. This pigmented, buttery blush brightened my dull complexion and even had a sculpting effect. No joke: I looked in the mirror after one swipe and saw that my cheekbones had entered the chat. Though the detailed embossing almost makes it too pretty to use, I'm finding myself reaching for it again and again. — Erin Stovall, senior beauty editor
A Skin-Smoothing Scrub
My skin is still coming out of hibernation mode and needs a little extra help in the exfoliation department. OK, maybe a lot of extra help. Thankfully, it only took one rendezvous with this coffee-scented scrub to slough away all the dry patches without leaving my skin looking splotchy and red like some harsher formulations I've tried in the past. My legs felt silky smooth after rinsing, and since it's sugar-based, the granules dissolve quickly and prevent you from overdoing it. — Erin Stovall, senior beauty editor