10 Signs You Should Consider Breaking Up With Your Partner
Just remember: Ending a relationship doesn't mean it was a failure.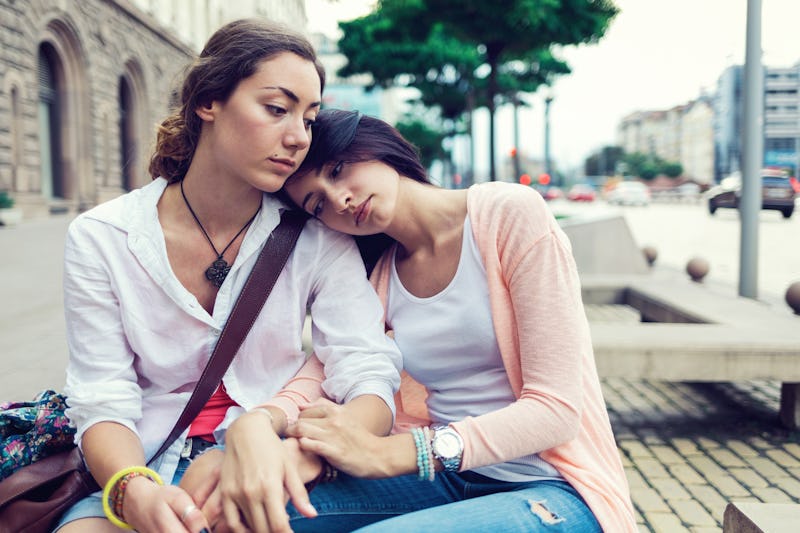 Mixmike/E+/Getty Images
Few things are scarier than feeling like you don't love your partner anymore, especially if you've been together for a while. It might dawn on you in the middle of an argument, or on a random Tuesday afternoon. And just like that, you have to consider what happens next.
If you're like most people, your first instinct might be to downplay it. "It's only natural to want what's so familiar to you to stay the way it is," psychotherapist Katherine Schafler, tells Bustle. You might also throw yourself into fixing things, which could very well improve the dynamic between you and your partner.
Research published in the Journal of Marriage and Family analyzed data from 47,000 couples and found that they felt happiest when spending time together. That's why reinvesting in each other — by going on dates, playing games together, and asking each other interesting questions — could help you feel more in love. That said, if you make a plan with your partner, try really hard to find the spark you once had, and still feel disconnected, don't force yourself to stick around. While it can be hard to know when to walk away from a relationship, that lack of feeling could be a telltale sign.
"If you're staying out of guilt or a desire to not hurt the other person, your heart's definitely in a good place — it's just not in the relationship anymore," Schafler says. "Staying with someone out of pity is not kindness, and ultimately, it hurts your partner more in the end, which is not loving at all." So, how do you know if you don't love someone anymore, and that it might be time to move on? Chances are, the ten signs listed below will sound familiar.
"Ultimately, it can feel really scary to leave a relationship that you've put so much time and energy into," Arnol says. But if these feelings continue, despite trying to make a change, remember it'll probably be in everyone's best interest to break up — instead of clinging to something that clearly isn't working.
Sources:
Flood, S., & Genadek, K. (2016, February 1). Time for each other: Work and family constraints among couples. Retrieved February 18, 2021, from https://www.ncbi.nlm.nih.gov/pmc/articles/PMC4712716/
Katherine Schafler, psychotherapist
Sabrina Romanoff, PsyD, clinical psychologist
Shari Foos, MA, MFT, MS, NM, marriage and family therapist
Alyssa Arnol, LCSW, licensed clinical social worker and psychotherapist
This article was originally published on