Here's Why You're Seeing Hula Hoop Workouts All Over TikTok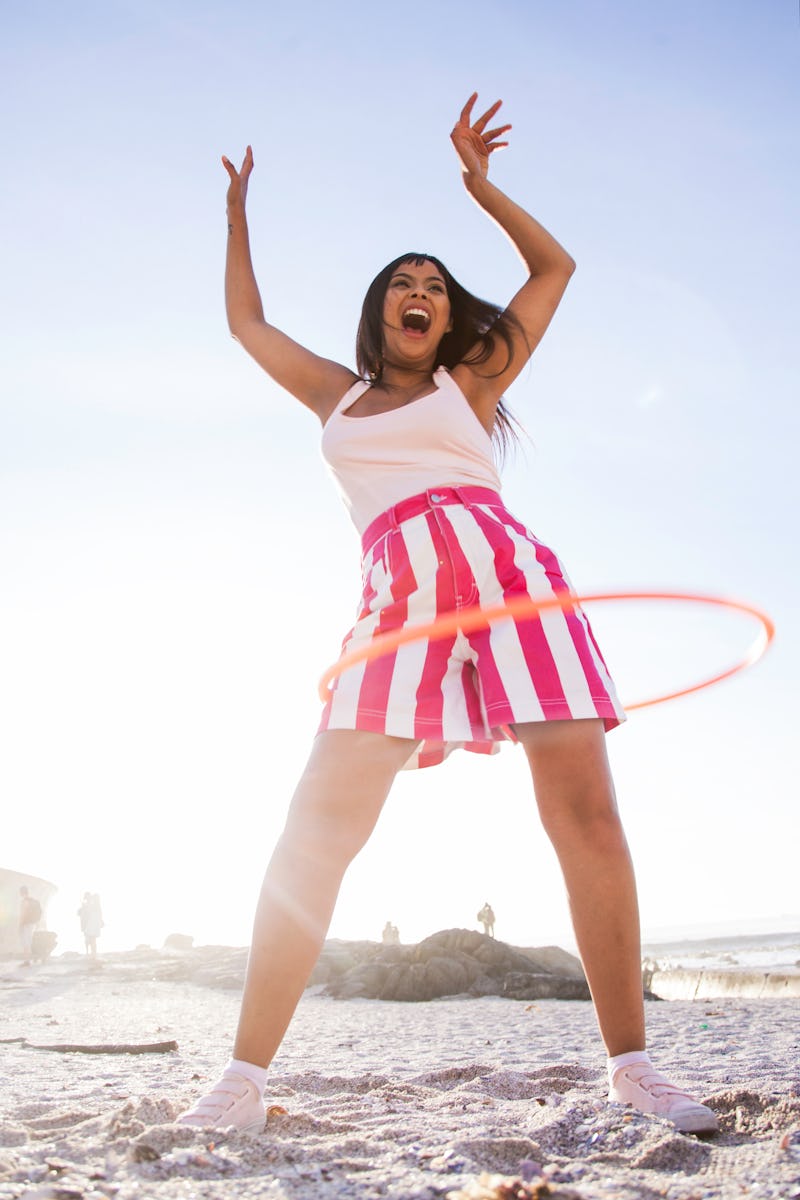 AfricaImages/E+/Getty Images
There's no shortage of exercise content on TikTok. From workout motivation tips to Peloton hacks and everything in between, there's a reason millions of people turn to the app for fitness inspo. And if you've scrolled through a lot of hula hoop workout videos lately, then you've discovered TikTok's latest fitness trend — nestled under the hashtag #hulahoop — that helps you get your sweat on with the throwback toy.
The #hulahoop videos — which have amassed a casual 925 million views, and more than 200 million more under #hulahoopfitness and #weightedhulahoop — include workouts of all stripes. Some feature traditional hula hooping set to upbeat music, others tout the strengthening powers of using a weighted hoop, and there are some users that feature TikTok dance-style routines using the nostalgic piece of equipment. And while the exercises vary, many of the videos share something in common: TikTok users laud hula hoop workouts for their core-strengthening and cardio benefits and recommend the fitness modality as a way to have fun while you exercise — sometimes in as few as five minutes a day.
Those perks are legit, according to certified personal trainer and fitness consultant Rob Pambrun. Using a weighted hoop in particular adds extra resistance to the playground pastime, he explains, which engages your core and strengthens those muscles while also driving your heart rate up to boost cardio endurance. But hula hooping is also benefitting your mind, too — research shows that exercise of all kinds can help reduce stress, boost mood, and help you think clearly. Just think about it: Shimmying around with the childhood contraption as you blast Ariana Grande can't be anything but a good time.
The #hulahoop community is passionate about the nostalgic workout, too. Some TikTok users regularly post videos showing how their hoop-wiggling skills have progressed week by week, or share how many minutes they're able to hula for. Then there are people, like @_camillemedina, who prove the piece of equipment is more versatile than you might think: You can focus on one leg as you hula hoop, incorporate squats (yes, while hooping) as an added challenge, or use it as a makeshift jump rope, besides doing the traditional hip swivel move. In other words: The hula hoop is giving resistance bands a run for their money.
If you're ready to make a #hulahoop TikTok of your own, Pambrum recommends starting off with 10 minute-long sessions two or three days a week. He also suggests using a lighter hoop at the beginning, which can help your body adjust to the equipment and avoid the bruising some TikTokers experience. From there, he says you can work your way up to heavier hoops and longer workouts, like 30-minute sessions three days per week.
TikTok has made a strong case for nostalgic workouts: Roller skating had its viral fitness moment, and jumping rope has already been established as a legit cardio tool (and #jumprope currently has over 933 million views on the app)... so if you're looking for a fun exercise to add to your routine, you might want to consider hopping on the hula hoop trend.