27 Things No One Ever Tells You About Anxiety
It's not the same thing as stress.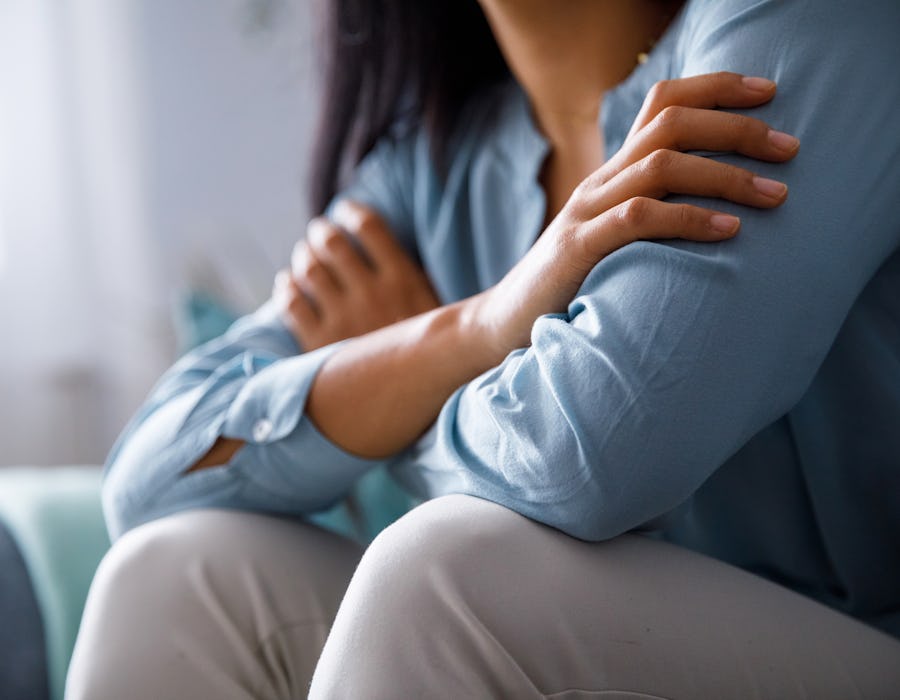 fotostorm/E+/Getty Images
There's no need to sugarcoat it: Dealing with an anxiety disorder can be downright confusing, whether you were recently diagnosed with one, or you've been living with it for a long time. Even people who have lived with conditions ranging from generalized anxiety disorder to post-traumatic stress disorder (PTSD) for many years still find themselves scouring Google with questions about their mental health disorders, coping skills, and new symptoms of anxiety that seem to crop up. While most people could give you a cookie-cutter definition, in terms of what to know about anxiety, there are a lot of practical things no one ever tells you.
"Anxiety disorders have the highest prevalence of any mental health disorder in the U.S., impacting nearly 20% of adults each year," Sarah Greenberg, the lead coach and program design lead at BetterUp, tells Bustle. To be more precise, anxiety disorders affect 40 million adults in the U.S., or 18.1% of the population, according to the Anxiety and Depression Association of America (ADAA). While anxiety is common, there are so many different ways it can manifest — and it could take a while to learn the ins and outs of how to best manage your own mental health.
Knowing your diagnosis can be informative, but that is often just the first step in a long journey of learning how to live with a chronic mental health condition. Regardless of whether anxiety flaring up is new or all too familiar to you, here are 27 things you should know about anxiety, according to experts.
Navigating an anxiety disorder can be tricky, and you'll probably always run into obstacles you've not faced before. However, the more you understand about your mental illness, the better you can be prepared to handle it in the future.
If you or someone you know is seeking help for mental health concerns, visit the National Alliance on Mental Illness (NAMI) website, or call 1-800-950-NAMI (6264). For confidential treatment referrals, visit the Substance Abuse and Mental Health Services Administration (SAMHSA) website, or call the National Helpline at 1-800-662-HELP (4357). In an emergency, contact the National Suicide Prevention Lifeline at 1-800-273-TALK (8255) or call 911.
Studies referenced:
Schmidt, L. (2008). Social anxiety disorder: A review of environmental risk factors. Neuropsychiatric Disease and Treatment, 123. https://doi.org/10.2147/ndt.s1799
Burstein, M., Ginsburg, G. S., & Tein, J. Y. (2010). Parental anxiety and child symptomatology: an examination of additive and interactive effects of parent psychopathology. [corrected]. Journal of abnormal child psychology, 38(7), 897–909. https://doi.org/10.1007/s10802-010-9415-0
Bandelow, B., Wedekind, D., & Michaelis, S. (2017). Treatment of anxiety disorders. Generalized Anxiety Disorders, 19(2), 93–107. https://doi.org/10.31887/dcns.2017.19.2/bbandelow
Burnett-Zeigler, I., Schuette, S., Victorson, D., & Wisner, K. L. (2016). Mind-Body Approaches to Treating Mental Health Symptoms Among Disadvantaged Populations: A Comprehensive Review. Journal of alternative and complementary medicine (New York, N.Y.), 22(2), 115–124. https://doi.org/10.1089/acm.2015.0038
Dark, T., Flynn, H. A., Rust, G., Kinsell, H., Harman, J. S. (2016). Epidemiology of Emergency Department Visits for Anxiety in the United States: 2009–2011. Psychiatric Services, 68(3), 238-244. https://doi.org/10.1176/appi.ps.201600148
Foldes-Busque, G., Denis, I., Poitras, J., Fleet, R. P., Archambault, P., & Dionne, C. E. (2019). A closer look at the relationships between panic attacks, emergency department visits and non-cardiac chest pain. Journal of health psychology, 24(6), 717–725. https://doi.org/10.1177/1359105316683785
Serdari, A., Manolis, A., Tsiptsios, D., Vorvolakos, T., Terzoudi, A.,Nena, E., Tsamakis, K., Steiropoulos, P., Tripsianis, G. (2020) Insight into the relationship between sleep characteristics and anxiety: A cross-sectional study in indigenous and minority populations in northeastern Greece. Psychiatry Research, Volume 292, 113361, ISSN 0165-1781. https://doi.org/10.1016/j.psychres.2020.113361
Anderson, E., & Shivakumar, G. (2013). Effects of exercise and physical activity on anxiety. Frontiers in psychiatry, 4, 27. https://doi.org/10.3389/fpsyt.2013.00027
Lukasik, K. M., Waris, O., Soveri, A., Lehtonen, M., & Laine, M. (2019). The relationship of anxiety and stress with working memory performance in a large non-depressed sample. Frontiers in Psychology, 10. https://doi.org/10.3389/fpsyg.2019.00004
Tiwari, N., Sutton, M., Garner, M., & Baldwin, D. S. (2019). Yogic Breathing Instruction in Patients with Treatment-Resistant Generalized Anxiety Disorder: Pilot Study. International journal of yoga, 12(1), 78–83. https://doi.org/10.4103/ijoy.IJOY_22_18
Zaccaro, A., Piarulli, A., Laurino, M., Garbella, E., Menicucci, D., Neri, B., & Gemignani, A. (2018). How Breath-Control Can Change Your Life: A Systematic Review on Psycho-Physiological Correlates of Slow Breathing. Frontiers in human neuroscience, 12, 353. https://doi.org/10.3389/fnhum.2018.00353
Morey, J. N., Boggero, I. A., Scott, A. B., & Segerstrom, S. C. (2015). Current directions in stress and human immune function. Current Opinion in Psychology, 5, 13–17. https://doi.org/10.1016/j.copsyc.2015.03.007
Experts:
Sarah Greenberg, lead coach and program design lead at BetterUp
Scott Symington, licensed clinical psychologist and author of Freedom from Anxious Thoughts and Feelings: A Two-Step Mindfulness Approach for Moving Beyond Fear and Worry
Amy Cirbus, licensed therapist at Talkspace
Kristin Wilson, MA, LPC, Vice President of Clinical Outreach at Newport Academy
Kayce Hodos, LPC, certified therapist
Alana Barlia, LMHC, therapist at Intuitive Healing Psychotherapy NYC
Jennifer Weaver, LMHC, CRC
Erica Zellner, health coach at medical provider Parsley Health
Dr. Jamie Long, licensed clinical psychologist at The Psychology Group Fort Lauderdale
Kevin Gilliland, PsyD and executive director of Innovation360
Emily Cosgrove, LMFT
This article was originally published on