How To Navigate Your First Valentine's Day With A New Partner
Ultimately, it's just an excuse to spend some time together.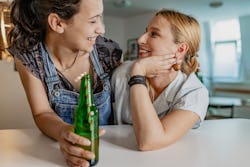 Milko/E+/Getty Images
Figuring out what to do for your first Valentine's Day as a couple can be daunting, to say the least. When you haven't been together that long, you might not even be sure you're ready to celebrate such a romantic holiday, much less know where you'd like to go to dinner. It can quickly turn into a high-pressure situation and one that doesn't seem very fun.
"Valentine's Day can be a very stressful time, especially for new couples," Jonathan Bennett, a certified counselor and dating expert at Double Trust Dating, tells Bustle. "For many people, Valentine's Day can feel like a test they have to pass rather than a day to celebrate their relationship." It's tempting to overthink the day, but it's way better to chat about it early on so you can get on the same page and both have a good time.
Whether you want to celebrate Valentine's Day or not, it's best to let your partner know what you're looking for, and then hear them out. From there, you can focus on the smaller details, like cards and gifts. Read on for more ways to navigate your first Valentine's Day together as a new couple, according to relationship experts.
Additional reporting by Lexi Inks.
Experts:
Jonathan Bennett, certified counselor and dating expert at Double Trust Dating
Becca Hirsch, M.A., LMFT, licensed marriage and family therapist
Christine Scott-Hudson, MA, MFT, ATR, licensed psychotherapist and owner of Create Your Life Studio
Kara Lissy, LCSW, licensed psychotherapist at A Good Place Therapy
Jennifer Weaver-Breitenbecher MA, CAGS, LMHC, licensed psychotherapist and owner of a private practice
Shadeen Francis, LMFT, CST, licensed marriage and family therapist and board-certified sex therapist
This article was originally published on