31 Ways To Celebrate Valentine's Day With Your Long-Distance Love
Make it personal and meaningful to the two of you.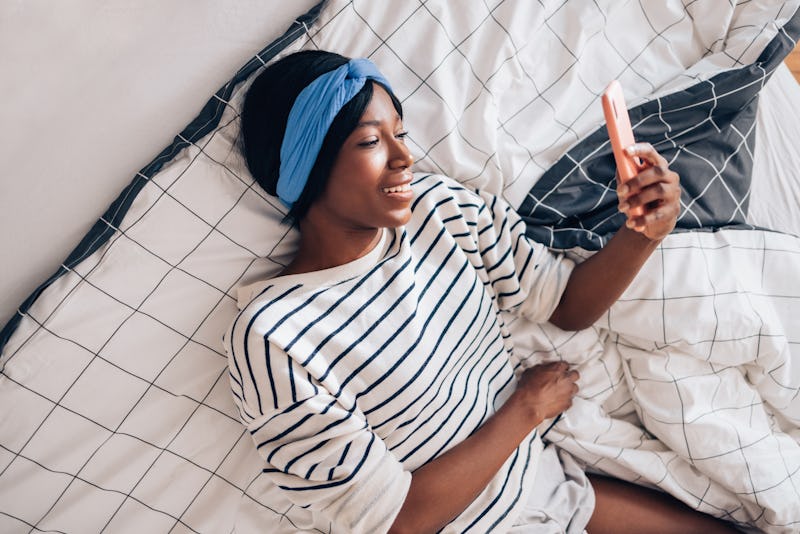 FreshSplash/E+/Getty Images
With Valentine's Day around the corner, you're likely starting to think about what to do for the heart-centric holiday. Whether you are in a fairly new relationship or a long-term one, you and your significant other may be apart on Feb. 14. These days, it's not out of the norm — you could be in a long-distance relationship anyway, or one of you suddenly has a business or family obligation out of town. However, just because you're physically apart doesn't mean you can't be emotionally together. After all, there are plenty of Valentine's Day ideas for long-distance relationships, even if the distance is temporary.
Having a long-distance Valentine's Day might feel like a bummer, but you can still make it a fun, romantic day regardless of physical proximity to your partner. "Valentine's Day is all about celebrating and appreciating your love," Tyler Turk, founder of Crated With Love, a monthly date night subscription box, tells Bustle. "When you're physically apart, it may seem like you cannot enjoy the holiday, but there is always an opportunity to celebrate your love. And remember, you can always celebrate before or after the 14th. The great thing about love is that it doesn't only exist for one day."
As Turk says, Feb. 14 is just Feb. 14, and there are still 364 more days of the year to celebrate your relationship and love with your significant other. But if you're looking for some long-distance Valentine's Day gifts and date inspo, check out the ideas below.
Study referenced:
Ferreri, L. (2019). Dopamine modulates the reward experiences elicited by music. Proceedings of the National Academy of Sciences. DOI: 10.1073/pnas.1811878116.
Experts:
Tyler Turk, founder of Crated With Love
Laurie-Anne King, relationship expert and relationship coach
Amy Nobile, dating coach, founder of Love, Amy
Samantha Burns, couples counselor and dating coach at Love Successfully
Courtney Watson, LMFT, sex therapist
Jordan Madison, LGMFT, therapist
Greyson Smith, MA, LPCC, therapist with A Shared Heart Counseling
Michele Lisenbury Christensen, relationship and sex coach
Dr. Suzana Flores, clinical psychologist and author of Facehooked: How Facebook Affects Our Emotions, Relationships, and Lives
Irene Fehr, sex and intimacy coach
Dr. Martha Lee, D.H.S., relationship counselor, clinical sexologist, author, and owner of Eros Coaching
Julia Bekker, matchmaker, dating coach with Hunting Maven
Jordanne Sculler, LMHC, relationship-focused therapist
Erica Turner, LPC, relationship coach
Dr. Tara Suwinyattichaiporn, professor of sexual and relational communication at California State University Fullerton, coach at Luvbites
Deborah Vinall, Psy.D., LMFT, licensed marriage and family therapist
Dr. Lori Beth Bisbey, clinical psychologist, sex coach
This article was originally published on