13 Weight Bench Exercises That'll Give You A Full-Body Workout
Don't overlook this piece of fitness equipment.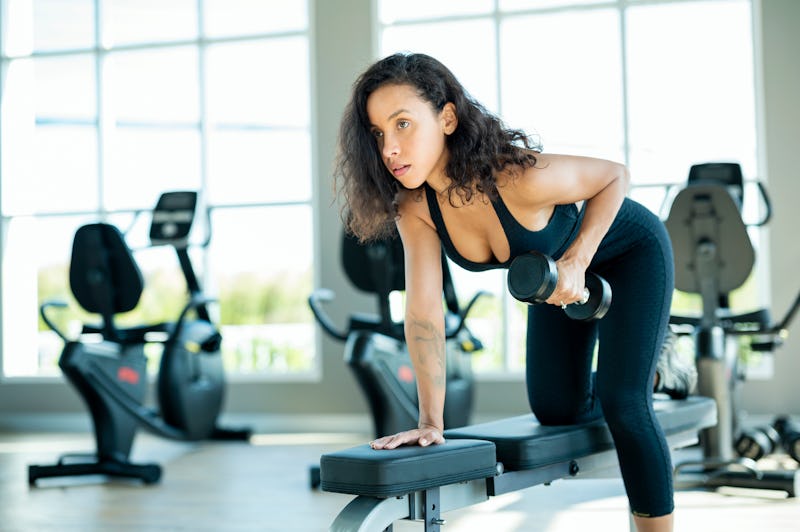 Getty Images/Nitat Termmee
Go to any gym and you'll likely see a row of weight benches lining the mirrored walls. They look like a great place to check your form while doing arm exercises, or maybe to sit and sip some water between reps. But there's also a whole world of workouts you can do using nothing more than that weight bench — and maybe a dumbbell or two.
Weight benches — aka workout or exercise benches — are actually an incredibly versatile piece of gym equipment, says Chandel Stallworth, CPT, NCPT, a certified personal trainer, nationally certified Pilates instructor, and owner of Curls & Pilates. "You can definitely get a good full-body workout using your exercise bench and whatever weights — whether dumbbells, a barbell, or a kettlebell — you have available."
While many people see a bench and immediately think it's for bench presses, you can totally use it to do other moves that train your upper body, lower body, and core, depending on what you're in the mood for, adds Cary Williams, a boxing coach and CEO of Boxing & Barbells. Believe it or not, you can also use an exercise bench to get in some cardio.
If every other machine at the gym is full and all you see is that lonely workout bench, you technically have everything you need for a great workout, Williams says. So waltz up, claim it, and then read on below for 13 different weight bench exercises to try.
Studies referenced:
McKenzie, A. (2022). Bench, Bar, and Ring Dips: Do Kinematics and Muscle Activity Differ? Int J Environ Res Public Health. doi: 10.3390/ijerph192013211.
Sources:
Chandel Stallworth, CTP, NCPT, certified personal trainer, nationally certified Pilates instructor, owner of Curls & Pilates
Candice Nicholson, LA-based personal trainer
TJ Mentus, certififed personal trainer
Lalitha McSorley, PT, physical therapist, personal trainer at Brentwood Physio
Alayna Curry, AFAA-certified fitness instructor
Cary Williams, boxing coach, CEO of Boxing & Barbells
Katie Pajerowski, PT, DPT, doctor of physical therapy at Ascend Physical Therapy & Wellness