This Is Why People Cheat — And It Has Nothing To Do With Sex
"It's a way to feel alive, special, and seen by someone."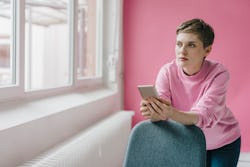 Westend61/Westend61/Getty Images
When you think about the reasons why people cheat, what immediately springs to mind? For me, it's sex. If a person is going to go behind their partner's back and hook up with someone else, it stands to reason that there's some form of physical attraction, or thrill of doing the deed with somebody new.
But experts say that's not really why people have affairs. In fact, according to Dr. Joshua Klapow, PhD, a clinical psychologist, cheating is almost always more about emotions than sex. "What drives the person to engage in the betrayal is the real reason for cheating," he tells Bustle.
For example, someone might have an affair if they aren't feeling connected to, or getting validation from their partner. Should a friend or coworker come along who is willing to listen, it makes sense why that extra attention would seem appealing — and why the attraction could quickly escalate into an affair.
While that isn't necessarily a comfort for folks who have been cheated on, it is important to look at situations like these from all angles, in order to create a stronger relationship. Here, women share why they cheated, and what the experience taught them — and experts delve into the multiple reasons why people cheat.
Knowing an affair isn't always all about sex won't make it any less painful for the person being cheated on, but it may help both members of a relationship understand why it happened in the first place. By talking about problems before they get out of hand — and making sure you're both fulfilled — an affair doesn't have to happen.
Experts:
Dr. Joshua Klapow, PhD, clinical psychologist
Raffi Bilek, LCSW-C, marriage counselor
Bethany Ricciardi, sex and relationship expert
Emily Mendez, MS, EdS, mental health expert
Tracy K. Ross, LCSW, couples therapist
Ellen Bolin, certified professional relationship coach
This article was originally published on