I Tried 7 Classic '90s Beauty Trends In 2015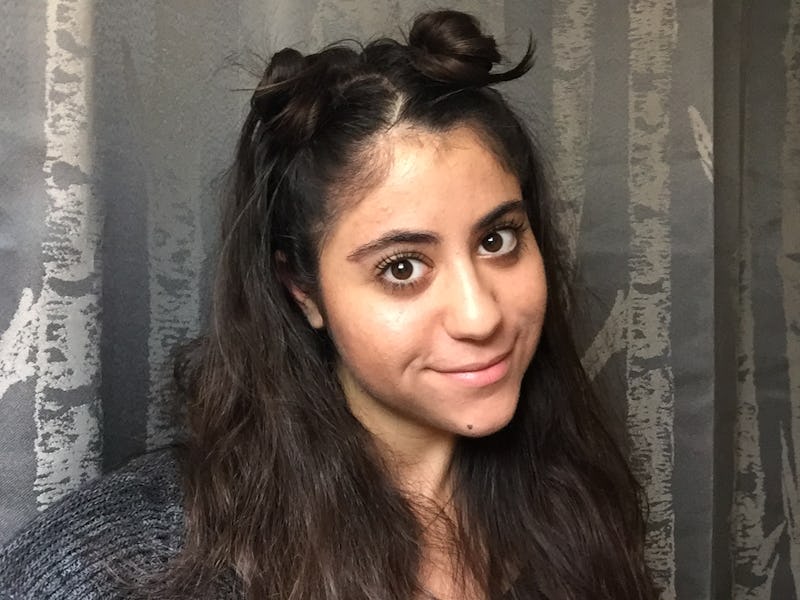 Due to something of a renaissance for the decade, '90s beauty trends couldn't be more popular right now. The styles we cringed at only in 2006 are chic once again, taking us back to days of grunge and glitter. IMO, there are some '90s trends that are best kept in the past (thin eyebrows? Iridescent makeup?), but there are others that fill the '90s-born soul in me with pure joy.
As a kid, I admired the blue eyeshadow Britney Spears rocked and I wanted my body to shimmer and sparkle just as much as every single Spice Girl's. Even though these trends are linked to an over-the-top-ness of the '90s that I don't really resonate with as a (somewhat) more grown-up human, they feel like markers of my childhood.
With the resurgence of all things '90s beauty, I embarked on something of a personal challenge to try the classic looks in 2015. From blue eyeshadow to brown lipstick to those annoying hair tendrils you used to think made you look like an angel, this is my attempt to pull off '90s beauty trends as a 20-something. When it comes down to it, you can take the girl out of the '90s, but you can't take the '90s out of the girl.
1. Brown Lipstick
Likely thanks to everyone's favorite beauty chameleon Kylie Jenner, brown lipstick has become a huge trend as of late. I would even go so far as to say that a matte brown lip is the hue of the moment. It can certainly look a little stark, and is quite a deviation from "normal" lip colors in the pink and red color ranges. But brown lippie captures that effortlessly chic, mysterious look so evocative of the '90s.
Grabbing a shade that is dark brown in tone but quite glossy and smooth in texture, I gave my best attempt at looking like a grunge queen. Curiously, the brown lipstick suited my olive skin tone quite well, and I enjoyed how it made a statement without being too distracting. After rocking this lip for a day at work, I totally understood why it's making a comeback. It's easy to wear while being very stylish and on-trend.
2. Hair Tendrils
Hair tendrils are essentially the loose locks you leave outside of a ponytail or bun to frame your face. In my experience, they're still pretty common today. But the '90s were definitely when this trend peaked. The stray pieces of hair were key to creating a messy yet very pretty look.
Admittedly, I have never styled my hair into these tendrils before. But when I did, I understood why the style has stuck around. Sure, it's a reminder of all those terrible hairdos from prom. But when I softened my hair and let it fall naturally, it was actually quite cute.
3. Blue Eyeshadow
When it comes to eyeshadows, blue is easily one of the most dated shades... Or so I thought. Then Marc Jacobs' S/S 2016 runway featured top models like Gigi Hadid and Kendall Jenner wearing glossy, sparkly blue eyeshadow all across their lids, and my mind was blown.
I dug into my makeup bag to find an old eyeshadow in a bright blue hue that I had totally forgotten about. Bringing it back for a day was a reminder of why I loved it in the first place. Even though it is very reminiscent of Britney Spears in her Toxic era, it's cool, different, and a great conversation starter.
4. The Fountain Head
No, I'm not talking about Ayn Rand's classic novel. I'm talking about one of the most '90s hairstyles ever. Think back to the early quarter of the decade, when women would tie their hair into the highest, tightest ponytails imaginable with the help of a huge scrunchy. I know it's hard to believe that we once thought this look was a gem, but bear with me here.
This hairstyle is extremely convenient when you want your hair out of your face. That's exactly why I tried the look right before I began painting my nails, which — as many of us know — takes a ton of focused attention. While I may resort to the fountainhead in certain situations (like the gym or a Halloween costume or on a more "minimalist chic" day), I think it's safe to say I won't be wearing it out that often. It's just too reminiscent of my look as an 8-year-old.
5. Body Shimmer
Ahh, body shimmer. I cannot even tell you how many days of my childhood were spent wishing my skin would sparkle like a disco ball. Even with so many years between the ages of six and 21, I can honestly say that not much as changed. Of course, Christina Aguilera could certainly pull it off in the '90s, but 2015 is a different story.
I tried to cover my body with as much shimmer powder as possible, but I felt more like a Twilight vampire than a chic disco ball. Nonetheless, it was fun to somewhat fulfill my childhood dreams. What wasn't fun, however, was getting all the shimmery stuff off.
6. Moussed-Up Hair
Having quite the personal history with mousse, this was quite a flashback for me. I remember loving the classic, crunchy-to-the-touch feeling of my hair after topping it with globs of mousse like whip cream on a sundae, but I was not excited about the prospect of revisiting those days.
Thankfully, the mousse of today seems much lighter than it did 15 years ago, yet I was still able to achieve that beach wave look of days past with a big glob of product. I admit I'm a little sentimental when it comes to mousse, but I much prefer a soft, light hairdo as opposed to a heavy one weighed down by gunk. Sorry, mousse. I'll have to keep you in my yearbooks.
7. Mini Buns
If you're looking for a serious '90s throwback, mini buns are the answer. Plus, there's plenty of celeb inspiration when it comes to these cuties, especially since Miley Cyrus started rocking them earlier this year. It's thanks to her fun, quirky look that I decided to make my own.
Leaving most of my hair down and simply taking two front pieces to make mini buns, I actually found the look incredibly enjoyable and easy. It's nice that my hair was out of my face, but I still didn't feel completely exposed since the rest of my locks were down.
I must say, a lot of these '90s beauty looks made me feel like a glamorous beauty star. More Kate Moss circa 1998 than Cara Delevingne, sure. But a beauty star nonetheless.
Images: Melodi Erdogan