The Real Benefit Of Dating Apps Vs. Sites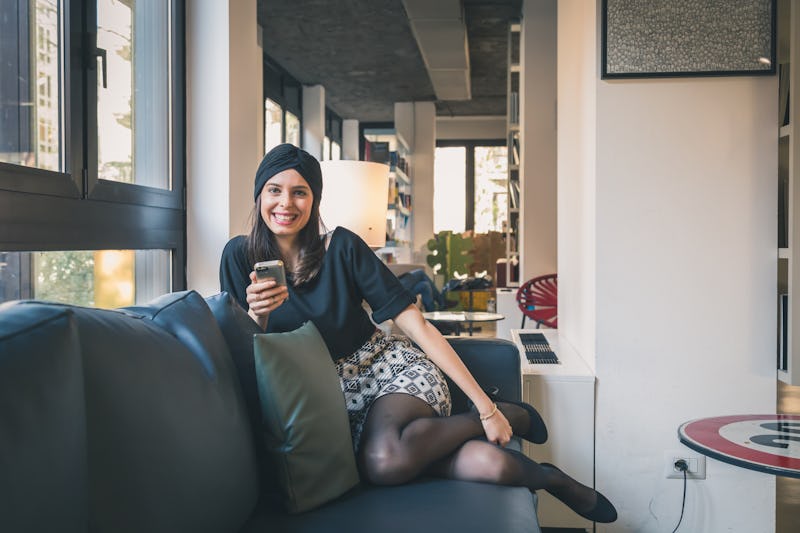 What's better, dating sites or dating apps? By now, you've probably tried both. If there were a contest between the two, I think dating apps would win, no question, as they seem to have more benefits than dating sites. As someone who has tried sites and apps, and has found significant others through both methods, I prefer the simplicity of the apps to the more complex answer-a-bunch-of-questions-first sites. Don't get me wrong — asking (and answering) questions is great (and in my DNA as a writer), but in this short-attention-span world we live in, I think it's easier to get to the actual dating via the apps. And that's the whole point, right?
Whether you're on Bumble, Tinder, Hinge, Happn, The League, Coffee Meets Bagel, or one of the myriad of other apps out there, I think they provide benefits that dating sites don't. Of course, dating sites have their place in the online dating world, and I know many couples who met and got married via Match, OKC, eHarmony, you name it. However, I also know couples who met and married people from apps, like Tinder. I'm sure you do, too. But again, from an efficiency standpoint, dating apps have wooed me more lately. Here are the benefits of apps versus. sites.
1. You Only Get Mutual Matches
Mutually matching with someone is a huge benefit of dating apps. HUGE. Instead of any random guy or girl messaging you, and you having to go through countless "Sup?" or inappropriate messages, with dating apps (FYI, a 2016 survey by Consumers' Research found that 57 percent of women report feeling harassed online), you have to both like each other first before you get to communicate. This makes app dating more efficient and feel safer, I think, since you've agreed that you're open to "talking" to said person. And, should you feel uncomfortable or realize you accidentally swiped right on the person (it happens to us all!), you can "unmatch" with them, just like that. Easy.
2. You Get To The Point Faster
I know, some people like to answer all the questions that OKC and Match and eHarmony and other dating sites ask, like OKC's "Do spelling mistakes annoy you?" and "How frequently do you bathe or shower?" But with the short, a-few-sentences-only profiles on apps, you can save the questions for actual messages with your matches… or, better yet, for a phone call or date.
3. You Have Short-And-Sweet Profiles
Most dating apps give you a word count limit, so there's nothing like a limited-word-count dating app to see how you are with words! I used to write people's profiles for e-Cyrano.com and learned that there is an art to selling yourself. You want to be concise, yet engaging. You want to tell someone your interests, but also give detailed information so that your matches have something to ask you about and respond to.
As an example, here's my Tinder profile:
Pop quiz: What do you think most guys respond to?... Yep, Maxim. They ask me what I read and tell me what they're reading and a messaging conversation is born.
4. There's Only Room For A Few Pictures
Some sites let you post tons of pictures, but don't we just need to post a few — a close-up, medium shot, and faraway one? After all, we all have limited attention spans and are 10 close-up shots going to persuade someone more than a key few? Less really is more in this case, and the apps have mastered this theory, too. I also suggest posting a conversation-piece photo.
For instance, one of my pictures is me sipping from a gigantic coffee cup, and probably 75 percent of guys who message me comment on that cup — telling me they need a coffee cup that big, asking where they can get one, asking where I found such a big cup, etc.
5. Each App Offers A Special Touch
Every app seems the same, yet different. Yes, they share short profiles and mutual matches, but then they have certain characteristics that set them apart. On Bumble, hetero women have 24 hours to message their match, which I love — nothing like a little pressure! And it's better than being in when-will-he/she-message limbo land. On Tinder, you can send GIFs to your matches. On Happn, you can send Spotify songs and one-minute audio messages. I love these app-specific touches that make them all unique.
6. They're Free
We all know that dating sites like eHarmony and Match cost money. And, yes, paying for a site is worth the possibility of finding love. However, it's also easy to sign up for three months here and there, then forget you're on auto pay (which can be particularly frustrating when you haven't even logged into that site for months). Point being, however, that a lot of dating apps are free… though most give you the option to spend money on special features, like Tinder Plus, Bumble Boost, The League's Power Move, or you can buy additional coffee beans on Coffee Meets Bagel (which can reveal who your mutual friends are or get you an additional match).
7. You Can Get To Meeting IRL Faster
There's only so much messaging you can do with someone before you get to the point of being on said app in the first place: Dating. After all, most of us are not on the apps for pen-pals. (Well, some people seem to be on them for this purpose, but that's another story.)
Apps, though, lend themselves to shorter message exchanges versus sometimes-long-winded email exchanges on dating sites… which sometimes are just that: email exchanges. Personally, on apps, I try to have a few message exchanges, then talk on the phone (to see if the person is capable of verbal conversation versus. just written correspondence), then meet. I find that the better the phone call, the better the date. All in all, for me, using dating apps gets to dating IRL faster.
Images: Fotolia; Natalia Lusinski (4, 5); Giphy