What Living In New York Taught Me About Myself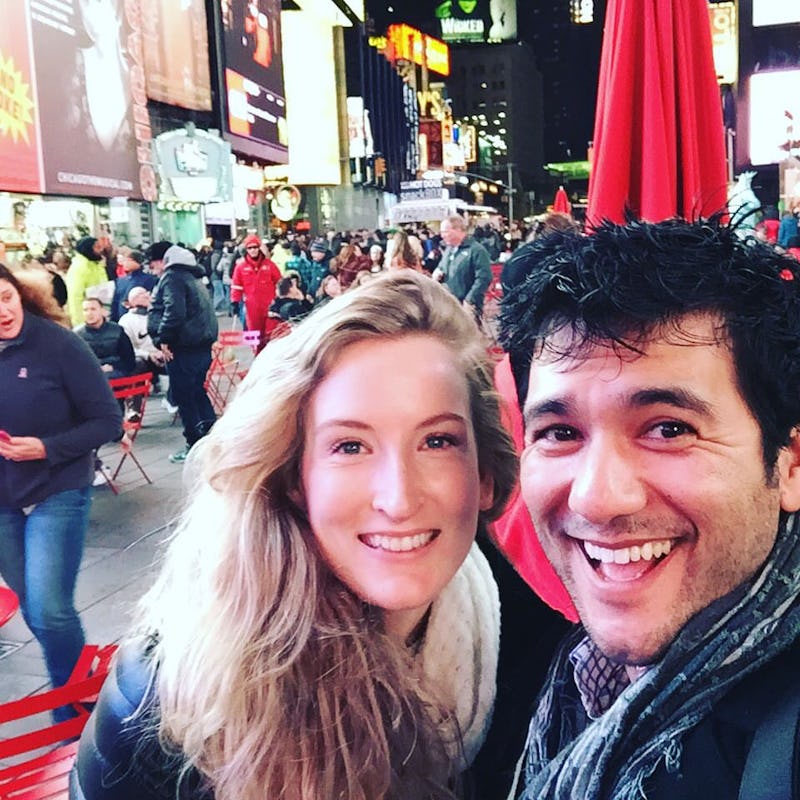 Last October, after going through a rough break up and selling almost everything I owned, I became a cliche of cinematic proportions when I hesitantly said goodbye to my friends, family, cat, and home state to fulfill a dream I'd had since I visited New York City as a teenager. I moved to Brooklyn from Missouri with two suitcases, my laptop, and no idea how much living in New York City would teach me about myself. Just six months after that, I became an even bigger cliche when I donated what little furniture my tiny Bed-Stuy bedroom could accommodate, said goodbye to my roommates and new friends, and moved back to Missouri.
Though it was short-lived and expensive AF, I will never regret moving to New York City, because living in New York taught me tons about myself. On top of that, New York is obviously cool as hell, and my time there was full of fascinating experiences. I got to say cool things like: "I'm meeting up with my editor later." I met a fellow Bustle writer and feminist killjoy who I genuinely love and hope to remain close friends with. I went to a pansexual makeout party. I ate the best Chinese food of my life. I spent a good part of Easter Sunday getting high on my rooftop before having a nice Ethiopian dinner with two Jews. I flew a tiny plane up the Hudson river with a really nice guy. And I got to work and learn in Bustle's Chelsea office.
So, yeah, I'm glad I lived in New York, and I hope the day comes when I can afford to visit there frequently. All that said, the things living in New York taught me about myself make me feel really good about my decision to bail on living there at this point in my life. Here's what living in New York City taught me about myself.
1. I Think Dating Is The Actual Worst
I'd never casually dated before living in New York City, so dating in NYC was basically my introduction to dating. (Yikes, am I right?) I'd always been in relationships or f*ck buddy situations before I moved up north, so I didn't really understand how much dating is just not my thing until I dated in New York. I mean, the guys I went out with were perfectly nice and fun to have sex with. When we went out, they paid for everything that I would allow them to — and they never did so in a way that left me feeling weirded out, either. I still came to the conclusion that dating isn't very fun for me, though, and I might not have learned that about myself if I hadn't moved away.
2. I Am Capable Of Making True Friends As An Adult
My second night in New York City, I went to a Bustle seminar on crafting the perfect personal essay. Not only did I get to meet my awesome editor and see Bustle's Manhattan office that night, I ended up sitting right next to the girl whose friendship would turn out to be my favorite thing about living in New York — and the hardest part about leaving it.
I miss her a lot, and I wish I could go visit her like, right now. Missing her is worth it, though, because becoming friends with her in the first place showed me that even though making new friends as an adult is hard for me, it's not impossible.
3. Being Physically Close To My Family Is Even More Important To Me Than I Realized
Before living in New York, I'd always lived close enough to my family that I could easily hop in my car, drive down the interstate, and find myself sipping coffee with them in just a couple of hours. So I knew living over 1,000 miles away from my family, and my friends who I consider family, would be tough — but I had no idea just how much being at least kind of close to all of them meant to me.
The longer I was in New York, the more I realized that being far away from almost everyone I loved just wasn't going to do it for me. I missed my best friend's wedding, I missed playing with my nieces, I missed my mom, and I missed the guy I'd started falling love with right before I moved. Even though I was spending my free time doing amazing things, like exploring folk art museums and eating the best banana pudding in the world, (yes, I'm talking about Magnolia Bakery — and, yes, I know that makes me a glorified tourist) but all I really wanted to do was spend time with my favorite people. Now I know how crucial it is to my happiness that I live within a day's drive of my tribe.
4. Nature Is My Lifeblood
While there's no denying that New York City has some famously gorgeous parks, and upstate New York is supposedly a nature-lover's paradise, my personal experience with New York City didn't contain a whole lot of nature — and I hated that.
Prior to living in New York, I'd always lived in places where getting to a park or a forest meant taking a five minute walk or a 10 minute drive, so I had no idea how much living in a place where nature isn't so easily accessible would negatively affect me. Now I know nature can't just be an occasional thing for me. I'm the kind of person who needs a daily dose of the great outdoors to ward off both anxiety and depressive symptoms, and I might not have learned that if I hadn't moved to Brooklyn.
5. Living Alone Is Definitely My Jam
Currently, I'm living alone for the first time in about five years, and I friggin' love it. I couldn't afford to live alone in Brooklyn, though; (hi, I'm a journalist) so I ended up living in Bedford Stuyvesant with two dudes from Oakland, California. They were the best roommates a girl could ask for, and I'll always be grateful to them for that — but living with them helped me realize that living with anyone right now isn't ideal for my personality type or the kind of work I do. Back in Missouri, I can afford to accommodate that.
6. Commuting Is Not For Me
Fortunately, the fact that I'm a remote writer meant I didn't have to commute much when I lived in New York. I did get to do some in-office editing while I was there, though, so I commuted a little bit. I love the fact that I got to experience working side-by-side with my editor for a few months, but I didn't love the experience of commuting. I'm sure it would have sucked less if reading on the subway didn't make me nauseous, or if I hadn't lived off the J train, but now I know that as long as I don't have to commute to do the work I love, I don't want to.
7. I Need My Pets As Much Or More Than They Need Me
Aside from the time I spent in New York, I've never not shared my life with animals. Of course, I know living in NYC and parenting pets don't have to be mutually exclusive things — but for me, they were. After going without my pets for six months, never again will I take the mental health benefits of parenting pets for granted. I'm so much happier when I get to share my home with animals, and here in Missouri, that's pretty much a non-issue for most landlords.
8. My Wanderlust May Never Be Fully Sated
I love New York, but living there helped me realize that no matter where I live, I'll probably always be a little bit restless. Living somewhere cool is far less important to me than being able to afford frequent travel, and I didn't fully understand that about myself before I lived in NYC. I want to see the entire world, and I want to write about all of it. Now that I live somewhere cheap, that goal feels much more realistic than it did when I was spending half a month's earnings on my rent alone.
9. I'm Not Quite As Introverted As I Thought I Was
I thought my daily need for alone time made me the introvert of all introverts. After moving to New York by myself and living with strangers, I quickly realized that's not true at all. Before I moved to NYC, I lived with my ex for years, attended college, and worked away from home with interesting, talkative coworkers. When our relationship failed for good, and I moved back in with my folks for a couple of months before taking off for NYC, my social life was super active then, too. I saw my friends daily, I had coffee with my mom every morning, and my dad was always around to play pool and drink beer with me. Living in New York City and having less of a social life built in helped me realize that, while I'll always crave alone time, I need an equal amount of friend and family time to keep depressive symptoms and my anxiety at bay.
10. I Really Hate Being Cold
I thought living in the Midwest for 25 years would prepare me for the bitterness of a New York winter. It didn't. New York City is cold AF. On Valentine's Day, I spent 20 minutes waiting for the sh*tty J train to take me up to Washington Heights for a Galentine's brunch, and I've honestly never cussed so much in my life. It was three degrees outside. THREE. Even with my huge-ass coat and face-masking blarf, I still wanted to cry — but I didn't, because my tears probably would have just made things colder.
In the dead of winter, all it took was a short walk to and from the bodega down the street from my apartment for my face to literally hurt from the cold and the wind. On the upside, though, now I'm a freaking champion at bundling up. Seriously, if dressing for north country winters was an Olympic sport, I'm fairly certain I'd take the gold.
11. My Anxiety Issues Are Way More Real Than I Thought They Were
I've struggled with sometimes debilitating anxiety issues since childhood, but moving to New York City sans friends, family, or a partner forced me to accept just how real my anxiety issues are. Although it was incredibly difficult, and more than a little scary, being so far removed from any semblance of a support system helped me realize that I'd been neglecting my mental health for years. Now that I've fully accepted my anxiety, and I've seen how overpowering it can be, I'm learning how to manage it naturally. It feels pretty great, too.
Images: lizzyenochs/Instagram, Elizabeth Enochs/Facebook