7 Reasons Waiting For 'PLL' Season 6 Is So Hard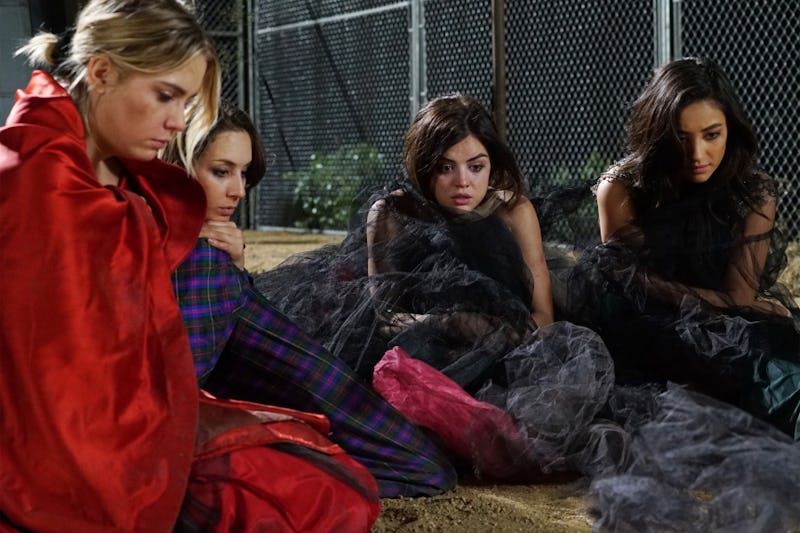 It's been mere months since Pretty Little Liars had its Season 5 finale, but it feels like years — we're talking Rip Van Winkle-level beards, here. I mean, sure, we finally got to find out that Big A is Charles DiLaurentis, but really, that only served up more questions than it actually answered (besides, Big A might not even be the end-all, be-all, because Über A might still be lurking in the shadows). When it comes down to it, waiting for Pretty Little Liars Season 6 to premiere has been harder than the time between any previous seasons, and I think we can all agree that's saying a lot.
There are just so many goodies to look forward to, questions to be answered, 'ships to be sailed, and bonkers prom dresses to return to, that the anticipation is really taking its toll. So if you haven't already gone through the 12 stages of waiting for PLL to return, get ready to feel a lot of feels — because here are seven reasons that this is the toughest Pretty Little Liars hiatus to date.
1. You NEED To Go Back To The Dollhouse
The ever-enigmatic Dollhouse is one of PLL's creepiest, coolest sets yet — and I don't know about you, but I'm dying to go back. Plus, there's the fact that something so crazy is going to happen there, Janel Parrish said it will "break Twitter."
2. The Theories Are Making You Crazy
Is Charles Jason's twin? Bethany's boyfriend? Cece Drake's friend? Spencer's half-brother? Actually Andrew Campbell? Sasha Pieterse may have just confirmed that Charles is indeed a bona fide DiLaurentis, but there are so many mysteries going unsolved that the possibilities are still near-infinite.
3. The Lies Are Making Your Head Spin
What is the truth? Which way is up? I DON'T EVEN KNOW ANYMORE.
Honestly, it's enough to land someone in Radley.
4. You NEED To Know What Happened The Night Ali Went Missing
All of the yellow tank top/blonde wig madness from the Season 6 trailer served as a reminder that we still have no idea what went down that night. I mean, now we know that Charles was probably there, but we still no next to nothing about Bethany Young (or Kimberly Brown), or how of all of the legions the Ali doppelgängers are related.
5. The Answers Are Just Around The Corner
Do you ever feel like a horse following a carrot on a stick? With each new season of PLL we're promised answers, but do we ever actually get any? That said, showrunner I. Marlene King's been saying for a while that Big A would finally get unmasked in Season 6 (it is the "#SummerofAnswers,"after all) — and the prospect is downright tantalizing.
6. All The 'Ships Are Going To Be Out Of Control
Haleb, Ezria, and Spoby fans buckle your seatbelts. In a recent interview with Entertainment Tonight, executive producer Oliver Goldstick teased a lot of upcoming relationship drama. Oh, and Paily 'shippers, read into this as you will: Goldstick also said that Emily "might just realize that she's now got a soul mate closer to her than she ever thought." Who could it be?
7. Let's Do The Time Warp
Is anyone else beyond excited for the upcoming time jump? Lucy Hale said that we'd get to see how the girls are dealing with their early 20s, which is an exciting prospect on its own — who knows how the show will have to shift to accommodate its aged-up characters? It's sure to make for an innovative new twist on the show.
Plus, many are even theorizing that the girls will be brought together by another missing girl, which would be pretty darn awesome. Oh, and how great would a Haleb wedding be? Ugh, do you see why this Pretty Little Liars hiatus is so torturous?! Season 6 has promised such excitement, fans can't wait another minute.
Images: Eric McCandless/ABC; Giphy (8)