21 '80s Movies You Didn't Know Were On Netflix
All of which are worth re-watching.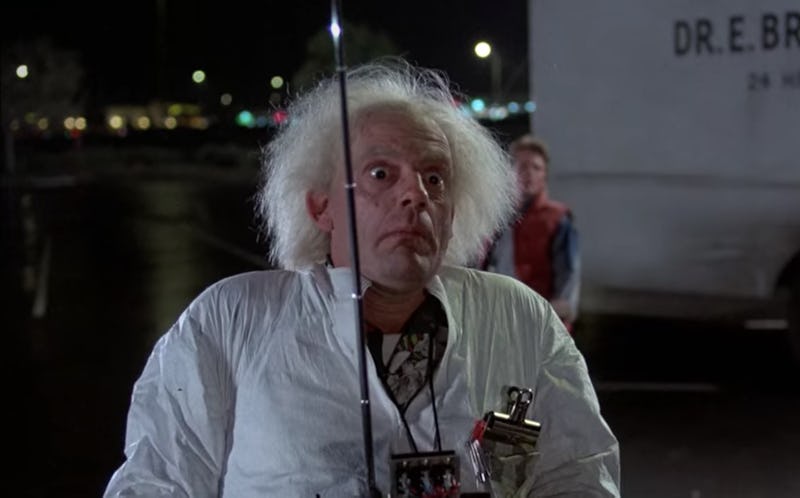 UNIVERSAL PICTURES/NETFLIX
I've said it before and I'll say it again: The 1980s were the best decade for movies. Sure, you won't find many critically-lauded works of art in the traditional sense, and some film buffs will probably tell you that the '80s were actually the worst decade for cinema. But I don't care. When it comes to pure fun, the '80s dominated: the campiest comedies, the most exciting action films, the weirdest kids' movies. This decade's movies knew how to have a good time without taking themselves too seriously — and right now, there are plenty of '80s movies on Netflix that show exactly that.
Some of these titles are a little obscure, like Best of the Best or Strange Voices. But a vast majority of them are all-time classics, like the Back to the Future trilogy and Scarface. These are movies here that I grew up adoring, such as The Land Before Time, and still hold close to my heart. And to please the highly particular cinephiles out there, there are even a few critical darlings as well (imagine that), like Rain Man.
So take a look at this list of 21 awesome '80s movies you didn't know were on Netflix, and then let the ultimate '80s binge begin.
Was there anything bigger than '50s nostalgia in the '80s? Nope. That's why Back to the Future was such a critical success. Michael J. Fox and Christopher Lloyd's legacies can partly be attributed to this film, which became an instant classic upon its release. TIME predicted that audiences would love the film "now and for 30 years to come." And how right they were.
Same as above, except four years later.
Okay, so Back to the Future Part III was technically released in the '90s, but like ... close enough. It's all part of the same trilogy. The whole gang is back for the third installment, including Fox and Lloyd. This one has a higher Rotten Tomatoes score than Part II, but you should still watch them all chronologically to get the full BTTF experience.
Fun fact: Mystic Pizza was Julia Roberts' first starring role! And Matt Damon's first film ever! Set in a Connecticut pizzeria, Roberts stars alongside Annabeth Gish and Lili Taylor as three waitresses working at the eponymous Mystic Pizza. The film is a cult classic, at once heartwarming and funny, and proves that good pizza doesn't solely exist in New York City.
The Naked Gun: From the Files of Police Squad! has long been considered one of the funniest slapstick comedies of the '80s. Based on the hilarious TV series of the same name, Leslie Nielsen reprises his role as Lt. Frank Drebin, a buffoon cop who ruins everything he touches. Very timely indeed.
Remember when we were afraid of the monsters under our bed? This movie proves they're not all bad. Little Monsters stars Fred Savage (The Wonder Years) as Brian, who befriends a said monster under the bed (Howie Mandel) and plays pranks on his friends. Little Monsters is silly and sweet, but will leave you in tears by the end.
Starring Dustin Hoffman and Tom Cruise, this Best Picture winner swept the Oscars in 1989, and deservedly so. Wait, wasn't Dangerous Liaisons nominated that same year? Just kidding — Rain Man was actually the second best picture that year, but it's a close call. Who says '80s films were full of duds?
This made-for-TV movie about mental illness is honestly chaotic, but it still deserves a place on this list. Starring all your favorite television actors like Valerie Harper, Nancy McKeon, and Stephen Macht, Strange Voices not-so-delicately tackles schizophrenia, delusion, and depression. These topics deserve to be taken seriously, and the movie marginally achieves this goal.
Eddie Murphy needs no introduction, but some may need a refresher on his early stand-up. Eddie Murphy: Raw was Murphy's first stand-up comedy special to receive a wide theatrical release, because it's just that good. Filmed at the Felt Forum (now known as the Hulu Theater at Madison Square Garden), Raw is still the highest-grossing stand-up special at the box office.
Before Do The Right Thing, there was She's Gotta Have It. Visionary director Spike Lee's first "joint" sparked the Spike Lee revolution, and in black-and-white no less. She's Gotta Have It also inspired a 2017 Netflix original series, adapted by Lee himself. Like many of the director's films, was inducted into the National Film Registry by the Library of Congress.
A mix of neo-noir and camp, Streets of Fire is billed as a "Rock-and-Roll Fable," whatever that means. It was a bigger hit with audiences than it was with critics at the time of its release, but seeing Diane Lane and Willem Dafoe in their early careers is enough to sustain interest in this "musical" akin to Rock of Ages.
The Land Before Time doesn't need an introduction, as it holds a very special place in many Gen X and Millennial hearts. Before the Disney Renaissance, there was a brief period where Don Bluth put out the best animated films in the world. This was his crowning achievement. The first movie was so popular that it spawned 13 additional spin-offs.
If you liked The Karate Kid or 3 Ninjas, then you'll probably enjoy this other movie that culturally appropriates martial arts, sans the kids. Eric Roberts, James Earl Jones, and Sally Kirkland star in this critically-panned film, which somehow generated three additional sequels — so there must be some redeeming qualities that make it worth watching. If only the entire Best of the Best franchise were streaming on Netflix!
Do we really need to tell you about Scarface? Again, this movie needs no introduction. It's one of the most quotable movies in the canon, with gems like "Say hello to my little friend!" or "You f*ck with me, you f*ckin' with the best!" Also, Al Pacino as Tony Montoya is one of the greatest performances in film history. Just watch it already if you haven't.
Stand By Me is another classic that should be seen by everyone. Wil Wheaton, River Phoenix, Jerry O'Connell, Corey Feldman, and Kiefer Sutherland are literally babies in this film. Okay, not literally, but they're very young. Based on the Stephen King novel The Body, the Academy Award-nominated drama-thriller is ultimately about friendship. Stand By Me is a true ride-or-die film.
The Ryan White Story is another over-the-top television movie that deserves credit for tackling a serious, important subject — in this case, the true story of Ryan White, a 13-year-old boy who contracts HIV/AIDS from a contaminated blood treatment — but ultimately makes you cringe because of its unintentional campiness. The film stars Judith Light as Ryan's mother Jeanne, and features a young Sarah Jessica Parker in a small role as a nurse.
It's surprising more people don't talk more about The Four Seasons. Apart from starring the legendary Carol Burnett and Rita Moreno, this romantic comedy proves that not all rom-coms are pure fluff. Directed and written by (and also starring) Alan Alda, The Four Seasons revolves around three upper class couples who vacation together in each of the four seasons. For classical music fans, the title is pays homage to Vivaldi's "Four Seasons" concerti.
This is the kind of movie that has aged well, despite receiving a mixed reaction upon its initial release. Based on the real-life Sleepy Lagoon murders, Zoot Suit weaves in unconventional cinematic techniques that make it feel like a stage-play hybrid. Ultimately, it was selected for preservation by the National Film Registry by the Library of Congress in 2019.
Another TV film that isn't quite up to tackling its important subject matter. When a hate crime kills the seven-month-old infant of an Amish family, a county prosecutor must work alone to restore justice. The most memorable aspect of A Stoning in Fulham County is that it features Brad Pitt in a tiny role, before he became the Brad Pitt.
Netflix doesn't have many Bollywood films to stream, but this one is definitely worth adding to the queue. Bangladeshi actor Mithun Chakraborty stars as Anil, or "Jimmy," who is caught between his passion for dancing and the unsupportive, sometimes violent world around him. Disco Dancer was a renowned success worldwide, even becoming the highest-grossing film ever in the Soviet Union. The featured songs, including "I am a Disco Dancer," are all toe-tappers.
You don't need to be a comedy buff to know that Monty Python produces some of the funniest and critically-acclaimed sketches in history. Monty Python: Live at the Hollywood Bowl is a live performance of some of the troupe's most famous, side-stitching sketches, from Flying Circus and beyond.
This article was originally published on