Everything To Know About Apple TV's Pachinko Series
The historical drama brings together some of Korea's brightest stars.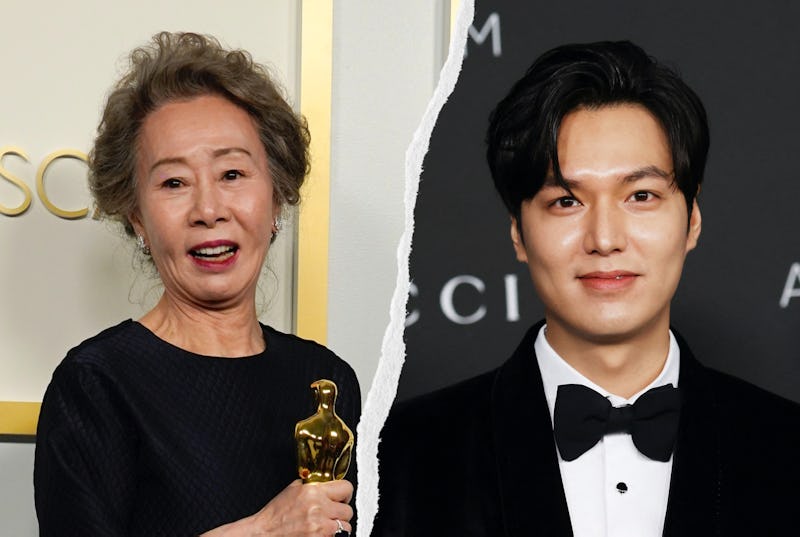 Chris Pizzello-Pool/Getty Images, MICHAEL TRAN/AFP via Getty Images
Korean dramas know how to hook fans. Whether it's cheesy romcoms or thrillers with high death tolls like Squid Game and the latest craze, Hellbound, K-dramas keep breaking Netflix's viewership records. As other major platforms are following suit and even filming American versions of Korean classics (Train To Busan and Crash Landing On You are apparently being westernized), another highly-anticipated drama based on a best-selling novel will be coming to a streaming service near you.
In 2019, Deadline reported that Apple TV+ was adapting the 2017 sophomore book by Min Jin Lee, Pachinko. The story follows four generations of a Korean immigrant family through Korea, Japan, and the U.S. during the Japanese Occupation, World War II, and after. It's a harrowing take on racism, imperialism, and immigration. While Lee will serve as co-producer, Soo Hugh (The Terror) will be writing the eight-episode series. Here's everything to know about Pachinko, including its star-studded cast and how the show diverts from the book.
How Does Pachinko's Plot Differ From The Book?
The ambitious three-part epic follows the story of Sunja, a Korean daughter of modest business owners, as she marries, gives birth, and immigrates to Osaka during geopolitical turbulence in Korea. Her story is both riveting and heartbreaking. Sunja falls in love with Koh Hansu, a wealthy, Japanese-adopted Korean, who impregnates her before revealing he's married. After learning about her complicated situation, a kind minister, Baek Isak, marries her, and they immigrate to Japan to live with Baek's brother Yoseb and sister Kyunghee.
By Part II, she has two sons — Noa, her child with Hansu, and Mozasu, with Isak. Unfortunately, Isak is imprisoned and, to support their household, Sunja and Kyunghee start selling kimchi. After the war, which briefly derails their lives, Noa finishes school while Mozasu works at a pachinko parlor (similar to slot machines) to help with finances at home. He marries young, and his son, Solomon, is born.
Mozasu becomes the owner of pachinko franchises (typically frowned upon) and grows wealthy. He never remarries, but he lands him a girlfriend named Etsuko, who has a troubled daughter named Hana. Meanwhile, Noa, who finds out the identity of his father and his ties with Japanese crime syndicates, disowns the family and leaves. When Sunja reconnects with him decades later, he commits suicide.
How closely the plot will follow the novel is unclear, especially with the author on board. According to the IMDB episode listings, though, it seems like other characters will be highlighted in the series. Hana, specifically, seems to have more of a presence than in the novel. It's possible the series will use a flashback format and be told through the lens of the fourth generation Baeks in America.
The Pachinko Cast
Minari Oscar winner Youn Yuh-jung as Sunja was one of the first actors announced to join the cast of the period drama. Kim Min-ha will play a young Sunja. It'll be her first acting role after a short in 2020.
Lee Min-ho also made waves when he was cast as Sunja's love interest, Hansu. The actor, who has been a K-drama leading man since his 2009 hit show Boys Over Flowers, talked about his nerve-racking audition experience. "It's been about a decade since I auditioned," he told GQ Korea via Soompi, adding, "I felt very pressured about having to do well. I was really nervous and excited, and I was really happy when I got the part." In the series, he reunites with his The King: Eternal Monarch co-star Jung Eun-chae, who plays Kyunghee.
Mari Yamamoto (Kate), who plays the troubled Hana, has the most episode appearances, according to IMDB. So it's likely that the story will revolve around her and Solomon (Jin Ha of Devs). Yu Matsushita (The Flash), Martin Martinez (Never Have I Ever), and Yoshio Maki (The Runaways) are set to play new characters, like newscaster Angelo and Katsu Abe, with multi-episode arcs.
Baek Isak and Mozasu will be played by Steve Sang-hyun Noh (Sense8) and Soji Arai (Cobra Kai). While Yoon Seo-ho, Anna Sawai, Maddy Hillis, and Felice Choi round out the rest of the cast.
The Pachinko Release Date & Trailer
The series was originally set to premiere in late 2021, but like most projects these days, the release was delayed. Though the series wrapped filming early this year, no official release date has been set. While you wait, here's Lee Min-ho's Instagram post on the last day of filming in Vancouver to tide you over.
This post will be updated as more details about Pachinko are released.