Robert De Niro Says He Owns All Of Taylor Swift's Albums, Making Him A Certfied Swiftie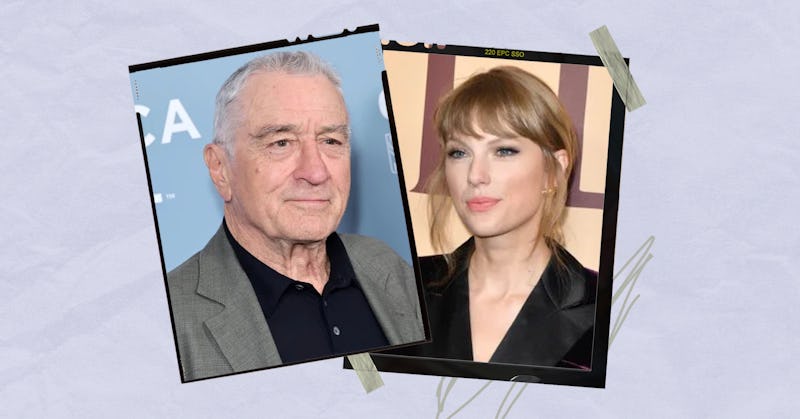 ANGELA WEISS/AFP/Getty Images
Who knew Robert De Niro was a Swiftie? In an interview with Variety published on June 8, the Oscar-winning actor revealed that he's a fan of Taylor Swift, going as far as to own all of her albums (without specifying whether he was joking, or if her "Taylor's Version" re-recordings were part of his supposed collection).
"I have all of her albums," De Niro revealed, laughing. "I'm not not a fan. I probably hear her music and like it on the radio." Putting it in the most fatherly way possible, he would rather listen to Swift on the radio than hear the hosts talk amongst themselves. "My young daughter puts a station on, and it drives me crazy when they chat," he said. "When they have music, it's OK."
Swift will be presenting the short film for her number one hit "All Too Well" at the Tribeca Film Festival, which De Niro co-founded alongside Jane Rosenthal. Released in November 2021, All Too Well: The Short Film was directed by Swift herself and features Dylan O'Brien and Stranger Things star Sadie Sink, with the Grammy-winning artist only making a cameo toward the end. Swift will speak about her directorial endeavors after a screening of the short film on June 11, as part of the festival's Tribeca Talks series.
When asked why Swift was the perfect fit for the festival, Rosenthal explained that she likes seeing artists doing projects outside of their comfort zones — and Swift's connection to New York didn't hurt. "First of all, she's in the neighborhood," Jane quipped, nodding to Swift's multiple Tribeca properties. "We're always looking to show artists' work to show what else they do — the interdisciplinary work. It's always interesting to watch what artists do when they're not doing what we think that they should continually do."
While All Too Well: The Short Film was Swift's biggest directing project to date, it was not her first. The "Evermore" singer co-directed her 2019 music videos for "Lover" and "You Need To Calm Down" alongside Drew Kirsch before sitting in the directors chair solo for her 2020 videos "The Man," "Cardigan," and "Willow." If helming a feature film is in Swift's future, perhaps that will receive a Tribeca premiere as well.