The Marvel Easter Egg Hunt Is On For Hawkeye
Prepare to meet the MCU's newest pet.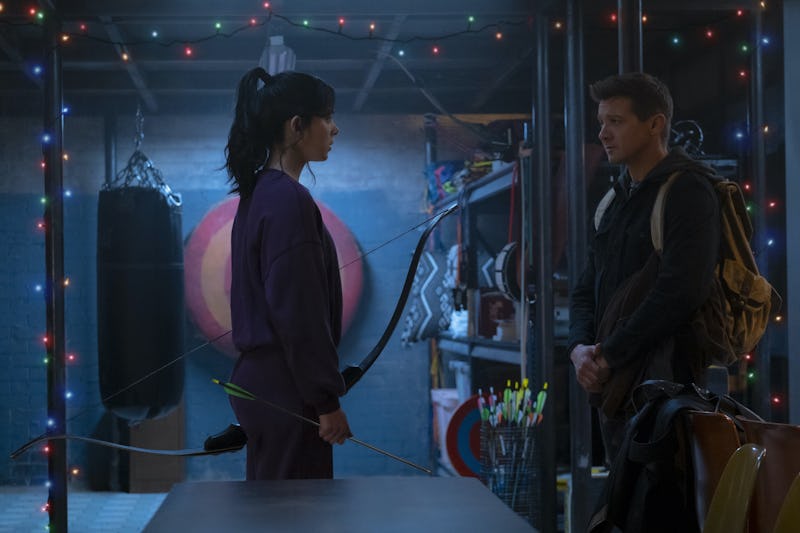 Chuck Zlotnick/Marvel Studios
Phase 4 of the Marvel Cinematic Universe has already delivered a delightfully wide variety of stories in 2021 alone — from Emmy-nominated emotional crises to undead Avengers, Multiversal mayhem, and brand-new heroes to love (hi, Shang-Chi and Cap!). Now, a Die Hard-esque Christmas adventure has entered the chat with Hawkeye, and the new series already promises major holiday comfort viewing vibes. Plus, it's finally a chance for viewers to reacquaint themselves with the day-one Avenger, who's had somewhat sparse screen time over his decade in the MCU. Seriously, a 2019 post-Endgame Reuters analysis found that Clint Barton clocked only 52 minutes of coverage in his long tenure with the team.
Fortunately, the first trailer for Hawkeye is already expanding what we know (or thought we knew) about the archer, like his comics backstory as a hard-of-hearing character, his partnership with Kate Bishop, and his furry friend Lucky, aka Pizza Dog. And yes, there are plenty of nods to the comics and other MCU movies to theorize about, even before Hawkeye premieres on Disney+ Nov. 24. Here are all of the Marvel Easter eggs in Hawkeye so far.
This post will be updated as new episodes of Hawkeye premiere on Disney+ every Wednesday from Nov. 24.