56 Taylor Swift & Jack Antonoff Collaborations, Ranked
From 1989 to Midnights, the genre-hopping duo has come a long way. Is your favorite song No. 1?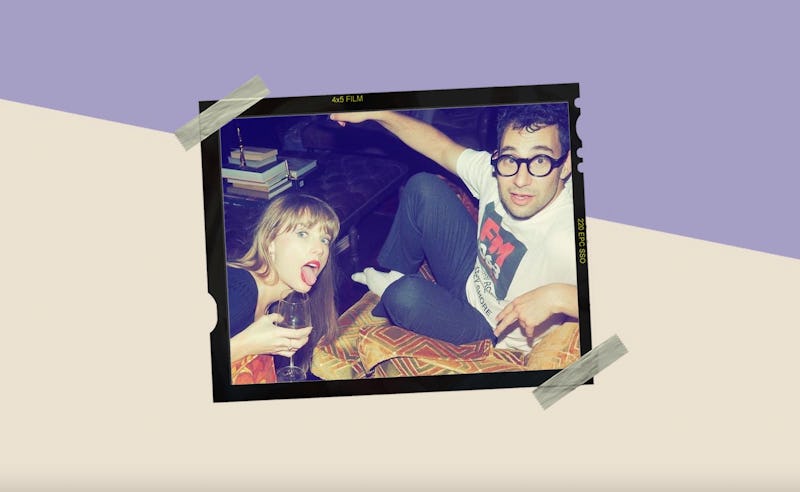 Instagram/Taylor Swift/Jack Antonoff
Like peanut butter and jelly, Taylor Swift and Jack Antonoff are a classic and reliable pairing. The 11-time Grammy winner started working with the Bleachers mastermind in 2013, and what started as a soundtrack collab has grown into one of pop music's most fruitful partnerships. As of 2022, Antonoff has co-written and/or co-produced 56 songs with Swift. While that's just a fraction of their individual catalogs, they remain one of each other's most influential collaborators.
Arguably, the success of their early songs on Swift's 2014 album 1989 grew Antonoff into the go-to super-producer he is today for several artists and allowed him to produce pop masterpieces like Lorde's Melodrama and Lana Del Rey's Norman F*cking Rockwell!, both of which were Grammy-nominated for Album of the Year. However, he's always found his way back to Swift on every one of her albums since 1989, and the two Album of the Year Grammys he has won are with her, for 1989 and 2020's folklore. Despite this, Swift had never made an record exclusively with him until her 10th studio album Midnights, released on Oct. 21, which has since broken sales and streaming records worldwide and earned the biggest first week for an album since Swift's Reputation in 2017.
Clearly, they're not done just yet, as evidenced by Swift and Antonoff releasing the "Anti-Hero" remix featuring Bleachers on Nov. 7. To celebrate their growing creative partnership, here's a very subjective ranking Swift and Antonoff's 56 joint songs, based on her signature lyrics, his versatile production skills, and Swifties' emotional connection to each song.
56. "This Is Why We Can't Have Nice Things"
‌This kiss-off track was a fun finale on her Reputation Stadium Tour. That's it.
55. "Bye Bye Baby"
Antonoff lends a wistful touch to this "From the Vault" track for Fearless (Taylor's Version), but Swift's 19-year-old instincts to leave this off the proper 2008 album was correct.
54. "I Don't Wanna Live Forever" with ZAYN
Much like Swift and Antonoff's first soundtrack single, her 2016 collaboration with ZAYN for Fifty Shades Darker ended up indicating the sound of her next studio album, 2017's Reputation. But also like that song, there was much better to come on that album.
53. "That's When" feat. Keith Urban
Swift elevates a catchy little ditty with a feature from Urban, making it a perfect "Vault" track on Fearless (Taylor's Version), but it still doesn't stand up to the towering anthems on the main album.
52. "Sweeter Than Fiction"
This was where it all started. "Sweeter Than Fiction," a song written for the long-forgotten film One Chance, marked Swift and Antonoff's first-ever collab. They laid down a solid blueprint, with Antonoff ramping up his classic '80s synth-pop production to fit Swift's sugary sweet lyrics, but little did we know how much more was to come.
51. "Vigilante Shit"
This tale of deceit and payback from Swift's latest album Midnights may be one of the weirdest tracks in her catalog, but it could've been even weirder. If she wanted a Billie Eilish-esque chilling revenge fantasy, she should've gone to the source.
50. "London Boy"
Everyone say, "Thank you, Taylor," for generously planning our next trip to London.
49. "The Lakes"
The one part of England that doesn't get a shoutout on "London Boy" gets its own song instead. Swift envisions a future of her (and Joe Alwyn, probably) leaving the public eye and spending her life traversing the Lake District, much like the poets she idolized. It features some of her poetic and intricate lyrics — and some of her clunkiest melodies.
48. "Question… ?"
In true Swiftian fashion, she begins the chorus by asking if she could ask a question before proceeding to ask several in quick succession. Since Swifties are speculating that she's asking her ex-boyfriend Harry Styles, he should respond with a song called "Answer..." or something.
47. "You Are In Love"
Never forget how one of Swift's most poignant and succinct ballads is about Antonoff's love story with Lena Dunham. Much like their relationship, this song hasn't withstood the test of time.
46. "Paris"
This bonus track from the "3 a.m. edition" of Midnights sounds like it could have been a "From the Vault" track from 1989. But unlike "Welcome to New York," "Paris" isn't a romanticized tribute to the actual city, instead focusing on a whimsical and non-sensical meet-cute that can make anyone feel like they're in the City of Love (or in Swift's case, the City of Lover).
45. "Babe"
Swift originally gave this "From the Vault" track to Sugarland (and sang backup) in 2018 before reclaiming it for Red (Taylor's Version). Antonoff keeps things surprisingly light with minimal instrumentation, giving the song a distinct pop touch but causing it to lack the emotional impact of Jennifer Nettles' harrowing pleas.
44. "I Wish You Would"
This 1989 deep cut is one of the first examples of Swift and Antonoff's combined synth-pop powers and her fascination with the middle of the night, two things that would go on to become hallmarks of her next several albums. She always knew how to push our buttons (in a good way).
43. "Lavender Haze"
Swift begins Midnights with a bang(er), co-written by Zoë Kravitz, that effortlessly calls out speculation about her marital status while harking back to some of the catchiest moments in her and Antonoff's repertoire. In fact, it carries such a melodic similarity to "I Think He Knows" that Swift has already hinted at mashing up the two songs on her upcoming Eras Tour.
42. "Daylight"
The closing track from Lover is almost surprisingly calm and assured for an album that contains Swift's most epic love stories and brutal tales of loss, as she connects her present to her past ("I once believed love was red"), steps into the daylight, and lets it all go.
41. "Sweet Nothing"
Co-written with her beau Alwyn (under his penname William Bowery), "Sweet Nothing" is perhaps Swift's simplest ode to romance, focusing on pebbles, kitchen humming, and other minutiae of their relationship. And that nursery-rhyme melody means the song will never leave your head. Ever.
40. "Call It What You Want"
Speaking of nursery rhymes, the bridge of "Call It What You Want" could be re-written as a lullaby to Swift's future child. The atmospheric track could also double as the story of how she fell in love with that child's father, if she doesn't feel like explaining it herself.
39. "Dear Reader"
It's almost astounding that it took Swift 10 albums and 14 years to write a song that addresses her listeners this directly. It's even more astounding that she simply left it as a bonus track on the "3 a.m. edition" of Midnights rather than letting it close one of her proper albums.
38. "Glitch"
One of Swift's most experimental productions, "Glitch" is full of, well, glitches, like fuzzy synths that sound like TV static, loops that could be a Slack notification, and ill-timed interruptions that somehow come together seamlessly. Swift and Antonoff should go even further down this route.
37. "Paper Rings"
This Lover deep cut is basically "Shake It Off," but for people who listen to those "indie records that are way cooler than mine," as Swift sang in 2012. They may be too cool to play "Shake It Off" at their wedding receptions, but this will be the first song on their playlists — and rightfully so.
36. "Bejeweled"
Admit it: "Bejeweled" is the Chanel to Reputation track "Gorgeous," which is Walmart. Five years from now, she will still make the whole room shimmer.
35. "Karma"
"Karma is a cat purring in my lap 'cause it loves me" is one of Swift's finest lyrics and that alone should help Swift win her first Grammy for Song of the Year for "Karma."
34. "Betty"
Who knew that the combo of Antonoff, Alwyn, and Aaron Dessner would create Swift's most country-sounding song since Fearless? Most songs on country radio wish their lyrics could tell a story as epic as "Betty," and yet, it's still not the peak of their collective powers.
33. "Midnight Rain"
Swift and Antonoff prove just how good they are when they pivot into sultry pop-R&B mode. It opens with a voice so deep that fans could mistake it for a mystery collaborator, but once you realize that Antonoff just reverb-ed Swift's voice into oblivion, it only makes her recollection of an oft-forgotten breakup hit even harder.
32. "Forever Winter"
Reportedly written about one of her late friends, "Forever Winter" was likely too devastating to include on Red, but it later found its home on Red (Taylor's Version) as a "Vault" track, and not a moment too soon. As mental health awareness becomes increasingly vital to our lives, "Forever Winter" is the warm and comforting hug many people may need to just get through the day, with Antonoff giving the song some levity by keeping things as upbeat as possible.
31. "Ivy"
Antonoff only contributed to two songs off Swift's second surprise 2020 album evermore, but he made them count. On "Ivy," he adds a whimsical pop touch to Dessner's more traditional folk instrumentation that somehow warps Swift's story of infidelity into a magical fairytale worthy of a Disney movie.
30. "Lover"
This song is the reason why so many people think Swift is engaged or even secretly married to Alwyn. It's also her most sweeping and romantic love song, destined to become the first dance for so many Swiftie weddings. If she were to actually get married, the public may never know about it, but fans can imagine they're at the wedding just by listening to the epic bridge.
29. "Hits Different"
Swift leaving this Midnights gem as a Target-exclusive bonus track is my villain origin story. "Hits Different" combines the jaded outsider energy of "New Romantics" with the carefree country-pop spirit of Speak Now, making it perfect for top-down car rides and hairbrush karaoke sessions.
28. "Don't You"
This leftover track from the Fearless sessions is great enough to make the main album, but 19-year-old Swift wouldn't have been ready to ditch her country roots in favor of Antonoff's shimmering synths, as she wisely does 12 years later on Fearless (Taylor's Version). "Don't You" re-emerged as a long-lost '80s prom slow dance song, and that's exactly how it should be.
27. "Maroon"
Who knew breakups could sound so sexy? On "Maroon," Swift recalls a former flame that still haunts her in blushworthy detail, down to the rust that grew on their telephones. In Swift's words, he left a "real f*cking legacy," but that droning synth closing out the song is the only thing you need to know that their story doesn't end well.
26. "Dress"
For all its greats, "Maroon" would not exist without "Dress." Swift's first desperately yearning and effortlessly sexy synth-pop track remains her best, with those twinkling synths perfectly matching her unapologetic infatuation. Antonoff even acknowledged the song's impact when Bowen Yang remarked that "Dress" planted the seeds for Midnights, and he simply responded, "This is correct."
25. "My Tears Ricochet"
In the canon of Swift's infamous Track 5's, "My Tears Ricochet" may be the most dramatic — which is saying something considering "All Too Well" exists. For starters, folklore's Track 5 takes place as Swift's own funeral, with her haunting harmonies and Antonoff's stark production making it seem like she's singing from beyond the grave. And when she yelps "I can go anywhere I want, just not home," there's not a single thing that could possibly feel sadder.
24. "I Think He Knows"
This is one of Swift's most underrated pop gems, and it will no longer go unrecognized. It was never released as a single or considered a cult fan favorite like other Lover deep cuts, and yet its finger-snapping melodies, churning synths, and endless amount of hooks went on to inspire songs like "Lavender Haze" and "Karma" years later. Its impact holds no bounds.
23. "Death By a Thousand Cuts"
The best thing to come out of Netflix's 2019 rom-com Someone Great.
22. "Illicit Affairs"
Contrary to its naive little sister "Ivy," this folklore gem focuses on the dark side of infidelity and how it devolves from beautiful hotel rooms to "meetings in parking lots," hurting everyone in the process. When Swift seethes "Don't call me kid, don't call me baby," she's never sounded more angry yet defeated.
21. "Look What You Made Me Do"
There's perhaps no song as divisive in Swift's catalog as "Look What You Made Me Do." She had no business creating an electro-clash banger that samples Right Said Fred's "I'm Too Sexy" and recalls the Peaches song that soundtracks the Halloween party in Mean Girls —but she did, and the world is better for it. Reputation's lead single is Swift's most indulgent, relentless, and pure camp song, and the amount of discourse it caused will only cement its place in her catalog.
20. "Anti-Hero"
The song Swift first described as the most brutal look into her insecurities has now become the world's preferred method of analyzing their own flaws. Swift and Antonoff are in maximum '80s power-pop mode, but switch out the decade's euphoria for deprecating self-doubt as she imagines getting killed by her daughter-in-law and everyone being a "sexy baby" except her. "Anti-Hero" is full of some of Swift's oddest lyrics, but that hook was tailor-made to become a conquering pop hit no matter how raw she got. Even Antonoff had to get in on the action (more than he already did) with a Bleachers remix that lends Swift a comforting hand and trades "sexy baby" for "art bro."
19. "The Archer"
"The Archer" walked so "Anti-Hero" could run. Lover's Track 5 was the start of Swift turning inward for inspiration, analyzing her tendencies for self-sabotage and coming to a stunning realization: "I see right through me." She first voices how much she hates looking at her own reflection here, before it becomes a turning point on "Anti-Hero," showing how those insecurities don't die off quickly. Antonoff's steady, pulsing synths build to a pay-off that never truly comes, much like how Swift doesn't receive her own resolution just yet.
18. "Labyrinth"
The viral TikTok imagining that the synths on "Labyrinth" were accidentally created by Swift's cats might be accurate, but it only adds to what is one of Swift's most ethereal tracks. Her and Antonoff's dream-pop odysseys are their sweet spot, with "Labyrinth" proving that the only thing she needs to transcend us into a new dimension are some heavenly verses and one simple yet hypnotic hook.
17. "Mr. Perfectly Fine"
Could you imagine how much of a hit this song would have been if Swift had released it as part of Fearless in 2008? "Mr. Perfectly Fine" fits perfectly alongside "Love Story" and "You Belong With Me" as country-pop catnip, and Joe Jonas' reaction to being called "Mr. Casually Cruel" would have made pop culture history (it's like she knew to save that line for later). Antonoff's production on Fearless (Taylor's Version) stays strikingly true to the original album, meaning there was really no excuse for her to leave off one of her most brilliantly crafted crossover hits ever.
16. "New Year's Day"
A simple piano ballad at first glance, "New Year's Day" feels like a turning point in Swift's career upon reflection. It's how she started healing from the weariness and hard edge of Reputation, taking stock of the glitter, warmth, and community around her. It's where her love of midnights began, and it's also when Swift honed in on the little things in a loving relationship, realizing that not only was it enough to keep a song going, it could make for some of her most impactful songwriting.
15. "You're On Your Own, Kid"
Swift's journey to re-assess her own shortcomings reaches its turning point on Midnights' Track 5. "You're On Your Own, Kid" recollects the singer's journey from schoolgirl outcast to music stardom with vivid metaphors, landing on the same sentiment after every major life event and realizing that she won't be fulfilled by the approval of others. She somehow manages to make the one-line hook, "You're on your own, kid, you always have been," sound so shattering and re-assuring at once.
14. "Soon You'll Get Better" feat. The Chicks
"Soon You'll Get Better" is one of those songs that's so good that you can rarely listen to it. Written about her mother's battle with cancer, it's hard to get through Swift's recollections of fluorescent hospital rooms without full-on sobbing. Antonoff perfectly pairs her with The Chicks (reportedly her mom's favorite band), their signature harmonies ascending the track to a new plane. Swift has only ever performed it once, and it'd be a shock to hear her sing it again.
13. "False God"
"False God" marked new territory for the duo, and they both excelled tremendously. Swift has never sounded more confident yet distressed, not afraid to veer off-course melodically if it helps get her point across, and the way that Antonoff weaves in that saxophone across her jazz-inspired melodies is masterful. If "Dress" was the origin of Midnights, they would be wise to plant "False God" as the seed for their next work.
12. "This Is Me Trying"
While Swift may be one of the most prolific lyricists of our generation, it's even rare for her that every single line in one of her songs cuts like glass, which she pulls off here. "I was so ahead of the curve, the curve became a sphere" hits home for overachievers everywhere, while "I got wasted like all my potential" is for those who never feel like they've done enough. "This Is Me Trying" just might be the most relatable song Swift has ever written, and Antonoff elevates those sentiments within folklore's haunting soundscape.
11. "Gold Rush"
Swift's early catalog may have been defined by enchanting fairytales and Romeo and Juliet-esque love stories, but her most magical Disney-ready song would actually come 15 years into her career. "Gold Rush" is less of a song than it is a majestic whirlwind, lacking a proper chorus, bridge, or any traditional song structure, really. Instead, Swift repeats the fears, beauty, jealousy, and purity in her relationship in rapid succession, soundtracked by whimsical piano and lush strings that could be played on Bridgerton, and bookmarked by Swift's vocals forming a heavenly choir.
10. "Out of the Woods"
"Out of the Woods" is where Swift's relationship with Antonoff truly began to flourish. It was the first glittering proof that Swift's knack for detailed storytelling could carry over to a full-blown pop song, with Antonoff's rush of '80s synths proving to be the perfect match for her frenetic tale of Polaroids, paper airplanes, and 20 stitches in a hospital room, launching a gazillion conspiracy theories in the Swiftie fandom. At the time, that repetitive chorus was shockingly simple for Swift, but surprisingly effective in proving her pop prowess.
9. "Snow on the Beach" feat. Lana Del Rey
Yes, the TikTok videos joking how Lana Del Rey is barely featured on "Snow on the Beach" are very funny — but they also discredit just how vital she makes the song. Del Rey's heavenly background vocals lend a ghostly presence to Swift's recollection of a love story that's almost too good to be true, like we're meant to question if she's real as well. The very idea of a Swift-Del Rey collab felt like just a dream at one point, matching the song's narrative. And of course, it wouldn't have happened without Antonoff, a constant Del Rey collaborator who knew how to blend their worlds seamlessly.
8. "Cornelia Street"
"Cornelia Street" was never released as a single, but it became so significant that the New York apartment that inspired it is now a landmark on Apple Maps, which just about says it all.
7. "Mastermind"
The closing track of Midnights is the closest that any artist has gotten to reaching the bittersweet euphoria of Lorde's "Supercut," another immaculate Antonoff production. But lyrically, it stands on its own merits. Once again, Swift brilliantly flips her public image as calculated and deceitful on its head, applying that persona to her own relationship and meticulously outlining how she landed the lover of her dreams. Is it a bit scary? Perhaps. But as soon as Swift yelps, "No one wanted to play with me as a little kid," and the twist ending is revealed, you become her biggest cheerleader.
6. "All Too Well (10 Minute Version)"
In most worlds, this song would be ranked No. 1. Swift manages to add even more emotional pathos to a story her fans know all too well (pun intended) and doesn't make a single devastating detail feel redundant, while Antonoff's take on the production elevates the melodrama without distracting from her words. But this is still Swift's magnum opus through and through, and in a list that celebrates Swift and Antonoff's work as a duo, it doesn't feel right to name "All Too Well" their crowning glory when, frankly, she could've made the 10-minute version without him if she had to.
5. "Cruel Summer"
Don't say the words "Cruel Summer" to a Swiftie unless you're in the mood for an hour-long rant about how it should have been released as a single instead of "ME!" and received a dramatic music video and epic award show performances. That said, they're making good points. "Cruel Summer" is Swift's ultimate '80s movie soundtrack song, a rush of surging synth-pop, electric guitar courtesy of St. Vincent, and lyrics so vivid you can probably direct that music video yourself. The towering bridge alone should be studied in music theory classes.
4. "Bigger Than The Whole Sky"
It's rare that Swift is rendered speechless, but on this track from the "3 a.m. edition" of Midnights, that's exactly what happens. "No words appear before me in the aftermath," she begins, laying the groundwork for a song so empty, written about a loss so tremendous, that she goes entire sections without singing, forcing Antonoff to lead with slow, gentle instrumentation. Luckily, that dream-pop niche is what they do best, allowing the lyrics that remain to pierce our hearts like no other. The song resonated with many fans who suffered pregnancy loss immediately, and for that alone, it marks one of the duo's most important works.
3. "Getaway Car"
In terms of epic power-pop, "Getaway Car" is Swift and Antonoff's magnum opus. The lyrics have launched a myriad of stories and conspiracies of what actually made Swift run from an ex (many pertain to the 2016 Met Gala), which only prove the song's impact. Outside of that, it's one of those songs that sounds so pristine that it should be studied. With rapid-fire verses, a masterful synthline, and a subtle but epic key change that's never been replicated, "Getaway Car" is the definition of a perfect pop song, and a truly winning combination of both of their talents.
2. "Mirrorball"
As stated, Mazzy Star-esque dream-pop is Swift and Antonoff's sweet spot, and nowhere is that more apparent than on "Mirrorball." Like Antonoff's best work, it could masquerade as a prom slow dance tune, a Christmas song (those jingle bells!), or that one track that plays on the jukebox as you contemplate your life at a slowly emptying bar. But in true Swiftian fashion, it's both an analyzation of her own life and a reassuring promise that you are heard, seen, and valued. "I'll show you every version of yourself tonight," she promises to both begin and conclude the song.
1. "August"
It feels like Swift and Antonoff's entire careers have been building up to "August." Narratively, it's the second part of an epic trilogy of songs about a fictional love triangle between James, Inez, and Betty, which collectively take Swift's storytelling to even greater and more imaginative heights. Sonically, it combines everything she and Antonoff excel at — dramatic instrumentation, dream-pop hazes, dazzling strings — and distills them into one seamless, whirling, expansive blur. It's no surprise that "August" has amassed a cult following because it's truly a world of its own, and we would only be lucky to live in it forever.