These 3 Zodiac Signs Will Sail Through April's Supermoon
They're keeping things chill.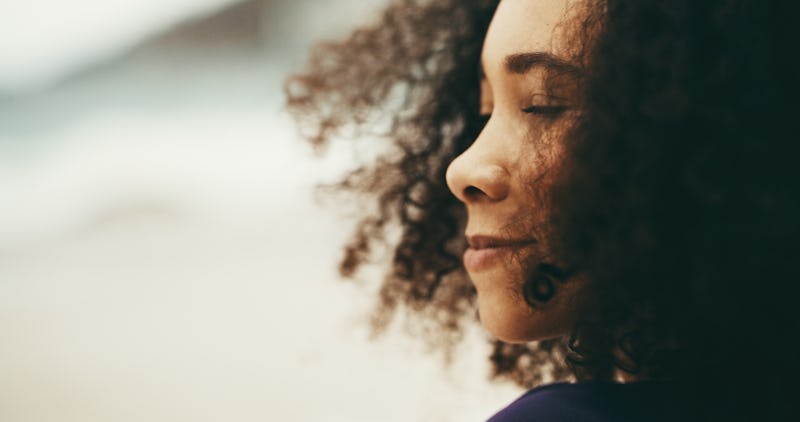 Delmaine Donson/E+/Getty Images
Get ready to dive beneath the surface of your feelings, because the April 2021 full moon on April 26 is going to be an emotional one. This powerful lunation marks the first supermoon of the year, and it's also known as the Pink Moon. No one will be spared from the depth and intensity of this testy lunar high point, but for the zodiac signs least affected by the April 2021 full moon, the vibes will likely be easier to work with.
We're currently in the middle of Taurus season 2021, which is grounding our spirits in the material world of sensual pleasures. But this full moon is rising in the opposing sign of Scorpio, a fixed water sign, which carries a more mystical and emotional energy. That said, this full moon will have us exploring our deepest feelings and most vulnerable desires. Full moons have a tendency to illuminate matters, so this lunation could potentially reveal some personal secrets or highlight repressed emotions.
But beware of this Scorpio moon's poison-filled stinger. The full moon will be forming a tense opposition aspect with both the sun and Uranus, which is the planet of unexpected changes, so we may also want to brace ourselves for some sudden emotional shake-ups. Additionally, a square off with responsible planet Saturn could make us feel heavy with burdens and stressed out by challenges. We'll want to call on the stealthy and focused Scorpio energy of this lunation to help us persevere, even if in the face of some lunar struggles.
Sound intense? It is — but not everyone will have such a charged full moon experience. If you're one of the zodiac signs the April 2021 full moon will affect least, these potential lunar roadblocks will be a lot easier to work with.
There's no escaping that this full moon could be an emotional time for you, Aries, so be ready to feel your feelings. The good news, though, is that it's working its magic on a more subtle level, so there's not likely to be much outward drama. This lunation is shining a light on your personal and private vulnerabilities, debts, and secrets. It's a time to evaluate what kind of skeletons have taken up residence in your closet and whether or not you want to keep them there. Ready to release some spiritual baggage? This is a potent time to do so as long as you're willing to face what's inside of you. Try doing a Scorpio-inspired full moon ritual to help you connect with your mystical side.
While some people may be drowning in their feeling during this full moon, Cancer, you're going to be trading in your usually deep emotions for a more lighthearted feel. This lunation is lighting up a more leisurely sector of your chart, which means that flirty romantic gestures and creative inspirations will be at a high point and drama will be at a low. Working on a passion project of some sort? This is a great time to bring things to a climax and go all in. If you're currently on the dating scene or entertaining a situation-ship with someone, the vibes are ripe for potentially taking things to the next level — or at least for opening up and getting to know each other in a deeper way. Either way, let yourself have some fun.
This full moon is a quiet one for you, Sag — so while the drama level will be low, it might have you feeling more hazy and daze-y than usual. Instead of socializing and making plans with friends, which right now will likely leave you feeling drained, this time will be best spent embracing some healing solitude. Your intuition will be extra strong during this lunation, so listen to what your higher self is trying to tell you. It's also a great time to honor your physical needs by allowing yourself to sleep in and get some extra rest. Chilling at home where you can fully relax, daydream, and explore your feelings will do wonders for your soul.