The First Supermoon Of 2021 Will Be Super Emotional For All Zodiac Signs
April's full moon in Scorpio is going to make us all vulnerable.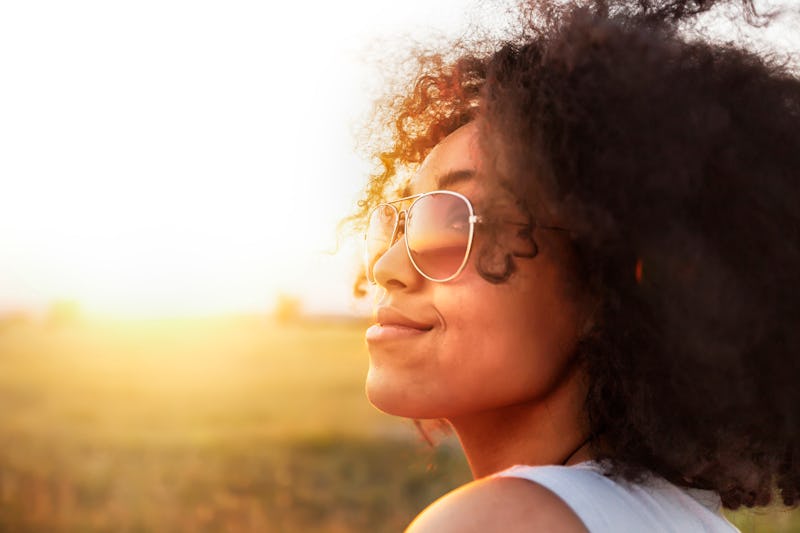 Vladimir Vladimirov/E+/Getty Images
Things are about to get intense, because the lunar climax of Taurus season happens to also be the first supermoon of the year — and it's not here to play. The April 2021 full moon on April 26 will shine a spotlight on our deepest secrets and vulnerabilities, helping us to face the truth and own our power. This hard-hitting lunation will rock our worlds, so knowing how the April 2021 full moon will affect your zodiac sign is a must.
April's full moon is also known as the annual Pink Moon — and this one takes place in the realm of fixed water sign Scorpio. Full moons in astrology tend to illuminate situations for us, but Scorpio is a sign that values privacy — so right now, we may not be inclined to share our emotional climaxes and heartfelt realizations with the outside world. And that's OK! Do what's necessary to protect your energy.
We'd be remiss to overlook the fact that this lunation is also forming a confrontational opposition aspect with wild-child planet Uranus, as this faceoff could bring about some sudden realizations. Dealing with this tension on top of all the full moon feels may be a challenge, but it could also inspire us to think of things from a fresh perspective or help us turn a corner that we struggled to find a way around before. Use this powerful Scorpio zodiac energy to your advantage.
Ready for this emotional supermoon extravaganza? Here's the scoop on how the April 2021 full moon will affect each zodiac sign.
This full moon is hitting you right in the feels, Aries, so it's OK to take some time away from your worldly responsibilities to honor your truth. This is a good time to dig deep and recognize some of the spiritual baggage that's been weighing you down — whether that's in the form of debts, unkept promises, or toxic relationship dynamics. Release what's no longer serving you.
You're realizing a lot about your relationships now, Taurus, so use this energy to get real about the one-on-one dynamics you share with others. Surface-level bonds won't scratch your itch for connection now, so don't be afraid to be honest about your feelings and speak your truth. Your partnerships will be better for it.
It's time do a deep clean of your home, schedule, and daily routine, Gemini. If clutter has been building up in your life — whether in the form of bedroom laundry piles or messy missed deadlines — now's your chance to delete the distractions and turn a corner of productivity. Use the full moon to energize your work ethic and help get your organization skills on point.
Beauty is blossoming in your life now, Cancer, and so is your sense of passion — so keep an open mind when it comes to romantic possibilities or other matters of the heart. A flirty fling could unexpectedly turn into something deeper now, or you might find that you're struck with sudden inspiration that helps you get over a creative block. Either way, say yes to the adventure.
This full moon might feel particularly emotional for you, Leo, and that's because it's hitting one of the most sensitive houses of your birth chart. You're sifting through your past to help you better prepare for the future now — which might mean coming to terms with family feuds, past heartbreaks, or dramas in your private life. Don't shy away from the truths in your heart.
It's time to speak your truth, Virgo, no matter how vulnerable or intense it might feel to do so. This full moon asks you to express your deepest thoughts and feelings, so it's a good time to journal through your emotions or have some honest conversations with friends. There's no need to keep everything bottled up inside — find a healthy release so you can start healing.
This full moon is bringing deep feelings to the surface — but in your case, Libra, it's also helping you focus on the material world around you. You might come to some realizations around money or finances now, so it's a good time to take charge of your budget or ask for the raise you've been waiting for. Never skimp when it comes to charging what you're worth.
Welcome to the show-stopping, once-a-year full moon in your sign, Scorpio! This is a time of transformation for you, so embrace every truth that rushes to the surface of your heart, no matter how intense. You're feeling raw, vulnerable, and emotionally-charged — but you're also finding a new sense of strength and personal power by owning your authenticity in a radical way.
This full moon may feel emotionally and physically exhausting for you, Sag — but instead of loading up on caffeine, take it as a sign to spend some time alone with your thoughts. Your subconscious is trying to tell you something, but you'll only pick up on the message if you quiet things down. Pay attention to your dreams and intuitions and don't write off your gut feelings.
What are your hopes and dreams for the collective future, Cap? Now's the time to focus on the visions you have — not just for yourself, but for the world. This full moon is also highlighting your need for community and connection, which could help to push you outside of your box and come up with unexpectedly fresh ideas. Embrace your idealistic and unconventional side.
Your work life is taking center stage under this full moon, Aquarius, and you may be reaching a meaningful turning point in your career. It's a good time to let go of a draining side gig to make room for new endeavors, or bring a professional project to its conclusion. This may also bring you some unexpected attention from higher-ups, so be ready to steal the spotlight and show off your talents on a dime.
You've been on a deep, meaningful journey of self-discovery, Pisces, and this full moon will help you take ownership of your spiritual growth. Now's a time to think big, broaden your horizons, and allow your newfound knowledge to shape your worldview. Be confident in the ways you've evolved — you're an ever-changing cosmic being, so there's no reason to play small.