Bustle Daily Newsletter: January 5, 2023
Eight hairstyles to hide your roots in between dye jobs, how to do a full moon manifestation ritual, and more.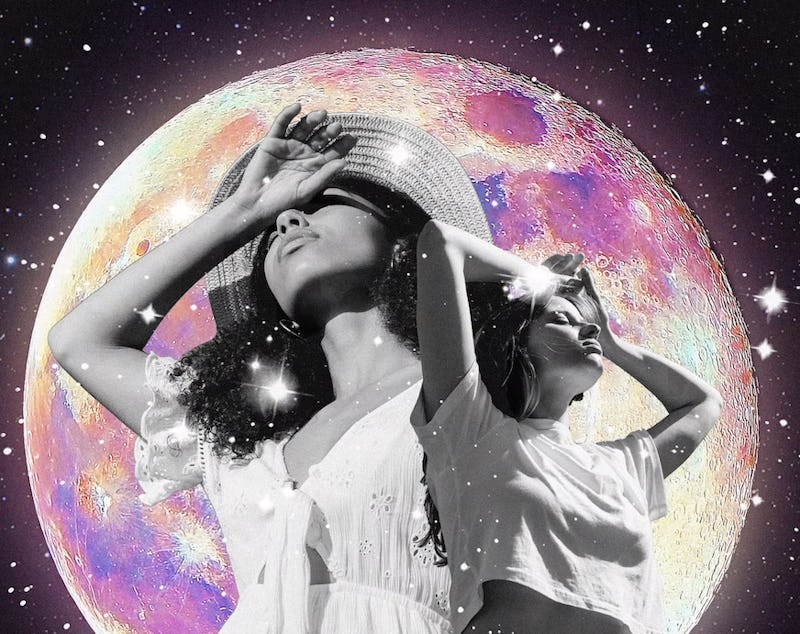 A version of this content appeared in Bustle's daily newsletter on Jan. 5, 2023. If you like what you see, sign up to receive it in your inbox right here.
I Tried A Full Moon Ritual & Felt The Universe Listen To Me
"As someone who regularly speaks to the moon, lunar rituals are nothing new for me," writes Brittany Beringer. During the full moon in August, which fell in her sign (Aquarius) during one of the luckiest times of the year (the lion's gate portal), she decided to try out the celestial offerings at Miraval Resorts in Austin, Texas. "I began my ritual by sitting outside underneath the moon. I expressed my gratitude and hopes for the future. Once I was done moon-gazing, I jotted down my manifestations: 'I'm abundant, I'm worthy, I no longer hold onto fear, and fully accept myself instead.'" Read More
The Latest
8 Hairstyles That'll Hide Your Roots Between Dye Jobs
New year, new you, new hair... except your salon is fully booked for the next two weeks. One line of defense is to use one of the many root cover-up products that exist. "There are great products to help you go a week or two extra in between salon visits," says professional hairstylist Nicholas Taylor. But if you're in a pinch, all it takes is a little creativity with your styling to fool everyone into thinking your hair color isn't overly grown out. Read More
This Is The Best Day To Be On Dating Apps In The New Year
Bumble says that 2023 will be a "Dating Renaissance" for singles, with 1 in 3 people surveyed having "ended a marriage or serious relationship in the last two years" and a third "now using dating apps for the first time." So if you're ready to meet someone new, this is the exact date (and hour!) that you should go for it. Read More
Must-Reads
Bring Back Jelly Bracelets, You Cowards
At this point, nearly every early 2000s trend has been brought back tenfold. Katie Holmes just wore flare jeans under a mini dress, Megan Fox sports furry bucket hats almost daily, and Bella Hadid is obsessed with leg warmers. But there's one nostalgic look that has yet to hit the red carpet: jelly bracelets. Read More
How To Smell Good All Day, According To Hygiene Influencers
Yes, a hygiene influencer is indeed a thing, and they're sharing their knowledge all over TikTok. "ShowerTok is like the Yelp of hygiene," Alexis Kaya Williams, licensed cosmetologist and content creator, tells Bustle. "Being able to binge-watch videos from creators who give reviews and ratings on products before you go out and buy them is super convenient." Read More
'90s Icons Matthew Lawrence & TLC's Chilli Are Officially Dating
'90s nostalgia is alive and well, because two of the most iconic stars of the era are officially dating. Matthew Lawrence of Boy Meets World fame and Chilli, a member of the girl group TLC, recently confirmed their romance. They had been friends for years before things took a romantic turn. Read More
Astrology
Here's Your Daily Horoscope
You might need a hug. Read More
More Good Stuff
A Complete History Of The Underwear-As-Outerwear Trend
The Evolution Of Snow Boots, From An "Ugly" Shoe To A Stylish Must Have
The Best Solo Travel Destination For Your Zodiac Sign
Get all this (plus more) in your inbox — subscribe to the Bustle daily newsletter.