Here's Your Horoscope For Today: April 12, 2021
Today's planetary combo gives us the gusto we need to start anew or make a breakthrough.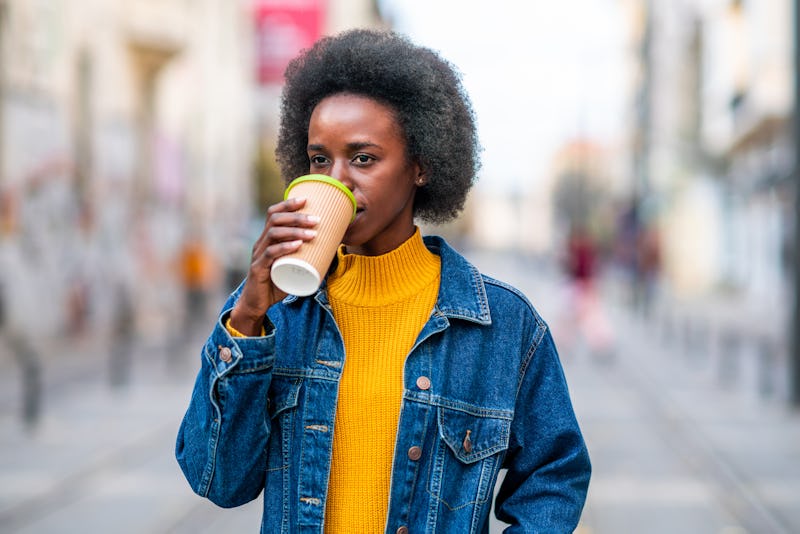 VioletaStoimenova/E+/Getty Images
In this daily horoscope for April 12, Bustle's resident astrologer Mecca Woods, founder of My Life Created, shares the astrological events happening today that will affect every zodiac sign. Below, here's a look at how astrology will affect our lives today.
It's a high-energy start to the day with the moon finishing up her stay in enthusiastic Aries. Before the moon moves to chilled-out Taurus in the afternoon, she meets up with Jupiter in Aquarius and love planet Venus (also in Aries). As we come fresh off Sunday's new moon in Aries, today's planetary combo gives us the gusto we need to start anew or make a breakthrough. Though, with the Aries moon facing off with power-hungry Pluto in Capricorn in the morning, we might have to be mindful of taking a "my way or the highway" approach to getting where we want to go.
Come mid-afternoon, the energy settles as the moon moves to stable Taurus. Whenever the moon is in Taurus, we usually find ourselves in the mood to tend to our finances as well as our bodies. Since Taurus is a zodiac sign that loves comfort, we should also find ourselves in the mood for the people and things that make us feel good, like a cozy couch or a tasty homecooked meal.
Read below to see what the stars mean for your zodiac sign today, and make sure to check out your April 2021 monthly horoscope.
Today is a reminder that you don't need to go out of your way to impress folks. All you need to do is be yourself. The light you carry is forever and far-reaching. Bask in it.
You might find yourself feeling more tired than usual. If so, take today as your cue to tend yourself and get the nourishment you need. You can't do everything, and that's OK.
You get by with the support of your friends and community today, so recognize that vulnerability is a strength, not a weakness. If you need to pull back from the crowd, that's cool too.
You could receive some good news with a job-related matter or rave reviews on your resume. Acknowledge your hard work and pay no attention to the haters. You deserve to win.
If you've got a plan you want to execute, look to others to help you do it. It's possible you could connect with the right person at the right time today. Be open to receiving.
You could see some improvement with a financial matter or find yourself on the receiving end of a job offer or bonus. With a heart-related matter, be mindful of settling. It's OK to demand more.
You could be offered a contract or the opportunity to collaborate with someone today. Only say yes if your heart is truly in it. It's OK to be a little selective or picky in getting what you want.
You're encouraged to focus on your health and well-being today. If you've been feeling rundown or off-kilter, today offers you the chance to get back on track. Don't be too proud to ask for support.
Love is in the air today, and it's possible that you could meet someone new either online or through a friend. If so, don't rush the connection. Be a little choosy even. You deserve the best.
Home and family are in the spotlight today, and you're encouraged to connect with those you love. Be mindful of isolating yourself. If feeling moody, sprucing up your living space could help.
You have exactly the right amount of wit, charm, and confidence today to get where you want to go. Be mindful of letting fear or self-doubt derail you. Everything you need is within you.
The financial forecast looks good for you today, particularly if you're working on saving or looking for ways to make more money. That said, don't waste time comparing your progress to others'.