Here's Your Horoscope For Today: April 21, 2021
We may need to find a healthy balance between work and play.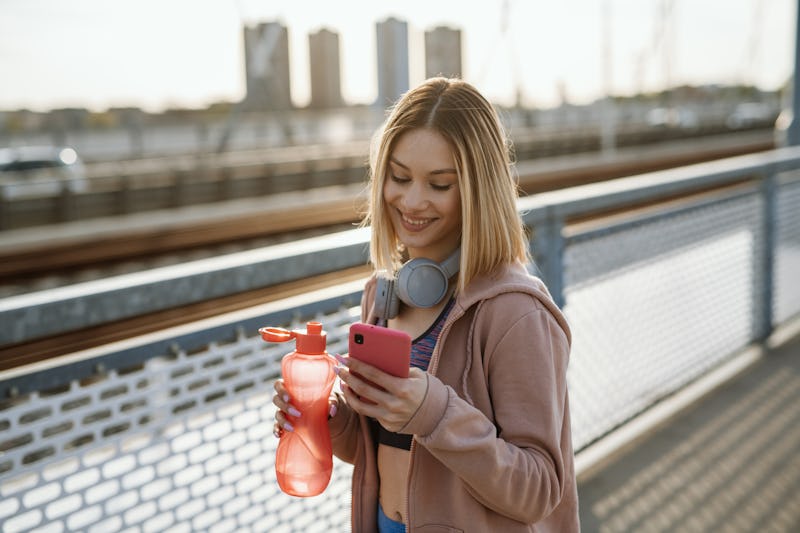 CocoSan/E+/Getty Images
In this daily horoscope for April 21, Bustle's resident astrologer Mecca Woods, founder of My Life Created, shares the astrological events happening today that will affect every zodiac sign. Below, here's a look at how astrology will affect our lives today.
The moon remains stationed in playful Leo, which could put us in the mood to play too. Though with the moon being in an opposition to dutiful Saturn in Aquarius in the early morning, we may need to find a healthy balance between work and play.
Since the moon is in Leo, we might also be moved to focus more on ourselves than others today. This can be good if we're in need of some self-care or self-affirmation. However, with Saturn in community-focused Aquarius, we're also encouraged to connect with our community, either by seeking support or offering it to others. As such, we can express the warmhearted and generous side of the Leo moon.
By the evening, the Leo moon creates some tension with dreamy Neptune in Pisces. While this cosmic combo can inspire creative inspiration, we're cautioned about being unrealistic or too demanding for immediate gratification.
Read below to see what the stars mean for your zodiac sign today, and make sure to check out your April 2021 monthly horoscope.
Practicing gratitude for what you have can give you the joy and peace you're seeking. Take a moment to acknowledge your friends and community as well. Give back where you can.
Your determination comes in handy today in getting things done or creating opportunities where it seems there isn't any. Don't let self-doubt rattle you or have you taking no for an answer.
It might be a struggle in maintaining your optimism or faith these days, but if you give yourself time and a wider perspective, you can move mountains. Go easy on yourself.
A financial matter could be frustrating right now, but facing it head on is the only way to go. As a result, you may need to tweak or revise some of your plans, which could be a blessing in disguise.
Today reminds you that it might be time to leave a dead-end professional or personal relationship behind. Meanwhile, be mindful of the need to control what others do. Boundaries go both ways.
When it comes to the work on your plate, take time out to rest and work on getting things done in smaller bites. Also, try not to let the need to be needed have you taking more than you can handle.
If you're feeling the pull to spend some time with yourself, don't resist it. The time you take for yourself can fuel your creativity, as well as any future plans you're making.
If you're feeling restless or bored, your partner or someone you know can assist you with keeping your spirits up. Though if you want to stay busy, a few home-related projects could use your attention.
You're reminded that you can maintain your sense of joy when you don't go looking for the things that will upset you. Divert your attention to what uplifts you. Take things slow.
A financial opportunity could be on the table for you today. If so, don't underestimate your earning power. If you feel like you can ask for more, do it. What have you got to lose?
You pride yourself on your independence, but today asks you to be open to the support of those around you, even if you have to ask for it. Don't discount how loved you really are.
You might need to look into some new ways to release pent-up energy and stress. That said, what does your spiritual practice look like lately? How about your physical regimen? Tune into you.